Choice of University – WGU Essay Sample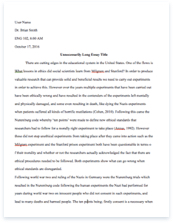 The whole doc is available only for registered users
OPEN DOC
Get Full Essay
Get access to this section to get all help you need with your essay and educational issues.
Get Access
Choice of University – WGU Essay Sample
My recent decision to enroll in a university to continue and complete my pursuit of an undergraduate degree was not especially difficult. Selection of and commitment to a particular university was not as simple. Multiple factors including, but not limited to, price point, reputation, ease of access, and career relevance were weighed. I selected Western Governors University and remain very satisfied with this choice. Cost is a major determining factor, and one in which WGU holds a tremendous advantage over competing learning institutions. One must consider the annual cost of WGU at $5,780, compared to the average annual cost of a public institution at $32,617. Other online institutions also cannot compete in regards to cost, owed largely to WGU being the nation's only nonprofit online university. University of Phoenix's cost for a four year degree is $68,400, compared to WGU's cost of $23,120. Personally, there were additional considerations in regards to cost. WGU's annual undergraduate tuition rates fall just below the annual unsubsidized Stafford Loan limit amount of $6,000. Annual rates were also very close to annual limits on corporate tuition reimbursement under my current employer. Furthermore, WGU charges tuition per term, rather than class or credit unit.
This allows ambitious students to take additional course per term and possibly graduate early, creating additional cost savings. Cost is relative to value, and even considering the savings involved with choosing WGU over other universities, it is still a significant financial commitment. I wanted to ensure that I would receive a quality, respected education. The University hosts results of several surveys of WGU graduates, all of which indicate an overwhelmingly positive response – including 96% positive feedback on whether or not they would recommend WGU to others. This type of personal recommendation played a large factor in my selection of the University, as two close friends and several co-workers attend WGU. Each of them gave the University glowing reviews, bolstering my confidence in WGU as my personal selection. 3 Given that personal career aspirations weighed heavily on my decision to return to school, the positive feedback available from employers was also welcome.
A 2011 survey by Harris Interactive reports that 100 percent of employers would not hesitate to hire another WGU graduate, and 98 percent consider WGU graduates equal to or greater than graduates from other universities. As a working adult with a family, flexible scheduling and ease of access is essential. Scheduling of individual classes is flexible, allowing for students to accommodate career or personal life scheduling conflicts and unexpected events. The ability to access my coursework from any computer was a big draw for me, personally. Students are able to work on tasks from home or work, and can even access many learning resources from an internet capable mobile devices. Selected reading passages are made available online, further reducing the cost of education by eliminating the requirement to purchase expensive college textbooks. Testing is handled at partner proctor facilities, including several organizations license to administer tests for technical certifications.
Several IT degree programs include a multitude of industry recognized technical certifications as an integral part of the course of Study. This was initially a big draw for me, as I had considered a career in IT Network Administration. WGU including certifications such as Cisco Certified Network Associate (just one of 14 technical certifications included in the Bachelor of Science: Information Technology – Network Administration program) adds tremendous value to the degree program. Eventually I settled on the College of Business – Information Technology Management, and even that non technical program offers 3 industry certifications as part of the 4 year Bachelor's Degree program. I've spoken to my mentor about attempting to fit the Project course which includes CompTIA Project+ certification, once I've completed my scheduled classes for this term. The mentor program is a benefit of WGU that, while described in their promotional material, is not fully realized until experienced personally.
Each student is assigned a 4 mentor as a "personal point of contact and guide throughout the duration of the program" (WGU, 2012). Weekly status update phone calls have been essential to my keeping on track and motivated – issues I was concerned with considering the self-paced nature of online learning. The mentor is just one aspect of WGU's support. Each course is supported by multiple class mentors – experienced professionals that lead online webinars, publish video tutorials, and respond to personal inquiries. All of these are offered at many different times to accommodate students' schedules. Returning to college as a working adult is a serious commitment. Balancing work, family life, and attempting an education is difficult. While cost benefits, reputation, and career relevance were my primary drivers in selecting WGU as my university, the support of my personal mentor and the staff committed to each course have been the biggest factor in my satisfaction with WGU. I do not hesitate to suggest Western Governors University to anyone interested in pursuing higher education. 5
REFERENCES
How WGU's tuition compares. (2013). Retrieved from http:// www.wgu.edu/tuition_financial_aid/tuition_comparison_pop Fast Facts: tuition costs of colleges and universities. (2013). Retrieved from http://nces.ed.gov/fastfacts/display.asp? id=76 Stafford Loan Information. (2013). Retrieved from http:// www.staffordloan.com/stafford-loan-info/ Tuition and Fees. (2013). Retrieved from http://www.wgu.edu/ tuition_financial_aid/tuition Student Success and Performance Data. (2013). Retrieved from http://www.wgu.edu/about_WGU/student_success_data BS in Information Technology – Network Administration. (2013). Retrieved from http://www.wgu.edu/online_it_degrees/ information_technology_degree_networks_admin Business – Information Technology Management. (2013). Retrieved from http://www.wgu.edu/business/ IT_management_bachelor_degree Why WGU – Our Commitments. (2013). Retrieved from http:// www.wgu.edu/why_WGU/our_commitments