Christmas Ritual Essay Sample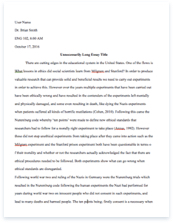 The whole doc is available only for registered users
OPEN DOC
Download Essay
A limited time offer!
Get a custom sample essay written according to your requirements urgent 3h delivery guaranteed
Order Now
Christmas Ritual Essay Sample
The most significant and meaningful ritual in my life is Christmas time with my family. The whole season is considered a magical time of year and there is no arguing that in my eyes. Nothing is more perfect than my whole family joining together for fun, to celebrate the holiday with food, presents and mostly just each other's company. On Thanksgiving, we always had all of our extended family over for food and fun. The adults would get together and exchange names for children's gifts to exchange on Christmas Eve. Christmas has always been my favorite holiday, but it has little to do with the presents. Our family has always had several Christmas traditions that were the best part of the holiday season. On Christmas Eve, my family always has all of our extended family over for food and gathering. Gumbo is always cooked by my grandmother. One of my aunts brings the delicious dessert such as, red velvet cake, sweet potato pie. My other aunt brings the dressing, while the third aunt brings the ham and delicious macaroni & cheese.
And for measure my mom made a strawberry cheesecake. The rest of the family brought more food, drinks and eating utensils. Everyone in the family would dress up in their fancy, brand new clothes. All the children cousins in the family would dress up in their Hollister shirts, Nike shirts and Nike shoes. Me and my older cousins would be dressed in polo shirts, LRG jeans, Levi jeans, polo hat, Jordan's shoes and Tru Religion clothing. My female cousins would dress up in their boots, Tru Religion skinny leg jeans, Sweater and etc. My aunts and uncles would have on their green and red sweaters with some black pants or blue jeans. After we stuffed ourselves with the tasty food, we would all sit and gather around the Christmas tree.
The lovely Christmas music would be playing as the camcorder rolled. Everyone would be enjoying each other's company. Later we exchanged the gifts that were drawn on Thanksgiving. He or she would open their gifts to see what that family member has bought them. Some of us got watches, jewelry, purses, hats, jeans, and others got money. In conclusion I feel so fortunate, to have my family throughout the year, but especially, on Christmas Eve. When my families are together we show each other love and celebrate the birth of Christ, which is the real meaning. Christmas, for me is about being with family, loving each other and showing each other just exactly how we all feel. Spending Christmas with my family is very important to me.