Chronic Kidney Disease Essay Sample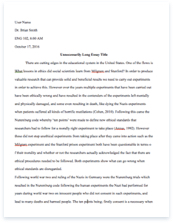 The whole doc is available only for registered users
OPEN DOC
Download Essay
A limited time offer!
Get a custom sample essay written according to your requirements urgent 3h delivery guaranteed
Order Now
Chronic Kidney Disease Essay Sample
The Integration of Adult Nursing Practice
Sophie Dickens
CONTENTS PAGE
Slide One – Introduction and aims of the presentation
Slide Two – Anatomy and Physiology of the Kidneys – Structure Slide Three – Anatomy and Physiology of the Kidneys – Nephron Slide Three – Pathophysiological changes
Slide Four – Signs and Symptoms
Slide Five – Causes and Factors
Slide Six – Diagnosis of Chronic Kidney Disease
Slide Severn – Interventions
Slide Eight – Implications of Nursing Care
Reference List
INTRODUCTION AND AIMS
• This presentation will be approximately 10 minutes long. However, this is a limitation as I was unable to discuss chronic kidney disease in great details
• To discuss the normal anatomy and physiology of the kidneys
• To explore the pathophysiological changes in the kidneys
• The signs and symptoms that occur and the changes to be expected
• To outline diagnosis and interventions
• To discuss what are the implications for the nursing care of a person with the condition
ANATOMY AND PHYSIOLOGY OF
THE KIDNEYS
FUNCTIONS OF THE KIDNEYS
• CONTROLS FLUID LEVEL
BALANCE
• REGUALTES ACID BASED
BALANCE
• REMOVAL OF TOXINS AND
WASTE
• REGUALTES BLOOD
PRESSURE AND RENIN
ANATOMY AND PHYSIOLOGY OF
THE KIDNEYS
http://www.healthline.com/vpvideo/kidney-physiology
CHRONIC KIDNEY DISEASE
PATHOPHYSIOLOGICAL CHANGES
• Chronic kidney disease (CKD) is long-standing, progressive deterioration of renal function. Function is measured using THE GLOMERULUS FILTRATION RATE (GFR). These are the stages of CKD;
Stage
Mildly reduced kidney function, test results point to some kidney damage
Moderately reduced kidney function
Severely reduced kidney function
• Decreased urination
• Blood or protein in the urine
• Cloudy urine
• Shortness of breath
• Fatigue
• Loss of appetite/weight loss
• Nausea and vomiting
• Thirst
• Muscle cramping
• High blood pressure
• Fluid retention
• Oedema
• Lower Back Pain
(KIDNEYHEALTH 2015)
CAUSES AND RISK FACTORS
• The Two main causes are:
HIGH BLOOD PRESSURE
DIABETES
High blood pressure can damage the kidneys as the force of blood flow weakens the kidneys blood vessels therefore this can reduce the kidneys ability to function properly.
Consistently high blood sugar levels can cause pressure on the GFR causing them to leak protein.
Factors that may increase your risk of chronic kidney disease include: Diabetes
High blood pressure
Heart disease
Smoking
Obesity
High cholesterol
Being African-American, Native American or Asian-American
Family history of kidney disease
Age 65 or older
DIAGNOSIS OF CKD
To determine chronic kidney disease there are tests and procedures that can be done.
Biopsy's
Blood Tests
Tests and
Procedures
Imaging Tests:
Ultrasound Scan
Urine Tests
INTERVENTIONS AND TREATMENT
Depending on your stage of Chronic Kidney Disease depends on the level of intervention and treatment required.
• Interventions for stage one, two and three of chronic kidney disease
• Proteinuria Screening
• Blood Pressure Screening
• Smoking Cessation
• Glycaemic Control
Treatment for Stages four and Five
Kidney transplant
Dialysis
Provide
Physical patients with
Management of pain
Emotional
Support with
Support
Provide Spiritual
Support
Manage
Disease Control
Emotional
NURSING IMPLICATIONS
Intellectual
Provide
Physical
Support
Spiritual
Encouraging
Referrals
Educate
patients on
Chronic Kidney
Disease
REFERENCE LIST
• Theaidentist (2015) Kidney location in human. Available from: bodyhttp://www.thaidentist.org/kidneys-location-inhuman-body/ [Accessed 22/01/2015] • Unknown (2015) Kidney. Available from: http://www.middletownurology.com/kidney-stones [Accessed 22/01/2015] • Unknown (2015) http://www.umich.edu/~elements/web_mod/viper/kidney_function.htm [Accessed 22/01/2015] • Healthline (2015) Kidney Video. Available from: http://www.healthline.com/vpvideo/kidney-physiology [Accessed 22/01/2015]
• Kidney Health (2015) Signs and Symptoms. Available from: http:// www.kidney.org.au/KidneyDisease/RiskFactorsandSymptoms/tabid/819/Default.aspx [Accessed 22/01/2015] • Diabetes (2014) Kidney Disease (Nephropathy). Available from: http:// www.diabetes.org/living-with-diabetes/complications/kidney-disease-nephropathy.html [Accessed 22/01/2015]
REFERENCE LIST
• National Kidney and Urologic Diseases Information (2014) High blood pressure and kidneys.Available from: http ://kidney.niddk.nih.gov/KUDiseases/pubs/highblood/ [Accessed 22/01/2015] • Mayo Foundation for Medical Education and Research (2015) Chronic Kidney Disease. Available from: http://