Citizenship: Teacher and Students Essay Sample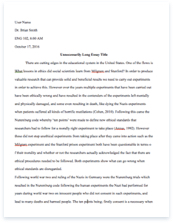 The whole doc is available only for registered users
OPEN DOC
Get Full Essay
Get access to this section to get all help you need with your essay and educational issues.
Get Access
Citizenship: Teacher and Students Essay Sample
The article I reviewed is entitled "Putting Politics Where It Belongs: In the Classroom." The article is pro discussion-based teaching when reviewing topics such as politics, religion, and values. Classrooms are rich sites for the discussion of controversial issues in large part because the students who populate them bring with them a diversity of perspectives, ideologies, and experiences (Hess & Gatti, 2010). Teaching using discussion-based methods are challenging and teachers have to be ready to manage debates in the classroom. There is a strong line of research that shows that within the classroom, talking with people who hold different political views can similarly work to build political tolerance (Hess & Gatti, 2010). The writers of the article believed that it is important to first identify if a topic to be discussed is either open, closed, or tipping. Open issues are issues that are currently up for debate in our society. The article used same sex marriage as an example of an open issue. A closed issue is one that has already been solved in our society. The article used women's suffrage as an example of a closed issue. Tipping is an issue that is currently open or closed but might one day be changed.
Issues that are closed should be avoided in the classroom but issues that are open or tipping can be important issues to discuss in a higher educational setting. Value-Based Instruction versus Standards-Based Instruction Value-based instruction is used to teach students values and promotes behavior that will allow students to become good citizens. It encourages students to develop a secure sense of self and supports an increase in academic standards. Students are taught to think critically and make decisions that will model choices they will make when the become adults.
Standard-based instruction is planned instruction based on set standards. Standard-based instruction provides clarity and a point of reference to guide instruction so the teacher can focus on what the students are learning. Addressing issues that arise during controversial topics I believe that it is important to be prepared to discuss "hot issues" in the classroom. The best way to begin discussions about "hot issues" is to explain to the class prior to starting discussions the rules of discussion in the classroom. Students must be prepared to respect the opinions of their peers in the classroom. No one will be allowed to name call or make fun of any student based on his or her own belief system. It is important for students to allow individuals to voice his or her opinions without being interrupted. Once everyone is clear on the rules, discussions can begin. If a student breaks one of the rules he or she will be immediately silenced and not allowed to participate in the discussion. Conclusion
A teachers job during discussion-based teaching is to mediate discussion. I believe teachers should keep their own personal views and opinions to themselves. This is accomplished by continually asking questions that keep students talking, thinking, and learning. Attending carefully to the design of questions and prompts is one important way to make sure that the underlying nuances of people's beliefs, attitudes, and opinions are surfaced (Hess & Gatti, 2010) . Classrooms where students feel comfortable voicing his or her own opinions during group discussion will teach students tolerance of others.
References
Hawkes, N. (2013). Welcome to Values-based Education. Retrieved from http://values-education.com Hess, D., & Gatti, L. (2010, December 1). Putting Politics Where It Belongs: In the Classroom. New Directions for Higher Education(152), 19-26. doi:10.1002/he.408