City Road in Cardiff and Outram Street in Nottinghamshire Essay Sample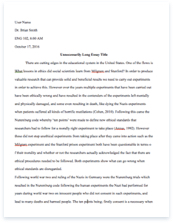 Pages: 4
Word count: 967
Rewriting Possibility: 99%

(excellent)

Category: street
Get Full Essay
Get access to this section to get all help you need with your essay and educational issues.
Get Access
Introduction of TOPIC
With reference to what you have learnt about City Road, outline some of the differences across time and space on a street that you know.
This essay aims to show some of the differences across time and space between City Road in Cardiff and Outram Street in Nottinghamshire. I will be looking at the different cultural aspects of takeaways and the different activities between the day and night on both streets. I will also be looking at the various materials of the street.
Outram street started out life as a dirt road, surrounded by fields and landscape. The first building that was constructed on Outram Street was the 'New Cross hotel', which still stands today. Outram street is a mixed residential and shopping street in Sutton-in-Ashfield, Nottinghamshire and consists of two roads that are separated by a roundabout. The buildings that reside in the street consist of various different businesses and flats and run down both sides of the street. These include various different shops, takeaways and an Asda supermarket. City Road is approximately 1 mile long and is the busiest street in Cardiff ('The Street', 2009, scene 1). There is a wide and diverse range of cultures and this is evident with the shops, restaurants and takeaways which are mainly aimed at the ever growing student population and the local ethnic minorities. Outram street also has a wide range of cultures among its population these are shown in the many takeaways and restaurants that occupy the street.
At night both streets are very similar, because it is these takeaways and restaurants that become the main focal point of the street. In the DVD ('Connected Lives', 2009, scene 1), Nof Al-Kelaby is the owner of The Hawaiian restaurant. Nof's restaurant brings in a range of people from different backgrounds, mainly students and locals. The restaurant specialises in group bookings for the likes of birthdays and hen parties. Similarly there are similar types of restaurants in Outram street where people are brought together to enjoy a good night out. These include many cultural places that bring in
the own speciality dishes such as, Chinese, Indian, Italian, Polish and British foods. Each takeaway
and restaurant each make their own connections between different countries.
When observing City Road in the day, it is evident that there are many types of people going about their day to day lives. There are people going to school, university, work, shopping and people carrying out various jobs on the street itself. For example, June Rogers ('Ordered Lives', 2009, scene1) is a lollipop lady that works on City Road; her job is to stop traffic to let children cross the road safely. Like many main streets, Outram Street is equally alike in this way to City Road. In the day there is a lot of traffic on both streets. Dr Simon Bromley mentioned that City road is used as a conduit and that it is a key feature of everyday life ('Material Lives', 2009, scene 2). Outram street also is used as a conduit for people travelling between Sutton and Mansfield. The transportation on Outram Street is very much the same as City Road, with various transport including vans, cars and buses.
One difference between the streets is that City Road has bollards and various crossings including traffic lights that run throughout the street. These are put in place to control traffic and for the safety of pedestrians. Rodney Berman ('Material Lives', 2009, scene 1) mentioned that there was an exercise in 2001, which was aimed at making the street environment a better place. This project involved putting up the bollards and painting the bins blue. The bollards have a white stripe at the top to help the partially sighted. However, unlike City Road, Outram Street has no bollards and only has 3 sets of traffic lights. These are situated at each end of the street with just one set in the middle of the two sections that join the street.
Furthermore, Police officers also help to make the City Road a better place to live. In an attempt to control crime levels, 'Operation Clean Sweep' was introduced. This project urged locals to report problems surrounding anti-social behaviour (Blakeley et al., 2009, p. 39). This included a special hotline telephone number that residents could call if they came across such problems. The Nottinghamshire police have various operations set up and crime in the town centre has had a 14% decrease compared to last year (Nottinghamshire Police, n.d.).
In conclusion, I think that there are more similarities than differences between City Road and Outram Street. There are many cultural influences on both streets that come from the different businesses that occupy each street. This is good for society as it brings many different cultures together. The only contrast is the lack of crossings on Outram Street; this has an effect on pedestrian safety as there are very few crossings along the street.
References: –
Blakeley, G., Bromley, S., Clarke, J., Raghuram, P., Silva, E. and Taylor, S. (2009) Introducing the Social Sciences, Part One: Learning Companion 1, Milton Keynes, The Open University.
'Connected Lives' (2009) Making Social Lives [DVD], Milton Keynes, The Open University.
'Material Lives' (2009) Making Social Lives [DVD], Milton Keynes, The Open University.
Nottinghamshire Police (n.d.) Nottinghamshire Police [online], http://www.nottinghamshire.police.uk/local/mansfield_ashfield/ashfield_north/ashfield_north/sutton_in_ashfield_town_centre/ (Accessed 09 June 2012).
'The Street' (2009) Making Social Lives [DVD], Milton Keynes, The Open University.