Classroom Behavior Guidance Plan Essay Sample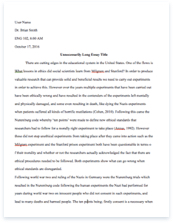 The whole doc is available only for registered users
OPEN DOC
Download Essay
A limited time offer!
Get a custom sample essay written according to your requirements urgent 3h delivery guaranteed
Order Now
Classroom Behavior Guidance Plan Essay Sample
Introduction
Discipline is one of the major perennial problems that school administrators and teachers face.  Instilling discipline and positive behavior to students must be incorporated in the general academic curriculum of learning institutions because the development of individuals, which is at the heart of educational mission include correct social behavior and discipline for students to become productive and responsible citizens of the community.  Teachers as the adults of a school community should serve as role models of the discipline whom students can emulate.  To ensure consistency and comprehensiveness, discipline should be implemented both at the school and classroom level.  School wide discipline can be achieved through demonstrating dedication and commitment of all personnel, proving a high behavioral outlook, implementing clear and democratically consulted policies, promoting community participation among many others.  At the classroom level, the implementation of discipline is delegated to the teacher in charge and should follow positive behavioral programming. Punitive practices such as physical punishment tend to increase or exacerbate antisocial and undesirable behaviors rather than reduce them.  (Evertson and Weinstein, 2006) Below are some of the strategies that teachers can adopt in implementing discipline at the classroom level that focus on four areas.
Environment
Establishing a child oriented environment is the first step to positive behavioral programming.   This is manifested in terms of space (where they freely move around), materials (safety and access), functionalities (educational materials), in order to create the conducive ambiance for fun and learning.  By establishing routine or schedule for activities, children are introduced to an environment that is structured and ordered. The classroom environment should serve to reflect a society where people live harmoniously and work together to keep order and preserve peace.  As the citizens of the class, children must therefore be informed and instructed about the rules in the classroom. This includes a clear understanding among students of the consequences (not physical punishment) of misbehavior or deviating from the set rules and procedures.  On the other hand, the use of vague or unenforceable rules must be avoided.
Policies and rules that ensure discipline must be set by the class as whole to ensure democratic participation in decision making.  By being a part in consensual decision making, the student have an assumed commitment to the decisions, as it was established from a democratic and fair procedure, which included him or her.  Moreover, teachers must constantly remind students of such policies to make sure that the class is always in agreement.  Finally, teachers should develop group activities that allow students to be cooperative and other general pro-social skills.  Group activities allow students to learn how to function in a group
Communication
Communication is an important tool to maintain and promote social interaction and to keep one updated about the children. Before one can appropriately address behavioral problems, one should know the situation first. Moreover, academic optimism and high behavioral expectations should consistently be communicated. Appropriate behavior is directly communicated, explained, conducted and equitably implemented to all members of the class.   This highlights the avoidance of favoritism or teacher's pets.  Below are effective guidelines for communication: Always be positive and proactive for motivating the children (tell what to do than not what to do); inculcate listening skills by avoiding talking at them unless they are in full attention; be prepared for providing reasons why;  provide sufficient instructions in activities (factual information); use simple and clear language; avoid criticizing others such as by addressing cultural differences; show a sense of humor by giving simple and short jokes so that learning becomes an enjoyable activity; and talk to them individually. While it is physically impossible to monitor individual students, the teacher has the responsibility to make her personal presence and attention felt by each student by giving specific feedback and reinforcement to individual students
Transition
Transition pertains to the shifting from one activity or place to another. It becomes problematic when children become so attached or preoccupied with the previous activity.  In order to facilitate transitions: provide students ample time to finish previous activity, warn students before deadline elapses; provide an interesting introduction for the next activity such as its importance, benefits and fun; maintain schedules strictly so that all necessary activities and lessons can be covered or tackled.
Reinforcement
Reinforcement is the process of giving recognition for successful achievements or special effort or good deed performed by a child.  Reinforcement is only provided to motivate students in performing demeanors and manners that are desired.  Teachers should provide immediate and continuing reinforcement to positive behaviors.  Reinforcement can be implemented by giving praises, awards (candies, toys) or using one as example for the class.  To facilitate reinforcement, teachers should create opportunities for success by formulating simple activities that allows students to experience success in their learning and social behavior. On the other hand, negative behaviors should be immediately corrected (reprimanding) or in some instances, ignored so that children can realize that such behaviors will not gain attention or be appropriately rewarded.
Reference:
Evertson, C.M.  and Weinstein, C.S. (2006). Handbook of classroom management: research, practice, and contemporary issues. Routledge