Cloning In Contemporary Movies or On Television Essay Sample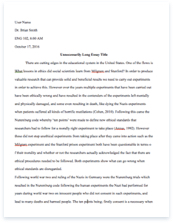 The whole doc is available only for registered users
OPEN DOC
Download Essay
Get Full Essay
Get access to this section to get all the help you need with your essay and educational goals.
Get Access
Cloning In Contemporary Movies or On Television Essay Sample
Introduction
Cloning is the act of duplicating an organism. The final product is two identical organisms referred to as twins. The first almost success story of a clone is the historical sheep known as Dolly. Dolly was created in 1997 by a project but later died due to various complications (Human Genome Program, par. 2). Out of this project, the world has reacted with great emotion as it has become evident that there is a possibility of cloning a human being. This has opened up to controversy on to what extent scientists can go towards achieving their dream of 'creating' a human being. Technology has caught up and cloning ideas have been linked to movies and television. They have ignited creativity in their makers who opt to use fictional science to bring forth cloned characters.
How Cloning is Represented in Contemporary Movies or on Television
Many movies and television programs are based on genetic themes today. Most plots revolve around cloning and this has taken them to another level. They are used to give a much needed twist to detail. Cloning is mostly used in movies and television programs that are based on fictional science. A good example is "Sleeper", a creation of Woody Allen, which is a fictional science comedy. It was created in 1973 (Clark, par. 1-4). Another fictional movie is "Multiplicity", which was created in 1996 by Harold Ramis. Other movies based on cloning include "Dead Ringers" created in 1998 and "Twins", which was created in 1988. Cloning in the movie and television industry seeks to trigger interest in the audience through creative science works. Some of the topics that are mostly used with cloning include artificial intelligence and cybernetics. Cloning is mostly adopted in cases where the producer wants to depict twins. These twins can be either identical or fraternal. Cloning features prominently in movies where the maker wishes to feature heredity, reproduction, and consanguinity (Clark, par. 1-4).
In the television series "Caprica" and "Dollhouse", cloning takes center stage. These TV shows revolve around transferring a person's personality to another being through a computer chip. This ends up in the production of a twin with similar characteristics. This has triggered further questions on cloning which seek to investigate if the transfer of the 'soul' is possible. One itches to know if the soul is transferable just like a person's personality. According to Vogt (par. 5-6), a persons soul is what makes them unique. Their character can be downloaded but the soul remains with the original person. A human being exists in three tiers, which include the mental, the physical, and the emotional. The physical and the mental can be transferred since they represent the body and the memories. The soul which is represented by emotions is however not replicable. A clone therefore lacks identity (Vogt, par. 1-21).
In the movie, "Groundhog Day", cloning is affirmed by the fact that a clone can behave just like the original being. Just like a robot, the clone is subjected to copying the daily activities of the original being. This routine repetition becomes the other person. This also highlights the debate between nature and nurture. It further seeks to find out if a person gets a personality out of the environment they are exposed to or from their parents (Vogt, par. 1-21). The film "Dollhouse", just like "Groundhog Day" seeks to justify the fact that people are who they are out of the environment they are exposed to. God is the only one with the power to give a soul to a human being. Therefore, people can be cloned but they cannot be given a soul by their creators. This makes all clones soulless. Science fiction has successfully cloned people in form of machines that are able to talk and walk just like human beings. The bottom line is that these machines are the creation of man and therefore do not possess a soul. Movies and television bear characters that act just like human beings. They indicate that these fictional beings have a soul. However, this is not necessarily true since it is quite evident that it is only God who gives life and in this matter, a soul (Vogt, par. 1-21).
Many movies and television shows based on cloning portray it as a vice. Most of the clones depicted in these programs are potentially evil. On the other hand, the source of the clone or the original being is the 'good' character. In films like "The darker side of Terror", the clones used portray criminal activities. Cloning is considered blasphemous in that it aims at miming God's work. Therefore, the creators of these clones are later punished as the films unfold. They most of the time turn against their makers. In many instances, they become more than what their maker was hoping for. In these movies and television shows, the creators of these clones are depicted as private agencies, which clone other beings for their secret use (Maio, 6-10).
They do this in privacy to ensure that they are the only ones who know that such a clone exists. Transferring human life is a taboo and this portrays cloning as an evil activity. As these episodes culminate, the clone dies or ends disastrously showing that their existence is evil. A clone can never be a complete human being. They lack human perfection, as they possess split personalities. Cloning in contemporary movies and television serves as a warning that man cannot play God. They therefore portray it as illegitimate as it must never be seen as another way of giving life (Maio, 6-10).
Many of these movies and television programs seek to provide entertainment. They lack in realism and scientific accuracy. They can be rated as fantasy as most of the scientific theories used are not contextual. Instead, they are filled with information that is based on obsessions, imaginations, and fantasy. At the same time, they succeed in showing the possible future scenarios that would emanate from cloning. They seek to show people the future of technology and what they would possibly encounter. There are many scientific discoveries undergoing laboratory checks everyday. Cloning in contemporary movies and televisions is exaggerated. Some of the features represented are grossly distorted (Clark, par. 9-12).
The media is a profit making entity that would go out of its way to meet the audiences' needs. Movies and programs have to compete with massive audiences and commercial pressure. In this process, the movie makers go out of their way to meet these demands. They therefore end up creating outrageous movies and TV shows to command a huge following in the target market. Out of these misconceptions, millions of people end up viewing biotechnology and genetics differently. There is a great need to educate the masses on the genuine endeavors that the scientific world is going through in the hope of creating medication for various conditions through cloning. This includes cell development where humans may be able to get 'spare parts' for defective cells in the body. (Clark, par. 9-12).
Conclusion
Cloning is a topic marred with controversy, an act that is viewed as blasphemous. Science plays a major role in the society but attempting to create has been received with mixed reactions. Cloning in contemporary movies and television is inspired by scientific fiction. From the case study, cloning aids in the production of thrilling characters in the content. However, many of these movies and television programs portray it as an evil practice. First, the clones can never be real. The avatars and robots created may assume human activities but they can never be human.
They only show the extent of their creativity and the technological future. The issue of the soul takes a center stage in the cloning issue. Questions on whether clones can have a soul have been asked. God is the giver of life and the only one who can create. Scientists may try to mime his works but with little success. These clones lack identity and they remain just science fictions. The creativity however cannot be underscored and it is amazing what these clones can do. People are therefore encouraged to get verified information on genuine scientific discoveries from documentaries and science books and not believe everything portrayed in these movies and television series.
Work Cited
Human Genome Program. Cloning Fact Sheet. U.S. Department of Energy Office of Science, 11
May 2009. Web. 12 May, 2010, <http://www.ornl.gov/sci/techresources/Human_Genome/elsi/cloning.shtml>
Clark, Michael. Genetics Themes in Fiction Films. The Human Genome, 27 March 2006. Web.
            12 May, 2010, <http://genome.wellcome.ac.uk/doc_WTD023539.html>
Vogt, Tiffany. TV Watchtower: Does Sci-Fi Allow For Possibility Of A Soul? Quantum Global
Media Inc, 22 February, 2010. Web. 12 May, 2010, <http://www.airlockalpha.com/node/7155>.
Maio, Giovanni. Cloning in the Media and Popular Culture. European Molecular Biology
Organization, 2006. Web. 13 May, 2010, <http://www.nature.com/embor/journal/v7/n3/full/7400652.html>.