Closing Reading and Argument Essay Sample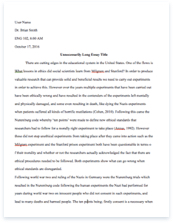 The whole doc is available only for registered users
OPEN DOC
Pages:
Word count: 1514
Category: writings
Download Essay
A limited time offer!
Get a custom sample essay written according to your requirements urgent 3h delivery guaranteed
Order Now
Closing Reading and Argument Essay Sample
Essay I Schedule
Bloggy 1 (1 double-spaced page or 300 words or less, not counting the quotation of your passage) due Wednesday, 19 September, 8 PM
Rough draft due at class time, Monday, 24 September (3 pages minimum). Save in .doc format. Please upload this as an attachment to the course blog. Label the file clearly with name and assignment, like this: jsmithroughdraft1.doc.
Conferences Monday, 24 September and Monday, 1 October
Revision Club Monday, 1 October
Final draft due at 5:30 PM, Tuesday, 9 October (3-5 pages). Please save in .doc format and upload to the course blog: jsmithfinaldraft1.doc.
"I was hated," George Orwell tells us in "Shooting an Elephant," "by large numbers of people" (302). What kind of hatred does he write of? In this essay, Orwell makes a connection between his personal life and the social and cultural forces of imperialism, which are strikingly impersonal. In his essay, this connection rides the back of an elephant.
Jonathan Swift, writing in 1729, addresses a social problem by offering to "humbly propose my own thoughts, which I hope will not be liable to the least objection" (410). His proposal is a mean one, though, that rides on the backs of society's most innocent. Why write in this manner?
The Declaration of Independence, written primarily by Thomas Jefferson, is among the most famous documents critical of social and political conditions. It offers an elaborate and detailed logic for a new, independent state. Our textbook gives us the Declaration in both rough and final versions, and the changes between these two versions are fascinating to consider.
Maxine Hong Kingston, in writing a story her mother instructs her not to tell anyone, notes that "Those of us in the first American generations have had to figure out how the invisible world the emigrants built around our childhoods fit in solid America" (240).
Though these four texts are quite different, they take strong positions on specific social matters and address conflicts that rise in society. In this unit, you'll write on how one of these essays–your choice–sees a problem and attempts to address, understand, and even resolve it.
Essay 1 Goals
Your first essay of the semester will present an argument based on a close analysis of one of the fours essays we're reading. To do this, you'll identify a provocative or "problematic" passage or passages in the text or texts and analyze them, "close reading" these passages as evidence. Evidence of what? You'll be driven to tell your audience—intelligent, curious readers who perhaps haven't read the texts at hand but are interested in what they discuss—how the passage works in the text as a whole, or how the passage helps them to understand the perspective of the author. And you'll also be driven to explain how your analysis is important to an overall understanding of the text and the issues it raises.
An analytical question will drive your argument, which is based on close reading of evidence. You'll offer a motive, a reason for your paper to exist, and a thesis statement that specifies your argument. You'll orient your audience to the text you're close reading, so that even if they haven't read it, they'll have a good and accurate idea of what it's about.
Bloggy 1: Quote and Close Read (1 double-spaced page or 300 words or less, not counting the transcription of your passage).
Choose one of the essays—Swift, Kingston, Orwell, Jefferson—and a passage from it. These bloggies are aimed to give you material to use as you prepare to write your essay, so presumably this text and this passage will eventually appear in your completed essay. But you can choose another text
later if you change your mind. Provide a concise and accurate view of the text and, in close reading your selected passage from it, give a sense of what are the tensions or conflicts that the essayist experiences, and how he or she tries to resolve them—if he or she does—as shown in your passage. Here's a suggested sequence (though you needn't write in such a numbered way, but as a lucid mini-essay):
1. Identify the name of the text and its writer. 2. State the tension or conflict that drives the text (think of your reader and what they need to know about the text; they'll need to be oriented to it, getting a bit of focused summary). 3.Offer a quotation from the text that is crucial in expressing this tension. Quote only when you think that an author's exact words—provocative, wonderful, disturbing—are necessary for your audience's understanding. This could be a line or two or more, or a phrase or even just a term, or a piece of dialogue, or a paragraph. Follow MLA style in quoting (See Writing with Sources, Chapter 1) and citing (WWS, Chapter 4). 4. Tell why you've chosen this passage. Is it surprising, lovely, disturbing, confused, radical, striking in some way? 5. Close read the passage:
a) What is worth observing about your passage? Language? Imagery? Allusion? Tension? Is something especially clear or especially unclear to you in the passage? What? Why? b) What is the significance of what you've observed? What does it tell you? Does it make sense? How? Why not? Take a risk and make a judgment! 6. Make sure you "sign" your exercise somewhere by typing your name (at the top is preferable). And take the opportunity to try out some good title ideas—really risky, intriguing, provocative stuff. Not "Bloggy 1." The title can appear in your bloggy subject line.
Essay I Assignment
Based on your bloggy, construct a draft of your essay. This will offer an argument on the text (or texts) you've chosen. You will aim at a specific version, which you develop independently, of this two-part analytical question: how and why does your chosen passage work? How does your interpretation help to understand the text as a whole? You should offer a fresh argument in clear, vivid prose that articulates precisely how and why the text or texts imagine specific social complexities.
Methods
Please cite the essay you've chosen at least three times. One citation will be what you worked on in your bloggy. The two other citations may also come from your original passage, or from another passage; they may be merely terms or short phrases.
In writing, be sensitive to evidence from the text that doesn't fit your analytical work in the bloggy. Are there further complications, contradictions to consider? For example, you may find that your first interpretation in the bloggy needs refinement when you consider evidence from the rest of the text. This movement, if you choose to make it, from a first impression to a deeper, more sensitive second, or even third, interpretation can be very interesting for your audience and creates a dramatic "story" of thinking.
Bear in mind that a narrow focus, rather than a broad one, will allow you to develop powerful insights. Stick closely to what you find in your quoted passages, which illustrate your argument and lend it specificity. This is the essence of close reading. Be sure your thesis stems from the evidence you've studied in your close reading.
Paper Format
The rough draft should be at least three pages, the final draft three to five pages. Both are double-spaced with one-inch margins. Use a serif font; Times or Times New Roman, 12-point, is by far the most common font expected by college teachers. Use MLA citation style (consult 50 Essays, page 471, for guidelines on MLA style). Number pages in the upper right hand corner after the first page, with your last name preceding the page number. No separate title page is necessary. Be sure to include the instructor's name, assignment name, and list "Essay 1 Rough Draft" or "Essay 1 Final Draft" as appropriate. Include your own daring and informative title, centered after the heading.
Suggested appearance for the start of your essay:
Florence Nightingale
Expo E25
Tom Akbari
Essay 1 Rough Draft
24 September 2012 (or September 24, 2012)
Here's My Title, Which Grips You and Clues You In to the Essay
Here's the first line of my essay, an essay that goes on for several pages, brilliantly arguing for my position….
Bibliography
Include a bibliography, or what in MLA style is titled as a "Works Cited" section. To save paper, you needn't put the "Works Cited" on a new sheet of paper (which is the formal requirement, of which you should be aware), but, if it fits, simply on the last page.
Electronic Paper Saving and Submission
Save your work to disc frequently as you write it so that you always have a copy. Make backup copies. You will submit your bloggy and rough and final drafts to the course blog (see full instructions on the course syllabus on how to post to the blog) so that we can publish our work and share it with everyone.