Cognitive Psychology Essay Sample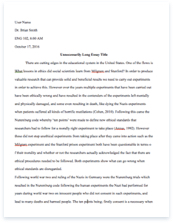 The whole doc is available only for registered users
OPEN DOC
Download Essay
A limited time offer!
Get a custom sample essay written according to your requirements urgent 3h delivery guaranteed
Order Now
Cognitive Psychology Essay Sample
During this course, I have learned that Clinical Psychology uses both research and practice to be able to understand and assess the problems and illnesses of their patients. Their tasks includes the early prevention and intervention of secondary problems of disturbed individuals ranging from infants to older people, as well as promote mental health in individuals, families, groups and organizations.
In the period of assessment, clinical psychologist conducts interviews; behavioral assessment; administer and interprets intellectual tests to their patients so as to find out the nature, causes and extent of the problems and its potential effects to the patient. After this, the psychologist applied intervention techniques to treat or correct the emotional conflicts and personality disturbances of his patient.
Depending on the kind and causes of the patient's dysfunction, therapies are administered which comprised of cognitive-behavioral therapy, interpersonal therapy, psychoanalysis, psychodynamic therapy, mental and family therapy, group therapy, biofeedback, social learning approaches, and environmental consultation. Clinical Psychology can be practiced in different settings that include private practice, mental health service units, managed healthcare organizations, hospitals, schools, universities, industries, legal systems, medical systems, counseling centers, government agencies, and military services. It requires a license to practice clinical psychology.
I would say that the knowledge and information I have learned in this course are very important to me. It taught me how to apply scientific method in clinical thinking and assessment which are essential in clinical practice. With all the sequence of coursework and supervised clinical practices, students were trained as well as prepared to become competent, responsible future clinical psychologist.
To be sure of becoming proficient clinical psychologist, we must further hone our skills not only in clinical practices but also in ethical manner when interacting with clients, patients, and other professionals as well. Most of all, we must bear in mind that as clinical psychologists, we should always be after the welfare of the mental health of the public; be at service to the people by helping people overcome their psychological and mental disabilities and dysfunctions. In this way, we are not only helping other people but ourselves as well, making us a better person in the process.
Bibliography
Rego, S. (2009). Psychology 101. Division 12 Clinical Psychology. Retrieved February 17, 2009,
from the American Psychology Association database.
,