Cognitive Theory on Preschool, Elementary and Highschool Essay Sample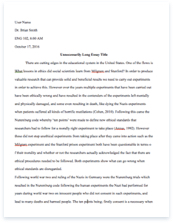 The whole doc is available only for registered users
OPEN DOC
Pages:
Word count: 2289
Category: School
Get Full Essay
Get access to this section to get all help you need with your essay and educational issues.
Get Access
Cognitive Theory on Preschool, Elementary and Highschool Essay Sample
Gross-Motor Skills Preschoolers are eager to climb up and down the stairs. The method of bringing both feet together on each step before proceeding to the next one. (Adults place on foot on each step in sequence. However, young children still need some back-up assistance to prevent falls or accidents because their skill is still new to them.)Young children at this age, also develop better upper body mobility as well as their speed and accuracy. Motor Skills Young Children at this age can use larger writing instruments, like fat crayons, in a writing hold rather than just grasping them with their fist. They also use a twisting motion with their hands.Furthermore, they start to manipulate clothing fasteners, like zippers and snaps in dressing and undressing themselves. Before they enter school, most of them gain ability to completely dress and undress. Self-help Skills They can now button and unbutton their clothes by themselves. Their artistic skills improve, they can draw simple stick figures and copy shapes such as circles, squares and big letters. However difficult drawings may take longer. Social
Interaction with teachers Preschoolers are sweet and kind. So they easily get interacted with the teachers. They also follow simple rules given by the teachers. However, at times they become stubborn and break rules. Interaction with classmates/friends They are playful and active so the children easily get along well. They usually play, run around, drawing or sometimes have role playing.However, some problems arise between them such as fighting, biting, kicking or sometime hitting. Interest Young children have a lot of interest especially new things. They are also interested in activities such as drawing, writing, singing and dancing. Emotional
Moods and temperament, expression of feelings They express a wide range of emotions such as tantruming, crying and whining. To add up, they express their feelings through actions and words. Children at this age, make their feelings known by saying "No" and "Mine". Emotional Independence Preschoolers show their growing independence, initiative, and creativity by wanting to try new things and make new friends. Cognitive
Communication skills Young children at times are having problems constructing sentences, for instance: they make 2-3 words in a sentence or sometimes they kick, shout or cry to express their feelings. Moreover, they do like asking a lot of questions to the adults as well as repeating sounds, words or phrases (may sound like-stuttering). Thinking skills They are able to sort or match things (e.g. recognize and match colors and organize things by size). In addition, they can tell adults his/her full name and age.On the contrary, their thinking span cannot be stretched for 5-15 mins. Problem-solving Their problem-solving skills aren't well developed so they need adult assistance. However some young children are persistent and try to solve the problem on their own or sometimes imitate adults' action and try to apply it.
Figure 2 Elementary Grade 4 pupils (ages from 9 to 10) of Cubay Elementary School
Development Domain Elementary
Physical Age: from 9 to 10
Gross-Motor Skills Grade 4 pupils are very active and playful. They spend their recess time playing hide-and-seek, Chinese garter and jumping rope for girls while for the boys are hitting, catching, kicking or throwing balls such as baseball, basketball or sepak takraw ball. I think these activities are good for them because it helps them learn balance and develop hand-eye-foot coordination. Some of the students play well and have good coordination however some of them are just in the process of developing their gross motor. Motor Skills Pupils' fine motor skills at this level aren't well developed. Their handwriting strokes and lines aren't legible and fine. The letters' alignment isn't well-coordinated with each other some letters are flying up and down. Spelling errors are also visible. So the teacher finds ways to improve their handwriting as well as their stroking though students have short attention-span with it comes to writing drills. Self-help Skills Self-help skills are somehow visible to these children. They already know how to zip and unzip their bags, fix their uniforms, socks and shoes after playing and also wipe their sweat however some students need adult help. Moreover, some children don't need constant reminder to finish all those work. Life skills are developing. Social
Interaction with teachers They say that teachers play one of the big roles in shaping and nurturing children's social skills. As what I observed when the teacher asked some questions which the students knew. They automatically raised their hands and started making a noise to get her attention. When the teacher said "settle down" the students behaved. And if the students didn't know it they simple raised their hand and honestly told their teacher.I think the pupils treat their teacher as their second mother with respect and love. Interaction with classmates/friends Elementary pupils like to play and joke around with classmates. These processes help them know individual differences as well as learning and motivating relationship.However some students don't know how to control their anger nor emotions that sometimes lead to fight or argument. Interest Pupils develop environment awareness and curiosity. In addition they tend to have a lot of interest especially new toys, latest fashion and styles or to other students. Emotional
Moods and temperament, expression of feelings As what I've mentioned above pupils don't know how to manage their emotions yet. They are hot-tempered, impatient and sometimes sensitive. Little indifference can also lead to fist fight for boys and verbal and harsh arguments to girls. Emotional Independence Pupils are eager to complete the given tasks, getting around independently outside their homes and taking households responsibilities such as cleaning and sweeping the room, arranging chares and cleaning the boards. They also have eagerness to have good outputs in their homework and seatwork and some children can go home alone if the house is near. Cognitive
Communication skills Pupils aren't well developed. Most public schools' pupils use mother tongue language. So for them they can express their thoughts well on that said way however when it comes to foreign language they can only express their thoughts on basic sentences, patterns, and vocabularies. In elementary most teachers teach pupils on how to convey their ideas by writing or speaking. Students improve personal relationship by sharing their feelings knowledge and opinions to others. Thinking skills Pupils thinking skills are based on what they see and believe. Their definition will probably continue to change as time goes by. Problem-solving Pupils work their way though situations and figure out how or why something happened.
Figure 3 High School students (ages from 13 to 14) of Iloilo National High School
Development Domain Preschool
Physical Age: from 13 to 14
Gross-Motor Skills Gross-motor skills is developing properly they can skip, jump rope, catch a bounced ball, walk on their tiptoes, balance on one foot for over eight seconds, and engage in beginning acrobatics.
Motor Skills Motor skills are mostly equal in boys and girls at this stage, except that boys have more forearm strength and girls have greater flexibility.
Self-help Skills High School students are able to clean and tidy themselves as well as beautifying such as putting make up or dressing up. Moreover, they already know how to do household chores (e.g. cooking, cleaning, washing laundry and sewing etc.) Social
Interaction with teachers They treat their teachers with love, respect and also a second parent (e.g. asking for advice and at times same some secrets.) However, some students feel shy and hesitant to talk and open up with them. Interaction with classmates/friends Students learn how to work cooperatively with others, compete for fun and enjoyment, and work autonomously. Interest High schoolers are very visible in expressing their interests. For instance, they form a small group which all members have the same interest as one another.They also form some clubs to share their interests as well as meeting new people. Emotional
Moods and temperament, expression of feelings They don't usually express their feelings well to other people but they share it to their closest peers. Emotional Independence Some students try to manage their anger, frustration and depression etc. through singing, dancing and drawing etc.Furthermore, they tend to control themselves and divert it to other things. Cognitive
Communication skills Communication skills are almost developed (e.g. writing, listening, speaking, and reading).They know how to communicate and relay their ideas to others. They can also make complex sentences. Thinking skills They develop critical and reasoning thinking. Their thinking ability becomes longer. And they know how to sort and match things without difficulties. Problem-solving Through learning and experience high school students learn how to decide and analyze the problems on their own. However, most of their decision-makings aren't mature enough so they need adult assistance for that.
My Analysis
Level Salient Characteristics Observed Implications to the Teaching-Learning Process I've observed Preschoolers ages from 3 to 4. Preschoolers habitually like to walk around the class or go outside to see his/her parent, disturb other students by making a noise or unwanted actions such as shouting, jumping, playing, running and drawing etc. In addition they easily get bored because of their short attention span. Thus, the teacher needs to be more patience, creative and innovative to get his/her students' attention. For example, by organizing some educational games or activities.She should also teach the children some sing and dance lessons to keep them focus. I've observed Elementary Pupils ages from 9 to 10.
Elementary students develop their academic self-concept and their feelings of competence and confidence as learners. They are beginning to develop decision-making, communication and life skills, as well as character values. Moreover, students develop and acquire attitudes toward school, self, peers, social groups and family. Hence, the teacher should recognize and support the development of students' readiness, selecting developmentally appropriate tasks, capitalize on student interests as well as working with students' individual differences. Additionally, she must recognize and affirm students' cultures and experiences while moving toward the mainstream competencies. I've observed High School Students ages from 13 to 14. High School Students begin to place a great deal of importance on their peer's interaction. Girls tend to have a smaller group of close friends while boys more often have a larger, more casual network.Furthermore, their short-term plans are guided by their peers.
Wherefore, teacher should not think that adults have no influence. High Schools students are eager for adult role models, especially ones they feel to be non-judgmental and their long-term plans will be influenced by the adults in their lives
Figure 4: My High School Class Picture
When I was observing high school students, I reminisced the times of my fruitful youth. I recalled how I used to study, laugh, and play and have fun with my fellow classmates and batchmates. At that time, I felt that everything was so easy. No work, no studies, and no deadlines. In short I was as free as a bird. The similarity that I have with high school students now is the fact that everything is free and interesting because of the new learning as well. I could do all the things that I want whatever and whenever I like it. Moreover, excited to discover and learn new things and challenges in life. Figure 5 My Favorite Teacher
I also thought of one person who played a big role in my high school days. She is no other than Ms. Bernardita Guanzon. I always admire her English skills and teaching styles because for me she is the best motivator, guidance, teacher and a real parent. When I was in her class there were no dull moments, in addition she always persuaded me to bring out the best in me. And so after that, I came to a realization to do my best since then. Until now, I can't still forget her because she is the reason why I love teaching English.
Figure 6 Me; as a High School teacher in Thailand
Teaching is a very difficult job; however it's very rewarding once your students get the hang of what you're teaching. It's rewarding in so many ways. For one, it boots our self-confidence. For instance, teaching makes us feel what we are important in our students' learning. Second, it helps us improve ourselves by way of studying to provide excellent lessons to our beloved students. Overall, it's a phenomenal power that requires enormous responsibility.
The Importance of Cognitive Learning:
Cognitive learning is just as important to an individual's development as other types of learning. Cognitive learning is a type of learning that enables individuals to create and transmit a complex set of information including symbols, values, beliefs and norms. It is important to realize that cognitive learning and activity is involved in many daily activities and many aspects of human behaviors. Humans are not the only types of living creatures to learn via cognitive development. In fact, animals of all kinds also learn through cognitive learning. Because cognitive means "the act of knowing" or "knowledge, it is important to realize that cognition is what makes individuals develop the skills that are essential to learning. This includes instinctual abilities, survival instincts, responses and more.
My Portfolio
Cognitive Theory can be a helpful guide for me to be a good future teacher because I will be able to know the different type of learnings that I can provide to my future students. Moreover with this theory I can bridge the gap between students and content/skill to be learned. Lastly, I can help my students learn on how to translate learning theories into applications. Additionally I should teach them how to learn just as much as they need to learn things.