Colin Powell Essay Sample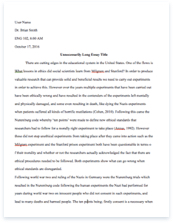 Pages: 13
Word count: 3,384
Rewriting Possibility: 99%

(excellent)

Category: leadership
Get Full Essay
Get access to this section to get all help you need with your essay and educational issues.
Get Access
Introduction of TOPIC
Abstract
Leading a group of people is a taxing job and requires a great deal of effort. To be an effective leader, a person must leadership and management skills. Public Administration or studying government organization and their relationship to other parts of the government is a good avenue to show leadership, exercise power, and personnel management. One public figure that had manifested such skills is General Colin Luther Powell. His service proved that he is an effective leader. Indeed, Powell mastered the art of serving for others and not favoring his personal interests. Amidst a lot of challenging situations and impediments, he had proved his worth and had inspired many people.
Colin Powell
Every organization has its established objectives, policy measures, and controls. There must be a leader to oversee that his subordinates well implement and followed these measures and rulings. It is the task of the leader to run the organization effectively, anchoring it towards success. Nevertheless, dealing with a number of people with different personalities is indeed demanding. Painstakingly, a leader must know how to be flexible at all times and be patient to achieve the group's targets.
Leadership is not an exclusive task. The task is not only for those people living affluent lives. Instead, leadership is for everyone. By uncovering the strength that lies within each of us, everyone can become skilled at leading. What is more, a person can apply leadership to all aspects of life. In fact, there is always an opportunity for a person to lead everyday. As said by Pitcher (1994), an individual can manifest leadership in daily activities such as setting an aim and taking actions to achieve it, making a decision whenever a person is in a situation that requires such, motivating subordinates to broaden their outlooks in life and so forth. Through discovering and maximizing the potentials within, an individual can develop the self-awareness and confidence required to lead (Pitcher, 1994, p.15).
Being a leader, one has to possess the ability to cope with the differing personalities of his/her subordinates. A group of 100 people may be tolerable but ruling over thousands of people is without a doubt a taxing task. This situation requires not just leadership and power but also knowledge in organizational behavior. Since each member or the sub-system composed the organization or the system, the leader must come up with great ideas to keep the system running effectively and efficiently. In public administration, the government organization will not be effective and efficient without the cooperation of its members. Hence, a good public official is necessary to keep the system working. This paper puts into words how a great leader was born in the person of Colin Luther Powell.
His achievements during his term of public service indeed touched the lives of many people, not just African Americans. This paper wishes to convey his background and his transformation into being a public figure. For most of his adult life, people admired Powell, charmed by his enthusiasm and positive demeanor, fascinated, as he climbed to the highest levels of power in Washington, by the incredible arc of his personal life. This paper gives details on how Powell proved that leadership was all about establishing a mission and by having the power, strategic managerial concept and proper personnel management, a person can accomplish such mission.
What is Leadership?
The term leadership can stand for the manner of leading, the concept of leading, or those entities that carry out one or more acts of leading (House, 2004). R. J. House (2004) describes "leadership" (p. 3) administratively and intently as "The ability of an individual to influence, motivate, and enable others to contribute toward the effectiveness and success of the organizations of which they are members" (p. 3).
Furthermore, House stated (2004) that how a person carries out leadership can be either actual or potential. An actual leadership means giving supervision or direction, or as House (2004) stated in his book, it is like saying "the emperor has provided satisfactory leadership" (p.3). Conversely, a potential leadership is the competence or ability to be in charge of, as in the phrase "she could have exercised effective leadership"(p.3); or in the concept "born to lead"(p.3).
On the other hand, George Terry (1960) has described leadership as "the activity of influencing people to strive willingly for group objectives" (p.7). In this circumstances, leadership – whether successful or not – has not taken place until at least one follower participates.
Leadership, Organizational Behavior and Managerialism
It is not easy being a leader. It can be a very strenuous task. The difficult part is coping up with diverse people under a leader's authority. Since most of the time, leaders do not always get the chance to select who should belong in his/her group, a leader find it difficult to harmonize differing personalities. A leader must find ways for his/her subordinates to accomplish their responsibilities and eventually achieve their targeted goals. Hence, the leader must give drive to his/her members to take one common path to success. Inevitably, differing personalities (differing strengths, weaknesses and approaches) result to disagreements, intense arguments, and conflicts.
This is the reason why it is of great importance that the leader possesses knowledge on organizational behavior. A leader must study human behavior in the workplace and other organization. Moreover, he must discover and understand factors that influence worker motivation, satisfaction, and productivity (Hersey & Blanchard, 1983). To foster great working relationship, a leader must exercise strategic personnel management, that is to say, techniques which are concerned with people at work and their relationship within the organization (Hersey & Blanchard, 1982). These include performance appraisal, peer evaluation, work progress, and so forth.
One best approach in dealing with diverse personalities is to discover and understand every member's individual strengths and weaknesses. The leader must help hone or polish the potentials of his members and find ways to eliminate characteristic flaws. In addition, a leader must pinpoint the inclination of every individual in order to decide where to assign a particular person. This is where job specialization comes in. Moreover, a leader must also know the values, customs, or way of life, and norms of his subordinates. These aspects can have a great impact to a person's attitude towards work, thus, a leader must consider these aspects (Bennis, 1989).
Some analysts associate leadership closely with the concept of management; some would even consider the two as synonymous. Hersey and Blanchard (1982) state that management is simply composed of leadership applied to business situations; or management forms a sub-set of the more extensive process of leadership. According to them, "Leadership occurs any time one attempts to influence the behavior of an individual or group, regardless of the reason. . . . Management is a kind of leadership in which the achievement of organizational goals is paramount." (Hersey & Blanchard, 1982, p.3).
Colin Powell is one leader that exercises leadership, power, and strategic management tools towards the organization he is leading. He said, "Organization doesn't really accomplish anything. Plans do not accomplish anything, either. Theories of management do not much matter. Endeavors succeed or fail because of the people involved. Only by attracting the best people will you accomplish great deeds" (Harari, 2003, p.5)
Colin Powell
Max de Pree (Burns, 1978, p.2) once said, "That the first responsibility of a leader is to de
fine reality. The last is to say thank you. Leaders should leave behind them assets and a legacy."
These statements best befit American leader Colin Luther Powell. Powell regards leadership as all about establishing a mission. During his term of public office, people admired him because of his positivism. Powell believed that great leaders are usually great simplifiers, who can cut through argument, debate and doubt, to offer a solution everybody can understand (Harari, 2003).
Personal background
Born in New York in 1937 and was raised in the South Bronx, (in the now notorious Hunts Point locality), Colin Powell had a remarkable memory of his childhood and family. He remembers his childhood days with delight and he never failed to radiate his affection and high regard to his Jamaican immigrants' parents, Luther Theophilus Powell and Maud Ariel Powell (Powell & Persico, 2003).
He would always say that there are both devoted and industrious persons. What is more, his parents stressed to him the importance of education and personal achievement. As stated by Powell and Persico (2003), Colin Powell spent his education in the New York City public schools without having any specific goal or aspiration in life. He finished his college education at City College of New York (CCNY) attaining a bachelor' degree in Geology (Powell & Persico, 2003).
Military career
His military career started when he was still in CCNY. In his latter years in CCNY, Colin Powell participated in Reserve Officers Training Corps (ROTC). This experience prompted the 'military' side of him since he discovered that this is what he likes to do and this experience gave him much happiness. Because of his exemplary leadership shown, he became commander of his unit's precision drill and graduated at the top of his ROTC class in 1958. His dedication to being part of the ROTC gained him a commission in the United States Army as an Army Second Lieutenant (Powell & Persico, 2003).
Owing to his instinctive military qualities, he was a professional soldier for 35 years. During his military years, he accomplished numerous achievements. From being a Second Lieutenant in 1958, he became a General in 1989. This is all rooted in his hard work, firm principles, and dedication. Furthermore, Colin Powell received loads of merits and recognition during his military years.
Colin Powell is not just a born leader but also a brave man with a big heart. He always looks for the welfare of his comrades. He further said, "Never neglect details. When everyone's mind is dulled or distracted the leader must be doubly vigilant."(Harari, 2003, p.5). This is evident during his second tour of duty in Vietnam where he suffered n injury in a helicopter crash. In spite of his own wounds, he managed to save his comrades from the burning helicopter. This heroic act earned him his second Purple Heart and Powell earned the award the Soldier's Medal. Because of his exemplary military service, General Powell had received many U.S. military decorations.
These consist of Defense Distinguished Service Medal, Superior Service Medal, Air Medal, Legion' Merit, Bronze Star Medal, Army Commendation Medal and the Purple Heart, to name a few (Powell & Persico, 2003). His civilian awards consist of the Presidential Medal of Freedom, the Congressional Gold Medal, and an honorary knighthood (Knight Commander of the Bath) from the Queen of England (Powell & Persico, 2003). Taken together, he has received eleven decorations, including the Legion of Merit (Powell & Persico, 2003).
Presidential promotions
Chairman of the Joint Chiefs of Staff
At age 52, Powell became the youngest officer to attain the position of being the 12th Chairman of the Joint Chief of Staff (Powell & Persico, 2003). This is the highest military position in the Department of Defense. He served as Chairman from 1989 to 1993 (Powell & Persico, 2003). During his term of service, he always prioritized diplomatic actions and control whenever problems or conflicts arise instead of encouraging military intervention.
As stated by Powell and Persico (2003), during Powell's term of public office, he manages a variety of business interests with charitable work and public speaking. In 1994, he joined former President Carter and Senator Sam Nunn on a last-minute peace-making expedition to Haiti, which brought about the end of military rule and the diplomatic return to power of the elected government of that country (Powell & Persico, 2003).
Being a leader is not mere ruling over your subordinates. You do not always get a positive response. Undoubtedly, a leader will have to deal with people opposing his desired aims. A good leader stays firm despite difficulties or as Powell (Harari, 2003) asserts, "Don't be afraid to challenge the pros, even in their own backyard (p.5)". Powell proved this when he opposed the move that George W.
Bush administration is promoting, that is, sending troops to the Middle East to force the president of Iraq, Saddam Hussein, to pull out his armies from Kuwait (Harari, 2003). Being a diplomatic leader that he is, Powell still believes that the conflict can be resolved through containment. Since people expect a lot from a public official, Powell did not have a hard time getting the support of many. Yet he never lost perseverance; instead, he became even more determined to lead his country towards progress.
One famous quote of Powell (2003) is that when he said, "the day soldiers stop bringing you their problems is the day you have stopped leading them" (p. 5). In addition, he said that, "they have either lost confidence that you can help them or conclude that you do not care." He explained that either case is a failure of leadership (Powell & Persico, 2003). He added that people should not let experts and elites deceive them since experts often possess more data than judgment. (Powell & Persico, p.5).
Nevertheless, Powell in the end decided to follow with the Bush administration's willpower to get rid of Hussein. The main compromise Powell desired before he would give his full support for the Iraq War was the participation of the international community in the attack and not to encourage the unilateral approach as what others wanted to happen. Additionally, Powell was also successful in convincing Bush to take the case of Iraq to the United Nations, and in toning down other plans. Powell wanted to practice diplomacy. Hence, he was at the front position of this diplomatic campaign.
Civilian career
With the goal of mastering the art of serving for others, Powell engaged in a career of being a public speaker, disseminating his principles and aims to every one. What is more, he came up with a most sought-after chronicle entitled My American Journey (Powell & Persico, 2003). Moreover, he focused on his work with the youth as Chairman of America's Promise: The Alliance for Youth. This organization aims to organize people from every sector of American life to develop the character and capability of young people (Powell & Persico, 2003).
The leadership skills manifested by Colin Powell caught the attention of many. As a result, many regarded him as one of the most successful leader, particularly in the field of military. Many Americans admired his will and principles and he had inspired many people in terms of public service. His fame captured the interest of political parties. In the end, Powell declared himself a Republican, and started to campaign for Republican candidates (Powell & Persico, 2003). In fact, there was once a publication stating he will be a potential contender of Bill Clinton in the U.S. Presidential Election last 1996, but Powell turned the offer down (Powell & Persico, 2003).
Secretary of State
Being the U.S. Secretary of State, Powell found an avenue to serve more people. People would see him as a reasonable public official, injecting just and equality in his service. Unlike, any other U. S. Secretary who frequently travels, Powell seldom leaves the country. He concentrated more on serving the people. He always prioritized public interests rather than his personal interests. In fact, his public leadership significance was even more called for after the September 11 terrorist attack (Powell & Persico, 2003). His military expertise is of great importance in supervising or running America's relationships with foreign countries to get hold of a firm alliance in the War on Terrorism (Powell & Persico, 2003).
Recently, Powell declared that he will end his term of service as soon as President George' Bush term ends (Harari, 2003). This declaration brought about numerous discussions and reactions. Supporters of Powell signified their disappointment on how the administration treated Powell (Powell & Persico, 2003). Furthermore, they questioned the lack of support from administrative officials on Powell's advocacy (Powell & Persico, 2003). As for Colin Powell, he will continue on his advocacy, which is serving and helping his fellowmen.
Conclusion
Being a leader is indeed a taxing responsibility. Ruling over your subordinates and having the authority to take control is not always a bed of roses. Without a doubt, there will be impediments along the way to success. Hence, possessing leadership skills are of great importance.
One famous leadership maxims include; "We will never know how really good we are as leaders unless we are leading people to be better than they think they are (Harari, 2003)." A leader must know how to bring the best out of each one of his subordinates. Aside from patience, a leader must possess a great deal of understanding since he is dealing with diverse people. In addition, a leader must see to it that he himself is a good follower of whatever rules he has imposed.
The public leadership that Colin Luther Powell has manifested must inspire many people. His subordinates must follow the good values a leader possessed such as having firm principles, great concern for his fellowmen, understanding all sectors of his organization, creating techniques to make his organization run effectively and efficiently, etc. The way a leader manages and leads his subordinates is one good example of an outstanding public leadership. Generally, Colin Powell had indeed shown exemplary leadership amidst difficulties encountered.
Recommendations
We cannot abnegate the fact that Colin Powell encountered obstructions and challenges during his term of public service. To overcome these impediments, Colin Powell should always keep the positivism or optimism in him. He must stay firm concerning his beliefs and not be swayed by other people trying to ruin him. Even when he is not handling public administration anymore, he must continue his advocacy on helping people achieve their goals. Powell must communicate and reflect at all times the leadership within him to his people.
References
Bennis, W. (1989). On becoming a leader. New York: Addison Wesley.
Burns, J. M. (1978). Leadership. New York: Harper Torchbooks.
Hersey, P., & Blanchard, K. (1982). Management of organizational behavior -utilizing human resources. Englewood Cliffs, NJ: Prentice-Hall.
Harari, Oren. (2003). The powell principles. New York: McGraw-Hill Publishing.
House, R. J. (2004). Culture, leadership, and organizations: The GLOBE study of 62 societies. SAGE Publications.
Powell, C. & Persico, J. (2003). My american journey. New York: Ballantine Books.
Pitcher, P. (1994). Artists, craftsmen, and technocrats: The dreams realities and illusions of leadership. Toronto: Stoddart Publishing.
Terry, G. (1960). The principles of management. Homewood Ill: Richard Irwin Inc.