Collette Dinnigan Essay Sample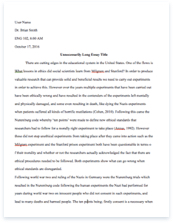 The whole doc is available only for registered users
OPEN DOC
Download Essay
A limited time offer!
Get a custom sample essay written according to your requirements urgent 3h delivery guaranteed
Order Now
Collette Dinnigan Essay Sample
Collette Dinnigan was born in South Africa in 1966 and brought up in New Zealand. At age nineteen she graduated from the WellingtonPolytechnicCollege where she majored in fashion design. From here she moved to Sydney and began working for the Australian Broadcasting Commission (ABC) in the costume department. She worked on many films and television series and was praised for her attention to detail and the historical flavour she brought to costume design and fabrication. Her first label was that of Palladium which she launched when she was twenty-one years old. Palladium sold mid-market streetwear range to department stores across Australia. She was very successful but left her job when the pressure became too much. When a knee-injury left her temporarily bedridden she began to make lingerie for her friends. The exquisite range of silk fibres and French laces were so well received by her friends and family that she decided to re-launch her career in fashion design and start her own label. So in 1990 the Collette Dinnigan label was born. It became so popular that it was picked up by Barney's New York, Neiman Marcus, Harvey Nichols, and Joyce in Hong Kong and she now has three stores in Sydney, Melbourne and London as well as in-store boutiques in department stores around Australia.
Dinnigan has a unique style which she describes as being romantic bohemian and timelessly elegant. Her garments are usually very feminine, delicate and finely tailored. They are designed to flatter the body by accentuating postive body parts. Her style is suggestive rather than revealing which achieves a sense of confidence, sensuality and individuality. Her style can vary, but her trademarks include lace, tulle, and chiffon dresses, inspired by the art deco period. Dinnigian's influences come in the from of past designers, cultural influences and studies of fashion. Classic designers such as Yves Saint Laurent and Christian Dior, especially their attention to detail and the treatment of the fabric directly influenced her unique attitude towards fabrication.
Having lived and worked in many different places, the influence of various cultures has had an impact on Dinnigan's designs. During her time working for the ABC she studied the markings of a historical dress which continues to influence her work greatly. Dinnigan's inspiration is always changing and developing. However, classical vintage styles, their luxury and distinctly feminine features can be noted as a constant inspiration for her designs. Her inspiration changes with each new range, from elements in nature such as water to contemporary fashion trends. For example; in the June 2007 issue of Vogue Australia there is an advertisement for her latest collection and what inspired it. Here she is quoted as saying "This poem (Equinox Girl by Mandira Mitra) captured the essence of my collection".
Changing trends in society also influence Dinnigan. Trends such as art forms (as mentioned earlier) influence her designs while other trends in society influence her sources of inspiration. Nature, cultural and ethnic trends, and historical periods go in and out of fashion in society and this is reflected in Dinnigan's designs. Her multicultural upbringing has undoubtedly affected her designs. Social events and developments in textiles may also serve as inspiration and as such affect her creations.
Dinnigan's target market is women aged sixteen to sixty. More recently Dinnigan launched a children's wear range, Collette Dinnigan Enfant, for newborns through to four year olds. Marketing strategies that have been put in place to reach these target markets include; magazine spreads – Dinnigan is frequently featured in Vogue and Vogue Bride; television spots – interviews and recently an advertisement for American Express; her website which includes opportunity to subscribe to an email newsletter; celebrity promotions at events such as the Academy Awards, movie premiers and more locally the Logie Awards; and of course runway shows.
Many factors, both internal and external, have contributed to her success as a designer. The expertise, qualifications, skill and knowledge of Dinnigan (as the designer) and her staff are a vital to her success, without them her garments could not be made to the high standards which her customers have come to expect. To the same effect the facilities available for the production and manufacture of her designs are also crucial. Financial resources and support are essential to keep Dinnigan's designs coming. The general economy of the society for which she designs determines her success as she must design clothes to meet the needs of the customer and in particular their budgets. Developments in technology, in all areas of fibre development, yarn and fabric production contribute to her success in terms of the materials she is able to use. Also developments in technology for design can help productivity. Ecological factors such as the demand by consumers for environmentally friendly products can contribute to the success of a collection and also influence her designs. Social trends and attitudes of groups in society influence fashion trends, designs and therefore success. Politically the relationships between countries can affect exports, imports and production rates which all affect Dinnigan's success.
Dinnigan's influence on current trends in evident in most any fashion magazine you buy. Her lingerie inspired, sophisticated and feminine designs are sought the world over and are copied and even sourced as inspiration for other designers. Her designs are favoured among celebrities such as Elle McPherson, Nicole Kidman, Tori Spelling, HalleBerry, Naomi Watts, Angelina Joile and Charlize Theron which in turn make them sought after by the general public. Elements in her designs can be seen in many of today's fashions and include; backless dresses; plunging necklines; halter-necks; short hemlines; flirty ruffles; tiered skirts; and black, white and nude shades of fabric.
Collette Dinnigan's unique designs have turned her into a successful designer. In fact she is the only Australian designer to be invited to the Chambre Syndicate in Paris. She won 'Designer of the Year' (1996) and the Louis Vuitton Business Award (1997). By 1998, she'd won the 'Award for Excellence' by Fashion Group International and was given a place in the Business-woman's Hall of Fame. For three consecutive years, the Collette Dinnigan label was recognised as one of Australia's 50 Most Beautiful Exports. Her label has been recognised by the Powerhouse Museum as being most symbolic of Australian design and has even been honoured with an Australian stamp as part of Australia Post's 'Australian Legends' campaign. Her success, creativity, originality and distinctive style will continue to influence current trends and inspire people for many years to come.