Committed to the Crime Essay Sample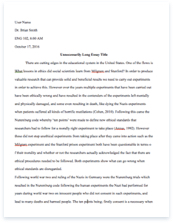 The whole doc is available only for registered users
OPEN DOC
Download Essay
A limited time offer!
Get a custom sample essay written according to your requirements urgent 3h delivery guaranteed
Order Now
Committed to the Crime Essay Sample
Mary Maloney never meant to kill her husband. But she did. I want all of you to put yourselves in the shoes of my client. People of the jury, I want you to feel her happiness as she watched her husband walk through the doors of the house. Feel her sadness as he told her he was leaving her and their kid. Feel her shock as she watched her husband fall to the ground. Even as she swung that lamb leg over her husband's head, she still never intended to do it.
The lamb leg happened to be the first thing she touched so that was the first thing she used to harm her husband. If she did intend to kill her husband, which she did not, she would have gone looking for a specific weapon like a knife. As she approached her freezer, she was blindly searching for something to make for dinner. If she went to the freezer and got a frozen piece of fish or fruit instead of a lamb leg, Mr. Maloney would not have died. This is just one of the many reasons on why Mrs. Maloney should not be convicted of first degree murder.
Mrs. Maloney loved her husband. Every single day she would wait for her husband to come home so she can spend time with him. She always relaxed in the presence of her beloved. But why on earth would someone with a love so strong for someone else end up murdering them? Well, the answer is simple; she just wasn't herself at the time. Her husband gave her news that changed her and her love for him in the space of seconds. When you love someone like Mary loved Patrick, all you desire is to be loved back and be happy. Unfortunately, Mr. Maloney wasn\'t able to give her that attention and so in her devastation, she acted in a way she would have never done before.
Mr. Maloney ignores his wife, and when he speaks to her, he gives short, one worded answers. He isn\'t exactly the ideal husband.  When Mr. Maloney came home from work and his wife asked how he was doing and what she can do to comfort him, he just didn't answer. She then asked him if he would like cheese to help lighten the effect on the alcohol he was drinking and he simply said no. Even then, Mrs. Maloney continued to be the loving and dutiful wife that she always was. She didn't even complain. When Mr. Maloney told his wife he wanted a divorce, fear overtook her mind. It was as if she was on autopilot.
She walked up to her husband with the lamb leg and didn't even pause a second as she smashed the frozen piece of meat on his head. The reality of what her husband said, of what she did, came crashing down on Mrs. Maloney only after she killed her husband. This proves that she didn't have any control over her actions. Mr. Maloney asking his wife for a divorce was a betrayal to Mrs. Maloney, their child, and their marriage. He was completely emotionless as he told his wife that he wanted to divorce her. He completely deceived Mrs. Maloney throughout their whole marriage. His wife felt provoked by his actions and that unfortunately lead to his death.
Fear is instant and always takes you by surprise. You never know what it can do to you or what it can make you do to someone else. Mrs. Maloney feared for her future, for her child's future, and she feared being alone. These fears lead to her killing her husband and feeding the police murder evidence. She would have never acted the way she did if her mind wasn't in the state it was. She was in a state of shock and trauma. Her whole world went around her husband and even the thought of him gone changed her. My client may have killed her husband in a physical sense but Mr. Maloney killed her emotions and future by telling my client that he was leaving her and their kid behind.
In the end, my client is not responsible for the crime she committed because of her mind state. Mrs. Maloney did not commit this crime in any spiteful way. She committed this crime because she was shocked, heartbroken, and protective of her child. The way she acted was not the correct way but she should not spend the rest of her life in prison as well as have her child\'s life ruined. You may think that this woman is a cold hearted murderer but she really isn't. I want you all to make sure you know the truth before you make a decision. Look at the facts. It's only the truth that will lead you to the right decision. And in the end, what is it that seeks the truth? Is it your heart? Or cold logic?