Community Assessment Paper Essay Sample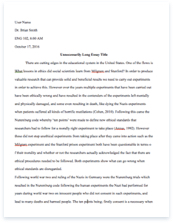 The whole doc is available only for registered users
OPEN DOC
Download Essay
A limited time offer!
Get a custom sample essay written according to your requirements urgent 3h delivery guaranteed
Order Now
Community Assessment Paper Essay Sample
Abstract
This paper is an assessment of the city of Reading, Pennsylvania. It will describe the city with a focus on the population, economic situation, culture, neighborhood and safety factors. It will also look at what the city has in place in case of a disaster. From this data, I will interpret the overall status of the community and formulate a logical community diagnosis.
Community Description and Data Interpretation
Incorporated in 1847, the City of Reading is located 48 miles Northwest of Philadelphia, Pennsylvania. It is surrounded by multiple communities. The major highway Route 422 connects to the Schuylkill Expressway giving it easy access to Philadelphia. The City of Reading is geographically 9.8 square miles. In the past, the Reading Railroad, which is no longer in service, transported coal from Central Pennsylvania to the Port of Philadelphia. With its demise, the economy began declining. The peak of population in Reading was 1930 when it was over 110,000 residents. It began declining until about 1990. Its population is now on the rise, which is attributed the flood of persons with Hispanic origins coming down from New York looking for cheaper rent (Reading…, 2014)
Population Economic
According to CityData.com, the population in Reading was 88,102 in 2012. This is an 8.5% increase since 2000. Of this number, 58.4% are Hispanic, 29.6% are white, and 9.3% are black. From 2000 to 2010 there was a marked increase from 38% latino where the white population declined from 47% to 27%. Latino population is expected to continue to increase to 71% in 2018, and the white population will continue to decrease to 18%. (Berks County…, 2013)
The estimated median household income was $24,682 in 2011, down from $26,698 in 2000. The Poverty Rate is over 41%, making it the nation's poorest city for its size. (Tavernise, 2011). This is significantly less than the Pennsylvania median household income which is $52,267. (U.S. Census Bureau, 2014) As of 2010, 37.2% of families with children were below the poverty line, and 27.6% of families without children were below the poverty line. This is three times the amount since 2000. The unemployment rate in July 2013 was 10.9% while the rest of Pennsylvania was 7.8%. This has been slowly improving since 2010. In reading 23.7% are uninsured adults. (Berks County…, 2013) The estimated median house value in 2011 was $67,600, and median gross rent in 2011 was $678. Approximately 59% persons in Reading rent rather than own.
The positives in looking at these numbers, is that the unemployment rate is declining while the population is increasing slightly. Obviously, however, Reading has many weaknesses regarding its economic status. Its poverty rate is unacceptable with the majority of affected persons in a family setting. One way to improve this would be with increased education regarding family planning.
Cultural Assessment
As stated before, the population is made up mostly of persons with Hispanic background. According to City.Data.com, 17.3% of the total population was not born in the U.S. There are slightly more females (51.5%) than males (48.5%), and the median resident age is 28.9 years. This is far below the median age of 43.3 years in Pennsylvania. The birth rate is 98.0 per 1000 women 18-44, translating into nearly 1700 births annually. The adolescent birth rate is 28.1 per 1000, or 134 births annually, which is four times the state average. Hispanic culture considers a 14-year old girl to be an adult. Unfortunately in Reading, 50.1% of pregnant women receive late or no prenatal care (Berks County, 2013) In Reading, 40.8% of population have never married, 36.3% are married, and 16.5% are separated or divorced.
It is expected that the women take care of the children, and typically a women has several children from different fathers. A term of endearment for a female is "mommy" which is used in informal situations and shows respect. In a study of Reading, it was found that the residents have an increased propensity to suffer from heart disease (40%), cancer, obesity (35%), high blood pressure, diabetes (18.9%) and untreated mental health conditions (21.3%). Overall, the residents are in poorer overall health (32.6%) than the majority of the country. Almost half of the residents of Reading reported binge drinking (47.9%) and almost a third smoke (29.3%) Healthcare is unaffordable for many, and many uninsured visited an emergency room (44.1%) because of their lack of health insurance. In addition, 23.7% did not fill a prescription related to cost, and 33.2% don't have any dental work performed. The Primary Care Physicians to population is 3,499:1, where as the rest of the U.S. the ratio is 631:1.
This is far out of proportion to the rest of the country. (Berks County…, 2013) Lack of speaking English is a barrier to accessing health care, and illegal immigrants are reluctant to access available services because of fear of repercussions. Approximately 42.5% residents speak Spanish at home and 53.3% speak English in the home. As far as education, 32.9% have less than a HS degree, 56% have graduated from HS, and only 11.1% have a college or higher degree. There are several public and private schools K-12, four colleges/universities, three technical institutes, and three public libraries.
There are multiple churches of different dominations in Reading. Approximately 54% of the population is affiliated with a religious congregation. Catholicism is the predominate religion at 40%, with 26.3% Evangelical Lutheran and 18.2% United Church of Christ being the next highest percentages.
In summary, the population is young and have many persons able to work. Also, mothers do take care of their children the best they can, and motherhood is seen as a badge of honor. Education is easily available, and the majority have a spiritual support system. Unfortunately a large majority of the population has not graduated High School or attained a higher degree. The family as a unit of father, mother and children, is becoming less common with the majority of families being made up of a single mother and several children. The overall health of the residents is poor and access to health is impeded by language, insurance, and cultural barriers. Whereas the city of Reading has an excellent social services network for those in need, it is not being accessed by many. More interpreters need to be available, more Primary Care Physicians are needed, and a better outreach to illegal immigrants for healthcare needs to be established.
Neighborhood and Community Safety
Because Reading was established so long ago, the majority of homes and infrastructure are old and in need of repair. There are 47 bridges, 20 which were built before 1939, and 23 built between 1950 and 1970. Sidewalks are in poor repair, streets are narrow and in need of repair. There are a variety of homes in Reading, including low-income housing, apartments, and single family homes. The occurrence of lead is 0.0967 which is significantly worse than U.S. average. There are also multiple abandoned buildings. The Radon level is 4 /Ci/L which is highest potential in the U.S. Air quality in 2010 was 36.0 which is average, and Carbon Monoxide was 0.222 which is better than average. However, Sulfer Dioxide was 3.4 and is significantly worse than average. The average commute to work is 21.6 minutes with approximately 33.5% of the population leaving Reading for employment. The weather in Reading is at 71% greater risk than overall U.S. average, although the number of natural disasters is 14 (near us average of 12). The earthquake activity is low, but floods, rain and snowstorms have occurred.
Reading has several recreational buildings including First Energy Stadium (home of the Fightins' farm baseball team) and the Sovereign Center (home of the Reading Royals ice hockey and many concert events with a 7200 capacity rate). There are several tourist attractions including the Central PA African American Museum, the Reading Art Museum and the Reading Area Fire Fighters Museum. There are nine Parks/Playgrounds and two public swimming pools. There are four reservoirs, multiple creeks and the Schuylkill River running through Reading. Bars are very common in Reading. .
Shopping is widely available in reading. There is the Reading Outlet Center which is a national attraction, as well as the Penn Square Mall, the Big Mill Shopping Center and the Fairgrounds Square Mall. There are multiple restaurants, grocery stores, and fast food businesses. Banks are numerous in Reading also. Highest employment is with Reading Health System at over 6,800 employees, followed by East Penn Manufacturing at over 5,800 (lead-acid batteries). .
Reading has an excellent public transportation system which includes public buses and taxi services.
Reading has 144 full-time firefighters. It is also the home to the Berks County Fire Training Center. Arsons went from 55.6 down to 19.2 since 2000. Fulltime law enforcement employees in 2011 was 191 (166 officers) which is 1.87 per 1000 residents. The average in Pennsylvania is 2.59. (Berks County…, 2013) There are three courts of law in the city of Reading. In 2000, the Murder rate was 30.4 per 100,000. As of 2012, the rate is down to 16.9. The overall crime rate in Reading in 2012 was 537.8, much higher than the U.S. average. However, this number is much better than in 2000 when the rate was 744.9. As of May 2011, there were 177 registered sex offenders in the city of Reading.
The presence of social and medical services is widespread. Reading Hospital and St. Joseph's Hospital are both within walking distance to the City of Reading and are non-profit, required to provide medical care as necessary with or without insurance. There are 27 food pantries and 21 soup kitchens, meals on wheels, etc. Several free medical clinics are in the community. The following social services are only a few of those available: Berks Food Bank, Planned Pregnancy, Lifeline of Berks County, Mary's Shelter, Daycare, Berks Women in Crisis, Half-way houses, Habitat for Humanity, Goodwill, United Way of Berks County, and the Salvation Army. There are services for Domestic Violence, Disabilities, Housing, Alcohol & Drug, Family Services, Welfare Programs, Adolescent/Children, Legal, Senior Services, Employment/Vocational Services, Counseling/Mental Health, Homeless, Health, and Education. (Reading Area…, 2013)
All of the social services are a vital part of this community. The crime rate is on the decline, and there are a lot of opportunities for healthy recreation. Unfortunately, a large number of residents smoke, drink, and live unhealthy lifestyles. Some ways to improve on this include increase education regarding healthy eating and lifestyle, as well as providing smoking cessation classes and aids to public.
Disaster Assessment and Planning
Reading uses the "911" emergency call system which is known to the majority of residents. It is staffed 24-7 with over 40 full-time and 25 part-time telecommunicators. Disaster Services include the American Red Cross and The Salvation Army. Federal Guidelines have been used to develop the Berks County of Emergency Services. "The Berks County Department of Emergency Services in cooperation and collaboration with the Berks County Pandemic Advisory Council have developed the Community Pandemic Plan to address methods and procedures to implement in order to mitigate against, prepare for, respond to, and recover from, a pandemic event which impacts the County of Berks." (County of Berks…, n.d.)
In the event of a disaster food and clothing will be available through the United Way of Berks County, the Greater Berks Food Bank, and SHARE – Reading Berks Conference of Churches. There are snow emergency routes thoughout the city in the case of debilitating snow storms. Berks County is currently developing a Severe Weather emergency notification system were notifications are sent over mobile phones to residents. (Berks County Hazard…, 2013) Reading is able to respond to an emergency quickly and efficiently. There are multiple plans in case of emergency or disaster. Most of the population is familiar with the 911 system, however, most are not familiar with the disaster and pandemic plans. A way to improve knowledge among the residents would be to televise information on emergency services available and a brief description of what to do in case of an emergency.
Overall Recommendations
The physician/population ratio needs to increase to a level that will serve the community. Interpreting services should be more widely available. Perhaps open a publicly funded school to train existing local latinos to be interpreters. This would help both with unemployment and language barriers in the community. Increase education regarding birth control, family planning, and pre-natal care. This could be achieved by opening another one or two Planned Parenthood or the like in high risk neighborhoods. Because there is no public health department, one should be created coordinate the multiple services for residents in need. Reading would also benefit from an increase of education regarding healthy eating and lifestyle, as well as smoking cessation classes.
References
Berks County Hazard Vulnerability Assessment and Mitigation Plan Update. (February, 2013) Skelly and Loy. Retrieved from http://www.co.berks.pa.us/Dept/DES/EMA/Documents/Hazard%20Mitigation%20 Update/2013_Berks_Hazard_Vulnerability_Assessment_and_Mitigation_Plan_Update.pdf
Berks County, Pennsylvania Community Health Needs Assessment. (January, 2013). Public Health Management Corporation, Philadelphia, PA. Retrieved from http://www.uwberks.org/wwwpub/assets/base/ pdf/CommunityImpact/CHNAFinalReport.pdf
County of Berks Pennsylvania. (n.d.) Department of Emergency Services. Retrieved from http://www.co.berks.pa.us/Dept/DES/Pages/AboutDES.aspx
Reading Area Community College. (2013). Berks County Social Services. Retrieved from http://www.racc.edu/BCSS/agency.aspx
Reading, Pennsylvania. (2013). Retrieved from http://www.city-data.com/city/Reading-Pennsylvania.html
Reading, Pennsylvania. (2014). Retrieved from
http://en.wikipedia.org/wiki/Reading,_Pennsylvania
Tavernise, S. (September, 2011). "Reading, PA Knew It Was Poor. Now It Knows Just How Poor." The New York Times, September 27, 2011, page A10.
The United States Census Bureau. (2014). County and State QuickFacts. Retrieved from http://quickfacts.census.gov/qfd/states/42000.html