Compare and Contrast: Gospel and Blues Essay Sample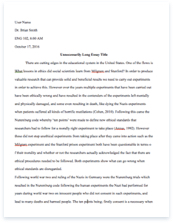 The whole doc is available only for registered users
OPEN DOC
Download Essay
A limited time offer!
Get a custom sample essay written according to your requirements urgent 3h delivery guaranteed
Order Now
Compare and Contrast: Gospel and Blues Essay Sample
Blues and Gospel are two of the founding styles of music created in the United States. It was in the late 19th and early 20th century when these two forms of music became known. They both express emotion and tribulations that people have been through. There is no type of music similar to these two genres. They both have a religious origin, and share the same rhythms and enunciation styles.
What do you feel when you hear the word "Blues"? Many people believe that the blues is all about sadness, depression, and feeling down. In fact, that is true. Blues music originated during the slavery years in North Mississippi. Its roots came from various forms of African American slave songs, such as work songs, spirituals, field hollers, love, hope, country string ballads, and many other things.
In these songs, the people would express their pain by singing about what they're feeling; singing about the hardness of their work, how poor they are, and how they will never see their family again. Many of the songs were spiritual and religious. The blues is often played by traveling solo musicians on acoustic guitars, harmonicas, pianos, and many other instruments. Blues music has a different timbre and sound than other styles of music. AAB which is called "12 Bar Blues" is the most common blues song form. It's a lyrical pattern which the first sung line is repeated as the second one, then the third line is different.
Here is a verse example:
The sky is crying, look at the tears roll down the street
The sky is crying, look at the tears roll down the street
I'm waiting in tears looking for my baby, and I wonder where can she be? (James)Some famous examples of blues singers include, B.B. King, Ray Charles, Chuck Berry, Etta James, and Jimi Hendrix. In today's music
Gospel means "Good News". The first four books of new testament are called gospels. Gospel music is the music of resilience because it was created out of suffering. It encourages a spirit of hope and provides an outlet to worship God. It uplifts your soul when you're feeling down, but It can also be happy music for when you're in a great mood. Sometimes all you need after a long, frustrating day is some Gospel music. Gospel music began in the south, in the cotton fields. It helped slaves escape to freedom. Many slaves sung songs of freedom about God and these ideals have carried on in today's music. Gospel music has been important for many centuries and still is important today. In Gospel music it's normally like music with very few instruments, but it's big on vocals. The style of music today can be found in many places of worship. Gospel music typically has a normal song structure known as ABA
Here is a verse example:
Take me to the King
I don't have much to bring
My heart is torn in pieces
It's my offering
Take me to the King (Mann)
Some famous examples of Gospel singers include, Tamela Mann, Kirk Franklin, Twinkie Clark, Michelle Williams, and Aretha Franklin. Both styles of music are homophonic which means they are a melody with accompaniment. Often times, both styles of music are in the dynamic of mezzo piano or mezzo forte. They are also typically on a pentatonic scale. They both have true emotions in the lyrics and often times they can connect to things people are going through.