Comparison between Learning Online from Learning in a Classroom Essay Sample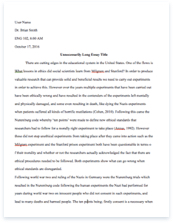 The whole doc is available only for registered users
OPEN DOC
Download Essay
A limited time offer!
Get a custom sample essay written according to your requirements urgent 3h delivery guaranteed
Order Now
Comparison between Learning Online from Learning in a Classroom Essay Sample
With the advent of progressing technological advancements, the possibilities to better conveniences have been realized:  from gathering information and easing processes of communications to enjoying various forms of entertainment and even in executing methods for education. But with all these, it is only fair to realize the key differences between the traditional from modern, specifically with learning online from learning in a classroom.
The Technical and Vocational School Guide stated that online learning has advantageous points, for it "allows for learning in distant or disadvantaged location [and] "facilitates easy information transfer." With assorted available tools easily available and found in the internet, communication gaps are filled and educational processes are made easier. However, minimal gaps in between turnover, adjusting to newer forms of technological process may be a challenge. Also, online methods of teaching could also suffer due to a limited approach.
On the other hand, the key strength of learning in the classroom is that it "provides interactive classroom setting that promotes the open exchange of ideas" (Technical and Vocational School Guide). Thus, learning in the classroom does not only stimulate student's reason, logic, and everything in between, but it also enhances the student's social skills. However, its notable disadvantages are that it may "ignore individual learning differences between students [and] encourage passive learning" (Technical and Vocational School Guide). Since the classroom system keeps an unswerving means of teaching and assumes that methods of such are effective, the students' diverse abilities and capabilities may be overlooked.
With good and not so good features highlighted for both learning procedure, it must be said that each of the strengths must be used to realize opportunities available, while the weaknesses should be aptly recognized in serving as a reference point for improvement—both for learning online and in the classroom.
Works Cited
Technical and Vocational School Guide. "Online VS Classroom Education." Technical and Vocational School Guide: Directory of Online & Campus Programs Throughout the US and Canada. 2008. 11 November 2008 <http://www.technical-vocational-schools.com/online_classroom_learning.aspx.>