Competency Assessment and Certification Essay Sample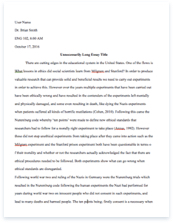 The whole doc is available only for registered users
OPEN DOC
Download Essay
Get Full Essay
Get access to this section to get all the help you need with your essay and educational goals.
Get Access
Competency Assessment and Certification Essay Sample
• Visit/inquire assessment schedule and requirements at our TESDA District/Provincial Office.
• File CAC application form and submit requirements.
• Note schedule of exam/assessment.
• Make sure you have the admission slip before you take the assessment.
What are the requirements?
• Authenticated Birth Certificate (2 xerox copies)
• 1 pc. 1×1 photo (colored)
• Employment Certification / Training Certificate – related to occupational area applied
• 2 copies CAC Application Form (NMIS Form 001) -c/o TESDA District/Provincial Office
• CAC Testing Fee – may vary according to occupational area applied (c/o TESDA District/Provincial Office)
• Admission Slip – required upon taking the assessment
Notes :
• There are two parts of the assessment – knowledge and skills • Examinee should take the knowledge assessment before taking the skills assessment. • Passing the knowledge assessment is not a requirement in taking the skills assessment. • If the examinee fails in the written portion, he/she may still take the actual exam but will be required to re-take the knowledge assessment after 1 month.
CAREGIVER APPLICANTS – Checklist of Requirements Entry Requirements : Candidates for certification as Caregiver must meet AT LEAST TWO of the following: • Have at least 72 units of post secondary education
• Have completed an intensive Basic Training Course for Caregivers (Infant Child, Elderly/Disabled) or related course conducted by certified industrial/training institution equivalent to 750 classroom hour. • Have at least 1 year work experience as Caregiver within the last 3 years. Documentary Requirements :
• Application form (properly filled-up)
• 3 pcs. picture (passport size) with name written at the back • Proof of the abovementioned qualification requirements o Certificate of work experience issued by company or manager and/or Training Certificate stating number of hours of training and title of the course (original copy) with record of on-the-job training o Transcript of records or Certification from the school that he/she has acquired 72 units of post secondary education Note :
• Training and experience certificates should correspond to the area applied for. • Documents must be submitted in original and photocopies. Employer/company can authenticate the photocopies. The Assessment Center can also authenticate the photocopies upon presentation of the originals.