Computer Makes People Become Lazy Essay Sample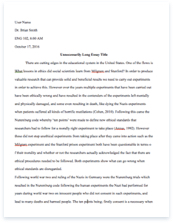 The whole doc is available only for registered users
OPEN DOC
Pages:
Word count: 1106
Category: computer
Get Full Essay
Get access to this section to get all help you need with your essay and educational issues.
Get Access
Computer Makes People Become Lazy Essay Sample
A "F grade" for my quiz which I corrected 8 out 10 questions was a shock for me. The first thing I did was asking my teacher what happened with my quiz. After we checked all the answers, my teacher realized that her computer made a making mistake. Therefore I realized that even a computer made mistake; computers may have revolutionized the way we live and work, but what would happen if they all suddenly crashed? As we increasingly rely on computers to get through the day, the question begs to be asked: have we become too dependent on computers?
People has one thing that distinct with other is thinking. We create everything to make our life become easier. Since computer was invented, it was listed as one of the greatest inventions that changed the world. Computers have found their way into just about every aspect of our lives, and in most cases, they make things easier for us. They allow us to work from home, socialize with our friends and family who live too far away to visit, and they provide an ever-welcome stress relief when we come home from school or work and just want to have some fun. Even if we don't note it, most everything we do and every aspect of our life is affected by modern technology with computers. People have often compares computers to brains. However, brains are not computers. One of negative technological effects is on children's education, and computers blamed for that. "How do you spell 'colleague'?" is a question that my American friend asked me while we were working on our project. This question reminds me about the "Spelling Bee" program on television.
The first time I watched I wondered why they created this program. Is it weird that you can read and speak a word, but you cannot remember how to write it? Well, it does not if you notice that your ability to remember words is going down the hill because of technology. In the past few years, many teachers have taken to shuffling their students off to a computer to type out short, quick assignments that could easily be written out by hand. Regardless of how much we're coming to rely on computers, printing and handwriting are a necessary skill to have. Typing out assignments has an effect on more than just the ability to print, but it also has negatively impact on spelling and grammar. While most programs now have spell and grammar checking, they are not infallible; they cannot differentiate between homonyms and will often times suggest corrections that are not, in fact, correct. Furthermore, information is often more easily and accurately remembered when children have to spend a little time writing it out by hand, rather than a few quick minutes typing away at a keyboard. On the other hand, people will lose ability to function without a computer.
Memorization is a thing of the past, we now depend on our cell phones to have the phone number of everyone we know and we no longer can even remember the phone number of our parents or children. So as you can see we depend on computers too much and are losing our ability to memorize, type, spell, or even write a grammatical correct sentence. Computer is being an indispensable tool in our lives which has changed the way we think in more ways than one. However, if our life depends too much on technology and we will get stuck to live without it. Imaging when you have a math problem, and you can't figure it out, what do you go to? "Google it" is the most common answer you will receive from everyone. We are adapting to so much technology that it is hard to live without them. However, life depends too much on computer might harm to people if all the failures made by computers.
Scientists fear that the vital skills can be lost by next generations as computer technology replaces traditional ways of working. It will corrupt our minds to the point where you need the computer for everything such as to writing an essay or research. It would appear that people are so dependent on electronics that they have lost the ability to think for themselves. If "the computer says XYZ" then XYZ must be true. If you want to make an idiot believe you, just tell him "that's what the computer said". Robert Thompson, a professor of popular culture at Syracuse University, worried that the way Google filters information makes it potentially less useful, in certain respects. He was concerned that the flood of information leaved people with no time to think (CQ Press). Moreover, they predict the chaos that can occur when suddenly the systems fail to work or, what is worse, refuse to listen to people's orders. Moreover , an input error or a bug in the software can lead to "garbage in, garbage out", structural designs that don't work, and errors that go undetected.
The increasing power of computers and other technologies , artificial intelligence has become an essential part of technology's evolution. Nowadays, the intelligent robots are using to replace the man in some tasks and jobs. The success of technology is measured by its ability to make life easier, safer and better for humanity. According to proposals by politicians and economists, technological innovations will lead to increased consumer spending, therefore requiring companies to hire more employees and eventually increase wages. However, many businesses are using technology to replace workers with software and robots, stating that technology is not creating income growth that increases the standards of living."
The problem is that they are using it to replace human workers everywhere, with software eliminating white collar administrative jobs and robots getting Chinese factory gigs" (Rana, 2012) None of basic ideas presented are new, but all ideas possess multiple aspects, and examining those aspects from different perspectives to new insight. The advent of computers has no doubt brought a revolutionary change in our existence, however it has a flip side too. Thus, using a computer for a better evolution in the coming decades remains a bigger challenge for the mankind. That is why in my opinion, computers and other developments of technology are useful and there is no possibility to live without them nowadays, as we got too much used to them. However, we should also work to find the ways of making our dependence on technology less dangerous for us. We work with computers, but make a point to have a life outside of them.