Computer Systems: Software Utilities and Hardware Installation Essay Sample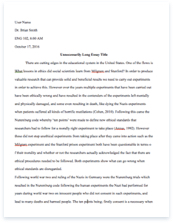 The whole doc is available only for registered users
OPEN DOC
Pages:
Word count: 976
Category: computer
Download Essay
Get Full Essay
Get access to this section to get all the help you need with your essay and educational goals.
Get Access
Computer Systems: Software Utilities and Hardware Installation Essay Sample
Defragmenter
This is a program designed to make access speed faster by rearranging files that are stored on a disk to fill up the empty spaces in between. The main principle is to decrease the time it takes to read and write files to and from the disk by increasing the transfer rate and decreasing the head travel time. The more memory you use up on your computer the slower the computer will respond therefore disk defragmenter will create space for you by reordering the data in continues sections then pushing all free space to the end, this is a very long process so it is ideal to do this when you are not in need of the computer and also by doing this procedure, you will experience faster data access and won't be disappointed.
This software will increase computer speed, increase memory space; this software also increases computers reliability by stopping crash-inducing fragmentation of critical system files. This software will improve computers performance, also by placing clusters on one disk; you can access your data quicker. Also by using this software, the scanning time that your anti-virus normally takes will be reduced by a massive amount and it will be easier for the anti-virus software to detect viruses.
Checkdisk
Checkdisk is a software which checks the structure of a disk to make sure that it is in full working order, this software can also repair problems related to bad sectors, cross-linked files, lost clusters, , power glitches, and also directory errors, these problems can overpower your come in many ways such causing data to corrupt. System crashes, freezes and also turning the computer off improperly can cause damage to the computer, even bumping into the computer or the computer taking a little bump can cause the head reads disks to bump into the surface and damage the sectors. So it is a vital key to have a Checkdisk software so that your computer can be free from these problems. Checkdisk can also alert you early if there is any hardware that is getting worse by the minute, disks start to gradually wear out and the sectors may get worse, this could mean that the hardware may need changing, Checkdisk is a good defence tool for the computer.
The benefits if having a Checkdisk software are:
* You can specify the drive you want checking
* You can specify the file you want checking only for fragmentation
* Fixes errors on the disk
* Checkdisk shows the full path and name of every file which is on the disk
* Repairs readable data
* Locates bad sectors
* Displays current size and changes the log file size to what you want
Task 2: Types of Software Utilities
Software Utility
Anti Virus
Name of Utility
McAfee(r) VirusScan(r) Plus
Supplier/ Manufacturer
McAfee Web Security and Maintenance Services
Price (�)
�31.99
(1 Year Subscription)
Features of the Utility
* Protect personal details from identity theft
* Automatic updates, which allows the software to remove even the latest threats
* Prevent your computer from dangerous virus attacks
* McAfee Virtual Technician, designed to make you understand alerts better
* McAfee uses less memory and CPU and uses half as many processors
* Automatic Updates, Installations and Upgrades
* Updates are delayed when viewing presentations, movies or playing games
* Free updates and installations
Software Utility
Security
Name of Utility
ZoneAlarm Internet Security Suite (Award Winning Software)
Supplier/ Manufacturer
Zone Alarm Store
Price (�)
�32.95
(1 User 1 Year Subscription)
Features of the Utility
* Protects software from Malware
* Full stealth mode to keep you hidden from any hackers on the net
* Guards the network perimeter from inbound and outbound threats
* Network and Program Firewall
* OS Firewall, monitors program for extra protection
* Identifies and filters applications, to stop Trojans and viruses from getting into the computer
* Identity Theft Protection, keeps personal details protected
* Spy Site Blocking
* Privacy Protection which blocks pop ups and ads
Software Utility
Backup
Name of Utility
Acronis(r) True Image 11 Home
Supplier/ Manufacturer
Acronis Computer With Confidence
Price (�)
�39.95
Features of the Utility
* Make an exact copy of your PC or only the important data
* Tools which help you manage the backup process
* Recover what you need if you accidentally deleted it
* Enhanced privacy protection to protect personal details and other private data
* Protect your applications by restoring settings for applications such as MS Word, iTunes
* Try & Decide, this gives you the ability to test other software before the end of the session then you can decide whether to discard or keep.
Software Utility
Defragmenter
Name of Utility
Diskeeper(r) 2008 Professional Edition
Supplier/ Manufacturer
Diskeeper Corporation
Price (�)
�47.60
(1 Year License)
Features of the Utility
* InvisiTasking, this feature is the foundation for the Diskeeper to completely wipe out fragmentation in real time without causing any harm to system resources
* Full file & free space defragmentation
* Fragshield 2.0, this feature enhances reliability of the system and boosts performance
* For current customers, upgrade is easy and you get to keep all your settings
* Low free space defragmentation, defragments even when only 2% free space left
* Easy to use interface, which means its flexible and easy configuration, intuitive controls also reports on disk status