Conscience is The Voice of God Essay Sample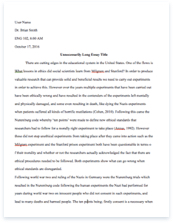 Pages: 10
Word count: 2,726
Rewriting Possibility: 99%

(excellent)

Category: god
Get Full Essay
Get access to this section to get all help you need with your essay and educational issues.
Get Access
Introduction of TOPIC
The notion of conscience's matter, form and even existence has been under scrutiny by the Christian Church ever since it began. Although not referred to explicitly in the Gospels, in the letters of St. Paul conscience is mentioned twenty-five times in a variety of senses. An example of the manifestation of the idea of a conscience, however, can be found as far back as Job in the Old Testament – "I hold fast my righteousness and will not let it go, my heart does not reproach any of my days" (Job 27:6). According to St. Paul, the law of God is 'written in the hearts of gentiles'; the conscience acts in every individual, no matter what stage in life, or knowledge of existing civic laws. In Sophocles' 'Antigone', the heroine defies her King's order in favour of a greater allegiance to an "unwritten law", and history is spattered with such examples of conflict between inner 'moral truth' and civil obedience.
Following the introduction of the term by St. Jerome (347-420), writers of the earlier and later Middle Ages referred to the innate power of distinguishing good from evil as 'synderesis'. Jerome himself describes this as the 'spark of conscience …by which we discern that we sin', but later writers such as Aquinas refer to the term 'conscience' (conscientia) for the ability to distinguish good from bad at the level of particular actions. St. Augustine, a contemporary of Jerome, also regarded conscience as an innate faculty which reveals God's moral law, as it is "Written in the book of light from which all laws are copied" (De Trinitate 14, 15, 22).
Effectively, Jerome and Augustine thought our conscience is God-given, and thus both face similar difficulties as Divine Command theory. Arguably, Augustine and Jerome believe the capability of reason to be far greater than it really is. The Aristotelian line of thought differs from Plato's in a subtle but important way, that although reason is innate and universal, it needs to be used to arrive at an understanding of right and wrong. Augustine doesn't 'use' reason; he views knowledge of right and wrong as intuitive and automatic, which is problematic. First, the idea of moral relativism becomes more convincing as historical and social enquiry lends us more information about other cultures, and although it does not deny Aristotle's universal reason, it does deny a universal understanding of right and wrong. In addition, if God had said that rape, murder and torture are desirable values, then they would have been. This begins the series of problems presented by Plato's Euthyphro dilemma, which affects all theories claiming God's word as the dictate of right and wrong.
Pelagius, an ascetic monk, recognised that humans have the capacity to decide whether or not to follow the good. Even if one knew something was wrong, such as torture of an innocent child, one still has the potential to carry it out. However, in the Biblical tradition, God's grace does not necessarily drive people to the right action (we would have a very different picture of Christian morality if it was believed that it does) but instead, in Ephesians, "The forgiveness of sins, in accordance with the riches of God's grace". Conscience may be the voice of God, therefore, but we still have the capacity to ignore it, or actively disobey it.
Peter Singer poses a situation where a group of animal rights protesters are deciding whether they should break the law to stop a practice they know to be wrong. An answer to this type of question was given by the nineteenth-century American radical, Henry Thoreau. In his essay 'Civil Disobedience', Thoreau wrote, "It is not desirable to cultivate a respect for the law, so much as for the right". The American philosopher Henry Wolff has written in a similar vein, saying that a man should "make himself the author of his decisions", and to resist the state who try to lay authority over him. Both Thoreau and Wolff resolve the conflict between individual conscience and society in favour of the individual. It would appear then, that Oskar Schindler was correct in violating Nazi law. The real problem with the situation, however, is that people do not know whether to act through reason to find the 'good', or by instinct given to us by the 'inner voice' of our conscience.
Singer rejected the latter idea of conscience without reason. Instead, he would consider that St. Thomas Aquinas' definition, 'the mind of man making moral decisions', comes closest to the truth. Aquinas rejected Augustine's theory of innate moral knowledge and instead favoured the Aristotelian idea of still using 'right reason' (recta ratio), but basing all knowledge, including moral knowledge, on empirical 'evidence', so to solve an ethical dilemma with intellect. Aquinas thought that 'synderesis' alone could not guide one through life without a more specific capacity to distinguish good from bad courses of action, and he called this 'conscientia'. Although conscience is derived from the human intellect, Aquinas believed that we should inform our conscience with Christian teachings, which because of divine revelation, ultimately come from God.
The first problem with Aquinas' line of thinking was that if the correct ethical solutions are accessible without God, then the need for God diminishes greatly. Also, in Aquinas' view, any act can be morally justified only if 'informed' by the Church. If the Christian teachings accurately portray the voice of God, then your conscience becomes, by default, the voice of God. If however the Church is wrong, then your conscience is not the voice of God. Realising this, Aquinas tried to embellish his theory with the idea of 'Invincible Ignorance'. The idea is simple: if, Aquinas said, a man sleeps with another woman thinking that it is his wife, he has done everything to inform his conscience but has still accidentally committed a wrong act. His ignorance made him carry out the wrong act, and thus he should not be held morally culpable for his actions. However, not only does his amendment fail to deal with the issues of an autocratic Church, but it merely enforces his own rule of 'follow the Church'. It is impossible to have fully informed your conscience, and therefore the idea of 'inv
incible ignorance' does not mean as much as Aquinas implies. For the Church to teach 'do
not commit adultery' implies 'make sure you know who you are sleeping with'. If the latter is not taught by the Church then it is ignorance yes, but not necessarily invincible.
Despite these apparent issues with this form of ethical conduct, the Roman Catholic Magisterium has rejected Augustine's view in favour of Aquinas'. In order to achieve a via media between the two, Proportionalism, which has been promulgated by Roman Catholic revisionists such as Hoose and Mahony, tries to deal with these precise issues. Proportionalists, while still following Roman Catholic Magisterium, would say that an action can still be intrinsically violating an informed conscience, but that sometimes to achieve a moral good or better to avoid a moral evil, the intrinsically wrong action must be performed.
Proportionalists therefore argue that the conscience is not the voice of God; they argue that conscience means knowing when to strictly obey God and when to uphold an essentially higher good than the ancient rules laid down by Christian teaching. For example, the Roman Catholic Church disapproves of In vitro fertilisation (IVF) because it requires masturbation, an intrinsically disordered act according to Catholic teaching. However, Proportionalists would argue that to achieve reproduction, one of the primary precepts of Aquinas' Natural Law, masturbation may be performed because IVF itself is not condemned by Roman Catholicism. Masturbation, however, is considered intrinsically wrong by the Roman Catholic Church and St. Paul wrote, 'Do not do evil that good may come'. Also, conscience becomes the voice of the person, not the voice of God which the Roman Catholic Church's teaching tries to emulate.
Joseph Butler, an Anglican priest and theologian, challenged Aquinas' view with 'intuitive conscience' in the early 18th Century. Butler, like Aquinas, believed that conscience could both determine and judge actions, but also said that conscience was immediate and totally authoritative because it was 'put there by God' – one must always follow the conscience unquestionably. Although this may be an ideal situation for Butler, in reality 'following ones intuitive conscience' could be used to justify all sorts of acts.
Butler's theory of conscience is far more ambiguous than any others before in regards to the voice of God. He manages to hit a vague median between Aquinas' authoritarian approach and the Platonist innate conscience, which seemed to create a confused theory, although he manages to make it comprehendible by disregarding Aquinas' 'informing' approach and replacing it with Platonist innate reasoning. Butler would argue that conscience is only the voice of God insofar as his words are etched into our intellect, but it is us who select and apply them. Aquinas follows a similar line, although he says it is the written word of God and the Church's teaching we should use to inform our conscience.
John Stuart Mill in the mid nineteenth century valued the conscience even higher than desire; 'There is no natural connection between strong impulses and a weak conscience'. He implied that whether a conscience was strong or weak was random, so not God-given, but that we are responsible to God in how we use it. His idea places the voice of God even further from the conscience because it is there to serve God, not for God to serve man. Like our size, talents and genetic make-up, however, the strength of our conscience is different from person to person, and this creates the conceptual space for moral relativism.
A contemporary of Mill, Catholic Cardinal John Henry Newman believed that to follow conscience is to follow a divine law as it is a messenger from God. Like Mill, he saw responsibility to God as a focal part of the function of the conscience. Unlike Mill however, he is certain that although each conscience is God-given (he once said, "I toast the Pope, but I toast conscience first"), it is earthly, external forces like parents and teachers who inform it.
Newman focuses on the guilt aspect of conscience, viewing it as a sign that one as committed a wrong act. Christ said that sinners will be tormented by the 'worm that dieth not' in the life to come, and A. S. Pushkin wrote about a greedy Knight who described his conscience as, "A clawed beast, scraping the heart". Newman thought that the presence of guilt implied the existence of someone towards whom we feel guilty, and according to him it is God. His theory holds because it creates a possible reason for irrational guilt. However, it separates God from the human's ethical reasoning, only as a cosmic, silent disciplinarian, and more fundamentally it fails to consider that our guilt may also consciously be felt towards the those here on earth.
The psychiatrist Sigmund Freud tells a story about the construction of conscience whereby humans reflect the ethical principles of our parents during childhood, and these principles remain with us throughout our lives. Although parents can influence the child, its unlikely that this influence determines the morality of the adult, because with education and maturity comes greater skills of moral deliberation and understanding. Society allows us to make mistakes during childhood in order to rectify our behavior in the future, for example, in England and Wales a child under 10 cannot be held responsible for any crime. The more recent psychological researcher, Kohlberg, believed our conscience moves through stages, the last of which is the 'post-conventional' stage where we hold moral principles because we recognize them as true, not because of the view of those around us.
Sociology has provided us with a different approach altogether. Emile Durkheim thought there is a collective conscience which reflects the moral norms of a particular society and imposes them on those within that society. However, the Durkeimian idea of collective conscience fails to explain those individuals who stand out from their own societies' values. For example, Trevor Huddleson fought against his own racist culture by being an Anti-Apartheid activist in South Africa, despite being white.
W. H. Auden's romantic expression of the human condition, "We must love one another or die", describes the idea that our morality arises from a biological instinct, and this can be supported by Darwin's theory of natural selection. 'Real virtue' can arise from the self-interest and deception that Darwinism, and Dawkin's 'The Selfish Gene', describes. The argument is that the potential advantage of cooperating with others is cooperation, and it is in our best Darwinistic interest to cooperate when it suits us, however, people only enter in to such relations when they believe you will reciprocate, so you need to deceive them. It follows that the most reliable way to deceive them is actually to deceive yourself, and self-deception eventually turns in to sincerity. The notion that natural selection can explain our apparent sense of morality is extremely attractive because it does not rely on the assumption that there are absolute moral rules governing the world. Even though our morality grew out of selfishness, 'a rose that grows on a dung-hill is just as beautiful as a rose that grows in the Garden of Eden', and thus the theory is just as elegant as any.
The history of the conscience is vast and continually evolving – just like Pelagius and Augustine there have always been people ready to take the other side of the popular view. It would appear that conscience cannot be the voice of God because in every person, society and era there is a different conception of morality. The terrorists who destroyed the world trade centres truthfully believed their actions were right, yet western society holds it up as an example of evil. Furthermore, one cannot reasonably place an argument from the grounds of conscience in an objective legal system – such an act would not only jeopardise the functionality of society, it would mean providing a simple justification of any act of cruelty imaginable. Moreover, there are stories from the Vietnam war and the Nazi regime in Germany, such as the case of My Lai, telling of normal people taking part in the massacre of thousands of innocent people, and evidence such as this shows how social environment can alter a person's idea of morality – to some soldiers, the duty to follow orders is the 'highest form' of conscience.
Atheists would claim to have a clear idea of right and wrong, just like the billions involved with one of the many conflicting religions, and it seems far more simple to believe in conscience as a psychological construct than in a conscience which is guided by a supreme deity. However, we can only be scientifically sure of empirically evident things, and God is not empirically evident. The question of determining God's existence, however, is another matter. Supposing there is a God, and if he is morally connected with us and with our actions, then some responsibility for moral evil and suffering in the world must lie in His hands. The existence of suffering in the world lead J.L. Mackie to conclude that the God of the Judeo-Christian tradition cannot exist, and therefore if conscience is the voice of God, it cannot be the God of Christianity. C.S Lewis wrote about our innate sense of right and wrong, but even if we accept that we have this universal understanding, its presence does not necessarily imply a supernatural or super-empirical being. Although no rational person should exclude God, the rapid advancement of psychology and modern medicine brings us hope for a fully materialistic account of conscience in the not-too-distant future.