Considering how many films have been made about ghost, why has 'The sixth sense' proved so popular Essay Sample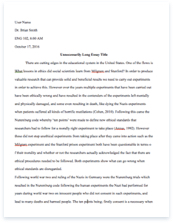 The whole doc is available only for registered users
OPEN DOC
Download Essay
Get Full Essay
Get access to this section to get all the help you need with your essay and educational goals.
Get Access
Considering how many films have been made about ghost, why has 'The sixth sense' proved so popular Essay Sample
'The sixth sense' is about a boy named Cole that has the ability to see dead people but is too scared to tell anyone. However a man named Malcolm finds this kid and because last time he tried to help someone like Cole he failed, he tries to help him and to get as much information about this kid's problem as he can. Much later on in the program Cole finally tells Malcolm that he can see dead people and at first Malcolm thinks that he might be a bit mental but as the film goes on he starts realising that what Cole is telling him is the truth.
At the end of the program Malcolm realizes that not only what Cole was saying was the truth but he was dead as well. One of the reasons that viewing figures have been so high is because many people went back again to see all of the sign's to suggest that Malcolm was dead at the beginning of the program. Some other people went back because it was a very good film. The choice of characters is one of the reasons why the film was so popular; the casting is also a factor. The main adult role is played by Bruce Willis who is popular with older women and fans of his other movies like his role as the main character in 'Die hard'.
Haley Joel Osmond play's the main child role in the film, this appeals to everyone because on one side he is a very venerable and also because everyone feels sorry for him. This whole film is about being able to communicate with the supernatural and being able to understand why they might be still on earth. It's about Cole being able to tell his mother about the fact that he can see dead people. This film is about Malcolm trying to help someone solve there problem. And trying to find out what the ghost wants. The director has used many special effects, which keep the audience involved in the story, for example.
Mr M Knight Shyamalan used the colour red to tell the audience that something was going to happen next. He also uses high and low angle shots to give the impression that the person they are looking up at is higher than the person that they are looking down at. Also he uses music to keep you in suspense by making it quiet then making it go into crescendo's. There are some effects, which we might not notice at first but when we watch it again we notice them like the red handle and the cold breath. The cold breath means that there is a ghost near by and the red handle means that something bad is going to happen next.
Read next:
The ways in which Baz Luhrmans film version of the prologue creates impact and prepares the audience for the drama to come
Life is Beautiful – Feminist satire on patriarchal philosophy
Does the representation of race hate crimes, in films, namely American History X, actually reflect the reality of the crime issue