Contemporary Ethical Issues In Marketing Essay Sample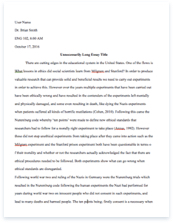 The whole doc is available only for registered users
OPEN DOC
Pages:
Word count: 1856
Category: ethics
Download Essay
A limited time offer!
Get a custom sample essay written according to your requirements urgent 3h delivery guaranteed
Order Now
Contemporary Ethical Issues In Marketing Essay Sample
Ethics have gone up in the business agenda in recent years and are a potentially powerful influence on consumer decisions.
Ethics relate to moral evaluations of decisions and actions as right or wrong on the
basis of commonly accepted principles of behaviour. Marketing ethics are moral principles that define right and wrong behaviour in marketing. The most basic ethical issues have been formalised through laws and regulation's to provide conformity to the standards of society. At the very least, marketers are expected to conform to these laws and regulations. However, it is important to realise that marketing ethics go beyond legal issues, ethical marketing decisions, ethics foster mutual trust among individuals and in marketing relationships. Ethical issues typically arise because of conflicts among individuals' personal moral philosophies and the marketing strategies, policies, and organisational environment in which they work, they may stem from conflicts between a marketer's attempts to achieve organisational objectives and customers' desire for safe and reliable products.
There is little doubt that ethical considerations are a powerful influence on consumer purchasing decisions e.g. Nike with its cheap labour sourcing policies. If a brand gets its ethical stance wrong it can be very bad for business. Brands like the Body Shop have shown that showing you are ethical can do wonders for business. Whether its specific issues such as environmental impact, exploitation of child labour or a more general pressure on corporations to "give something back" to society through charitable donations, contributions to local communities or support for the sports and arts, every brands are needing to take a conscious decision as to what sort of ethical stance to take.
For example:
The Reliant Robin became highly controversial in the 1970s after consumer advocates ("That's Life" on BBC television) Claimed that Reliant had saved money in the design of the car's steering system and that Relaints ran a greater risk of being involved in accidents.
Similarly, organisation objectives that call for increased profits or market share may pressure marketers to 'steel competitors secrets, knowingly put an unsafe product on the market, or some other questionable activity.
For example:
In South Korea, Lucky Goldstar Group markets a detergent packaged in an orange box with a whirlpool design just like- Procter & Gambles Tide brand. The product is called Tie, and Procter &: Gamble does not make it or license it to Goldstar. Obviously, the attempt to develop a Tide look-alike without Procter & Gambles permission creates an ethical issue.
QUESTION 2
A number of recently publicised incidents in marketing, such as deceptive or objectionable advertising, misleading packaging, questionable selling practices, manipulation, corruption, and pollution, have raised, questions as to whether specific marketing practices are acceptable and beneficial to society. The issues of what is acceptable in marketing practices and what obligations marketers have to society are issues of marketing ethics and social responsibility.
Although it is a very important concern in marketing decisions, ethics may be one of
the most misunderstood and controversial concepts in marketing. No one has yet discovered a universally accepted approach to dealing with marketing ethics. However, this concept and its application need to be examined in order to foster marketing decisions that are acceptable and beneficial to society.
To be a credible leader in wellbeing, we must demonstrate a responsible approach to the wellbeing of all our stakeholders – including our people, suppliers, the communities we serve and the wider environment."
"Boots is about products and advice that enhance personal wellbeing."
"We're working to enhance our reputation as a well managed, ethical and socially responsible company. As leaders in wellbeing we intend to reinforce our key role in the UK's primary healthcare"
Boots approach to Corporate Social Responsibility
The issue of Ethical Trading is extremely important. The Boots Company is working alongside other leading retailers and the British Retail Consortium to develop guidance and codes of practice. Boots is also a member of the Ethical Trading Initiative, an independent organisation involving government, non-governmental organisations and retailers working together to agree common standards and a common approach.
Specifically, with regard to conditions of employment for the workers in the Far East who produce goods for sale in Boots stores, the company insists on only doing business with those manufacturers, which meet certain, predetermined standards. For example, pay scales are monitored to see that they are above average and facilities, which are increasingly being provided for workers who live on the premises – dormitories, three nutritious meals a day, recreational amenities – are all of a competitive standard. Importantly, systems have been put in place to check that employers are conforming to their local government labour laws and that their factories comply with the legal age of employment
A strong sense of social responsibility is part of the Boots heritage. Today it's reflected in their values and behaviors and made explicit in their statement of business purpose.
Example of a recent marketing campaign is the re-launch of the company's No.7 Brand of cosmetics. The product was perceived to be good quality but drab and old-fashioned. In 1995 it was decided to re-launch the No.7 brand as a premium product. Recent developments had allowed a substantial range of ethical claims to be made for the products such as "not tested on animals" and "hypoallergenic". Two thirds of the colour range was new and every possible innovation incorporated. There was extensive customer testing against competitors in the new market to ensure that products in the range out performed their rivals.
New ways of marketing products are constantly emerging. Whilst Boots continues to use tried and tested methods such as TV press and advertising, new communication channels mean that there is a wider array of tools Boots can use to get messages across to their customers. Some examples include Internet and Direct Mail through the Boots Advantage Card (which is the biggest loyalty scheme in Europe).
Boots prides it self on being an "ethical" business it demonstrates this in all its marketing.
The Body Shop is well known for its ethical stances,
The Body Shop believes fair trade can make a positive difference in peoples lives and Community Trade is the Body Shop's fair trade principles in practice. The Community Trade programme is aimed at small producer communities around the world who supply the Body Shop with accessories and natural ingredients. Community Trade ensures a fair deal for the producers and their communities enabling them to work together to make a difference to their own lives and have more control over their futures. Fair prices help producers to feed, clothe and educate their families and allow money to go back into the community to supply basic needs such as water, health and education. Money earned through trade with The Body Shop has enabled producers to build wells in their villages, educate thousands of people about AIDS and HIV and provide schooling for hundreds of children.
When you enter any of The Body Shop stores or attend a The Body Shop at Home party, the staff will be able to point out Community Traded products and accessories and products that have Community Traded ingredients in them. Through all The Body Shops marketing communications and promotional materials you will always find the Community Trade logo, which in their catalogue and on their products highlights those with Community Traded components in them.
For a company like The Body Shop there is another important factor to consider; their high profile role as an advocate of social and environmental causes. If a company wants the license to campaign on public issues, it must demonstrate its own commitment to reflection and self-improvement on issues like environmental protection, animal protection and human rights.
The Body Shop Mission Statement dedicates the Company's business to the pursuit of social and environmental change. Underpinning the Mission Statement is
The Body Shop Trading Charter, which addresses the three principal concerns of social responsibility, environmental sustainability and animal protection.
Both documents describe The Body Shop's key aims regarding its relationships with stakeholders, as well as with the environment. They commit the Company to strive towards balancing the financial needs and human needs of stakeholders, and describe the key principles that the Company aims to integrate into its trading practices: respect for human and civil rights; creation and support of long-term, sustainable trading relationships with communities in need; reflection of environmental sustainability in the Company's purchasing; and the commitment not to purchase materials or products that transgress the Company's animal protection policies.
The Body Shop's ethics are rooted in the personal beliefs and agenda that Anita and Gordon Roddick brought with them into the business. They are fundamental to the way The Body Shop operates, our reason for being.
The Body Shop is committed to maintaining high standards of social and ethical business performance. It is also committed to the principles of integrity, transparency and continuous improvement through an integrated framework of accountability and active engagement with stakeholders.
QUESTIION 3
Regardless of the reasons behind specific ethical issues, once the issues are identified, marketers and organisations must decide how to deal with them. This is essential to become familiar with many of the ethical issues that may arise in marketing so that they can be identified and resolved when they occur. Examination of a few issues that could develop in the different marketing mix elements, can provide some direction and lead to an understanding of the ethical problems that marketers must confront. When examining both of the organisations above in the marketing mix I found that both companies are very ethical in there own brand product lines, Boots have Botanicals made from only natural ingredients, and The Body Shop also use natural ingredients and are totally against testing on animals.
The Boots company may be more expensive than other chemists own brands, this is because they pay people who work for them in the 3rd world a wage that they can live on and provide them with food & shelter, Body Shop uses money raised from there sales to help provide for the people in poorer countries and they also use environmentally friendly light bulbs in there shops. Boots and The Body Shop have shops on the high street they are both recognizably more expensive than other chemists such as superdrug, but both The Body Shop & Boots offer more ethical products. Boots advertises how ethical it is on TV, it also has an Advantage Card loyalty scheme, The Body Shop does not advertise on TV, most people already know the body shop stance on ethical issues, but if you go into a shop there are posters and leaflets explaining what they stand for.
Bibliography
www.Marketingteacher.com
www.bized.ac.uk
www.hncbusiness.com
www.thebodyshop.co.uk
www.thebodyshop.com
www.boots.co.uk
http://www.marketing-alchemy.com/Ethics.html
Social Contracts and Marketing Ethics CITE – "Social Contracts and Marketing Ethics, " Journal of Marketing, 63(July): 14-32 1999.
AUTHORS: Thomas W. Dunfee1, N. Craig Smith2, William T. Ross Jr.3