Continuous and Comprehensive Evaluation in Schools Essay Sample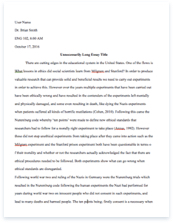 The whole doc is available only for registered users
OPEN DOC
Get Full Essay
Get access to this section to get all help you need with your essay and educational issues.
Get Access
Continuous and Comprehensive Evaluation in Schools Essay Sample
Continuous and Comprehensive Evaluation (CCE) refers to a system of school-based evaluation of students that covers all aspects of a students' development. It is a developmental process of a child which emphasizes on two fold objectives. These objectives are continuity in evaluation on one hand and assessment of broad based learning and behavioral outcomes on the other. The term 'continuous' is meant to emphasize that evaluation of identified aspects of students' 'growth and development' is a continuous process rather than an event, built into the total teaching-learning process and spread over the entire span of academic session.
It means regularity of assessment, diagnosis of learning gaps, use of corrective measures and feedback of evidence to teachers and students of their self evaluation. The second term 'comprehensive' means that the scheme attempts to cover both the scholastic and the co-scholastic aspects of students' growth and development. Since abilities, attitudes and aptitudes can manifest themselves in forms other than the written word, the term refers to application of a variety of tools and techniques (both testing and non-testing) and aims at assessing a learner's development in areas of learning like: * Remembering
* Understanding
* Applying
* Analysing
* Evaluating
* Creating
Objectives of CCE are:
* To help develop cognitive, psychomotor and affective skills. * To lay emphasis on through process and de-emphasis memorization. * To make evaluation an integral part of teaching-learning process. * To use evaluation for improvement of students' achievement and teaching – learning strategies on the basis of regular diagnosis followed by remedial instruction. * To use evaluation as a quality control device to maintain desired standard of performance. * To determine social utility, desirability or effectiveness of a programme and take appropriate decisions about the learner, the process of learning and the learning environment. * To make the process of teaching and learning a learner-centered activity.