Contracting Costs Essay Sample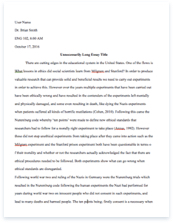 The whole doc is available only for registered users
OPEN DOC
Pages:
Word count: 602
Category: cost
Download Essay
Get Full Essay
Get access to this section to get all the help you need with your essay and educational goals.
Get Access
Contracting Costs Essay Sample
            Contained herein is an analysis of contracting costs in economics with an emphasis on closed economy found in POW (Prisoners of War). The analysis is based on experiences and observations made by R. A. Radford when he was a prisoner of war during the Second World War (See Radford's 1945 Economics Organization of a POW Camp. Contracting costs are incurred between businesses and their interactions with consumers. Individual businesses concentrate on areas of comparative advantage and leave other firms to supply specific inputs. This saves time that is now used for more productive purposes. Consumers incur these costs through their reliance on businesses to supply various goods and services; consumers concentrate on their undertakings which they happen to be most productive. The POW economy described in Radford's paper highlights the role of currency and middlemen in any economic setting—the two aspects would be discussed in this analysis.
            Radford's POW economy's use of cigarettes as currency empathizes the economic understanding that money (medium of exchange) is any commodity that meets the following criteria: first, the commodity has to be scarce in the said economic organization. Cigarettes met this requirement as they were not readily available in POW camps; they had to be sourced privately from outside, which was not easy and also being provided in rations by the Red Cross Society. Second, the commodity has to be generally accepted by both sellers and buyers. Authorities were not against the use of cigarettes as currency. Indeed, buyers and sellers, smokers and non-smokers had no problem accepting cigarettes as medium of exchange. Just like other currencies, cigarettes in the POW camp were subject to Gresham's Law, which states that good currency drives out the bad ones (Rolnick & Weber, 1983). The monopoly of cigarettes as form of exchange had attracted sabotage and counterfeiting tendencies in the camp; individuals stated making paper-rolled cigarettes to be used as currencies. Unfortunately, such currencies were somehow rejected by colleagues who demanded the regular factory made cigarettes.
Contracting costs were highly visible in Radford's POW camp. Individual prisoners had to meet various needs and luxuries in their day-to-day living. In this regard, they had to exchange their holdings with goods and services they needed most. This means that POWs relied on each other to meet needs. Though they had time to personally cobble the camps for what they needed, it made more sense to develop specialty in specific goods and rely on others to supply the rest. The subdivision of camps in national groupings resulted to the establishment of smaller economies within the greater POW economy. The national groupings were specifically trading goods and services that were popular in respective countries, which resulted to diverse needs being met efficiently.
            Middlemen were central to POW economy. Like in other economic settings, the middlemen tasked themselves with the responsibility of matching demand with supply. In other words, the POW middlemen helped match sellers with buyers for some small fee denominated in cigarette currency. The middlemen also arbitraged on goods in different camp markets—this helped in bringing prices in these markets to equilibrium. The arbitration was, however, not taken lightly by traders who accused middlemen of either driving the prices too low (for sellers) or too high (for buyers). For this reason, individuals playing the role of middlemen were taken as foes by prisoners and authorities.
References
Radford, R. (1945). Economic Organization of a POW Camp, Economica, 12 (11):        189-201.
Rolnick, A. & Weber, W. (1983). Gresham's Law or Gresham's Fallacy. Minneapolis:   Federal Reserve of Minneapolis.