Coventry Sports Trust Limited Essay Sample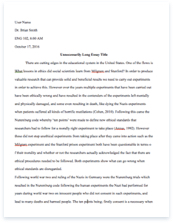 The whole doc is available only for registered users
OPEN DOC
Pages:
Word count: 6349
Category: sports
Download Essay
A limited time offer!
Get a custom sample essay written according to your requirements urgent 3h delivery guaranteed
Order Now
Coventry Sports Trust Limited Essay Sample
The purpose of this report is to advise Coventry Sports Trust Limited (CST) on the key considerations and their significance on the proposed appointment of a Human Resource Manager. The report will cover the various issues relating to new approaches in Human Resource management, procedures and practices for obtaining suitable employees, principles and procedures for monitoring and rewarding the employee, and employee exit from the organisation. The report will be on the basis of which the management team can reach a sensible conclusion on the way forward.
Introduction
Coventry Sports Trust Limited (CST) was formed in April 1999 and promotes healthy lifestyle options through the provision of sports and leisure services to those who live, work or visit the City. Such services had previously been provided by Coventry City Council. CST has operated without a Human Resource Manager since its establishment and now is in an ideal position to appoint such a role. We know that until now recruitment, reward, redundancy, grievance procedures, etc. have been very ad hoc and a point has now been reached where structure needs to be introduced as the Chief Executive Michael Rossington is beginning to worry that CST could be laying itself open to falling foul of multitude of employment laws currently in place. We know the company employs 370 plus staff across seven sites and with the introduction of such a structure should enable long term success in the company's future. The current "personnel" function is not ideal, with the influx of temporary staff there appears to be no stability. The employees of CST have become frustrated and dejected with the current set up. Changes need to be made to prevent further discontentment in the future.
Personnel Management and the New Approach of Human Resource Management (HRM)
Before HRM the closest comparable function was the personnel department (their differences can be seen best in Appendices A&B). CST have in place a personnel department, that cannot be argued. This means that Personnel managers and their departments are mostly responsible for recruitment, remuneration, leave administration and disciplinary matters. People development is seen to be the domain of the training manager not the personnel manager. Whilst HRM may have its roots in personnel management its orientation is consistent with other recent management methods, for example, often HRM sits at the heart of initiatives such as culture change, total quality management and business process re-engineering. All these initiatives have their own separate objectives but each have some processes and objectives in common with human resource management.
Today the true worth of HRM is becoming more widely understood as HRM steadily interweaves all aspects of people management and development. The philosophy of HRM is based on the simple belief that human resources are the most important asset in achieving and sustained business success. For CST this realisation should become the driving force behind the creation of HRM resulting in the organisation taking a strategic approach to the management of our people. In this way HRM linked the human resource asset to the achievement of CST objectives. Since this conceptual realisation HRM has become increasingly influential in the way it fashions and then implements corporate strategy.
To deliver high organisational performance CST's HRM practices have to be connected to corporate strategy. The existence of a Human Resource Manager is a good indicator that HRM decisions are now being taken into account in major corporate strategic decisions. However, it is often difficult to establish effective HRM processes, systems, knowledge and skills at local levels when the Sports Trust diversified. CST being in competitive environments, and escalating change, the effective management and motivation of employees will be vital for future survival and success. HRM therefore is becoming an unstoppable driving force, or would be if managers in turbulent environments prioritised HRM issues.
The concept of HRM may seem simple but its realisation is not straightforward. There is a considerable debate about its role and who has prime functional responsibility. CST should argue that HRM is best vested in line management for it is they that have responsibility to utilise people to deliver the business targets.
The change from personnel management to HRM was not instantaneous. Many businesses took years to change and still some like the Sports Trust have kept their traditional departmental name of personnel management. However in other companies the change of name hasn't necessarily meant they changed their attitudes. In the past, companies used to compete on product and price, now they compete on people as well. The main drivers for change from personnel management to HRM are more committed workforces, women seeking part time employment, adaptability or flexibility of workforce, technological advances and the increased competition due to foreign businesses entering UK markets.
Increased competition is the trigger for the other drivers for the change in labour management. Increased competition forces businesses to compete on a global level, and they need to take a strategic view of the management of a business to survive. This includes taking a strategic view of management and of the labour force within an organisation. This is where the HRM model is used. The increased levels of competition mean that businesses need an adaptable and committed workforce. This as already discussed will give a huge strategic advantage.
When adopting a HRM approach, CST must establish how we can reduce costs to stay competitive. A method that is used is to recruit women who are often keen to find part time, often lower paid work. This reduces costs and could give CST a competitive advantage.
Technological advances have an immense affect on businesses. Staying ahead and constantly updating employees on how to use the latest technology is a vital element of Employee Management. If a business can achieve this it gives them a competitive edge.
If CST follow the trend of changing its department from personnel management to HRM we are making a statement that our employees are a valuable part of the business and should be treated as any other resource in the firm. The HRM model recognises its employees as strategic area of the business, which needs to be considered when making management decisions however in the past under the personnel management model businesses often neglected to consider the human factor.
HRM has already become the new term in the majority of businesses and organisations for employee management departments. Even if companies keep the term personnel management, it is likely that the management of their labour force will be more strategically managed. CST will be forced to adapt and to take an HRM approach, as it is the most efficient way of managing a labour force, and therefore improving its market position. HRM will continue to evolve and develop in its own right. As new methods of increasing efficiency and cutting costs are introduced, HRM departments will adopt them. In future CST will need to continue to value and consider all of their resources but most particularly their employees.
Human Resource Planning
CST must plan ahead their HR requirements and the next twelve months will be vital. Planning in HR is concerned with getting the right people, using them well and developing them in order to meet the goals of CST. CST will need to identify ways of using their current employees in the most effective way and identify difficulties that may occur in the future, from this CST will then be in a position to solve these difficulties. There are various stages in the HR planning process that CST need to be aware of. If you refer to appendix C you can see how HR is concerned with matching up firstly the HR in the company and how the company effects on HR. CST's demand for labour will depend on the future plans. With CST looking to take on the sporting facilities of Caludon School in the near future to support this expansion more staff may need to be taken on. Looking at future pans and estimating the levels of activity within CST can predict the demand on HR. If CST can get managers to forecast their staff requirements or there is some sought of work study completed working out how long certain jobs take CST can then work out the number of employees required and the hours they will need to work.
CST must work out the supply of labour available. The numbers of people available to work, how long they can work for, their ability to do required jobs, their productivity and other factors must be taken into account. CST must recognise that the supply of labour comes from two sources, internal and external. With consideration of the appointment of a HR Manager the collection of statistical information on employees will be an essential starting point. Producing information on the number of employees in particular job categories will give a broad overview of the numbers in CST who already process certain broad categories of skills. Understanding the skills that the CST employees have available will be helpful to see how many of these are transferable. CST needs to be sure it has the right number of people available at the right time but also the right skills. CST will have to assess the present supply of skills across the workforce and identify the sorts of skills they will require in the future. A suggestion for CST is to produce a skills inventory of the current employees, this will indicate those who have received and require training. CST should gather information about the level of performance of various categories of current employees. A key area a new HR Manager should look at would be promotional potential. Internal promotions within CST will change the availability of existing resources. This useful information on how many employees have the skills and aptitude for promotion as well as the potential in the future would benefit CST hugely.
When looking at the people who work for CST you would form an opinion. CST employ a lot of younger people but this is common in this industry. Also with too many young workers CST might find that people are not staying long enough to make their mark on the company. Perhaps what is in place at CST is one where promotion prospects are blocked in the organisation resulting in people leaving. CST have within the management team older workers who are coming up to retirement age, this could leave CST in a position of not having sufficient experienced staff. It is important to be able to plan retirements with CST to keep a good balance between people who have been with the company for a long time and people who are bringing new ideas into the company. Another key area the proposed CST Human Resource function should be aware of is staff turnover. Now this means CST would be in a position to forecast future losses and to identify the reasons people leave the company. CST should be aware that a degree of staf f turnover is advantageous, as new staff are appointed promotional channels may be opened up and can allow natural wastage. CST need to recognise that high staff turnover will incur additional costs for recruitment, training and may lead to disruption of workflow.
CST is urged to measure the rate at which people are leaving the company. Now there are two techniques that CST must consider. They are employee wastage rate and labour stability rates (see appendices D&E). Wastage rates provide such information that is used to predict likely turnover in the future and will lead CST in examining reasons if the case be there is high turnover. Labour Stability would provide CST with an indication of the tendency of employees with long service to remain with the company.
With the appointment of a HR Manager and hopefully with the set up of a established HR department CST as well as knowing their own employees should be aware of the external labour market. Trends of the working population will affect CST HR Planning. the UK is a ageing population with fewer school leavers so CST may need to look at other sectors of the population to meet the HR requirements. Being in the leisure industry CST will need to be aware of the overall economic activity where demands for leisure services may rise or dip. With general skills improving in the UK CST find themselves in a position where there is a major effect on HR Planning from government policies. Policies such as New deal have increased the supply of labour. As well as being aware of national impacts to the company CST should be conscious of local employment trend, local skills shortages and availability of labour. These sort of statistics are essential for CST in understanding local supply conditions.
CST can measure the effectiveness of the HR policies by the level of employee satisfaction.. CST must keep detailed records on absenses as a percentage of the hours or days. Producing sickness and accident rates statistics will enable the CST to keep an eye on where problems lie. Keeping record CST will be in a position to detect trends or patterns of sickness and react to them. Where accidents are concerned CST will need to keep statistics according to the standards set in RIDDOR (see appendix F). A key aim for a new HR Manager would be to make sure this figure decreases. CST have a range of employees the HR Manager will seek to have a balance of new people entering CST and want to make sure skill levels are rising. The HR Manager will want to build a new pool of expertise at CST and devise programmes to make sure people have the right skills to meet CST requirements.
Recruitment and Selection
CST will know that the recruitment process can be very costly. It takes time to set up an effective recruitment process. Rationalising the recruitment process at CST would have huge scope and incorporate a number of factors. Its been said time and time again but the plain fact is people are an organisations most valuable resource. Whether CST recruit internally or externally there are advantages and disadvantages. Considerable savings can be made and CST would likely not to be disrupted by someone has already worked for the company on a internal appointment. Also internal promotion acts as an incentive to all staff to work harder with the company, from CST's point of view personnel staff should already know the strength and weaknesses on an 'insider' and there is far more risk employing somebody from outside the company. The disadvantages of recruiting from with CST would mean that anyone who gets promoted, you would then need to replace them, also an insider would be less likely to criticise working arrangements and with all promotions you can run the risk of upsetting other employees who missed out.
CST need to adopt a approach where recruit is seen as a process to buy in and retain the best available human resources to meet the CST's needs. CST need to show clarification on what the job entails and what qualities are required to do the job. Recruitment and selection are fundamental in the HR management process particular. For CST its is recommended that some time is spent establishing the 'profile' of a vacant post through the three documents of job analysis, job description and person specification. The information identified for the job analysis provides the data used in the job description and person specification (see appendix G).
CST need to be aware a job description states the purpose, responsibilities and reporting structure of a job (see appendix H). It clarifies exactly what a job involves and provides the individual, their line manager and others in the organisation with a clear picture of the purpose of a post. Documenting tasks and responsibilities provides an opportunity of ensuring that these are always contributing to the overall aims of CST. As well as a recruitment tool the job description is a valuable documents for CST individuals. Having a set of defined job tasks and responsibilities is an aid to self-evaluation and can be used for initiating an appraisal discussion or other staff development activities. CST need to be aware when rationalising job roles it leads to improved succession plans.
In the appointment of a HR Manager CST require knowledge of the importance of person specifications, they relate to the human characteristics and attributes that are considered to be necessary to perform jobs effectively. They outline the attributes a candidate should possess to be suitable for the post. These attributes are usually divided into those that are 'essential' and those that are 'desirable' (see appendix I)
CST HR requirements should incorporate two well known and widely used methods used for compiling person specifications, they are Rodger's seven-point plan and Fraser's five-point plan which use criteria such as attainments; general intelligence; special aptitudes; disposition; and circumstances, impact on others; innate abilities; and motivation. If CST utilise such methods on designing job roles CST will be in a strong position.
Job advertisements form an important part of the recruitment process. CST should recognise that advertisements must reach those people who have the qualities to fill the vacancy. CST must produce good job advertisements, providing prospective candidates with helpful information (see appendix J) and also give CST prospective employees a good first impression of the company. CST will need to advertise in the appropriate media.
When CST is in a position to look at job applications it is important CST get this process right. CST will need to try t o get a clear picture of the applicant. CST should be highlighting the most relevant evidence on recruitment decision making. CST is urged to look at the main facts we want to know as detailed earlier in the job description and specification, this process should be filtered down into the short listing process. CST is advised to when dealing with references to get them after the interview has taken place, this will cut down on paperwork and when CST send for reference we need to know the key points on which we want to receive comments. When assessing candidates CST is advised attempt to get the best people within existing budgets, these are the people with the most appropriate skills and CST want to select people who will stay with the company.
CST need to be aware that interviewing requires a considerable amount of intelligence and inventiveness. The pre-determined questions CST ask should be tailored to assess the suitability of the candidate for the job in many different areas. CST is urged to do interviewing in a professional manner and remember it is up to the interviewee to convince CST they can meet our needs. For ST it will be important to appraise the success of interviews. CST can make considerations on whether the interview was an appropriate method of selecting the best candidate for the job. As well as interviewing CST should be aware of psychometric and aptitude testing. If CST utilise such methods they can be considered reliable indicators of the sociability/personality, and they are useful predictors of whether individuals will fit into CST.
CST is bound by the law and by the requirements to operate in a moral way in terms of our employment policies. The key laws CST will need to comply with in relation to recruitment are:
* The Race Relations Act 1976
* The Sex Discrimination Act 1975
* The disability Discrimination Act 199
* The Equal Pay Act 1970
If CST do not comply with these laws CST will find themselves it great difficulty. Knowledge of these laws will be key to the successful appointment of a HR Manager. direct/indirect discrimination and victimisation are areas CST must associate themselves with. CST must appoint new staff on merit and not discriminate in a fashion that would leave the company liable. With CST having a lot of operational staff knowledge of the key areas where the law does not apply will be advantageous. With the changes in employment law that have happened CST must find themselves in a position of knowing different modes of employment and different terms and conditions. CST in an effort to achieve greater flexibility should increase the use of temporary and part time staff. Thus reducing employees employed permanently and full time and not counting the cost for this.
Contracts of employment is a key area of employment law where CST have to get right. It will be essential CST provide new staff certain information in the first two weeks of employment, this under the Employment Rights Act 1996. any changes in contract must be documented as a contract is legally binding. CST need to be aware that the Employment Rights Act 1996 provides worker s with additional rights (see appendix K) and if they are not met will again will liable for legal action.
Appraisal Systems/ Job Evaluation Systems
CST need to manage the performance of its employees effectively to remain competitive. For CST to be very successful it needs all it employees firing on all cylinders, working towards helping the company meet its goals. CST need to develop systems and methods for managing effectively the performance of staff. In CST we want everyone to be moving in the same direction. Although CST is essential a charity it still needs to make profit and identifying a mission statement for the company is key area the HR Manager could develop. If CST look at developing outlining the organisation's values, objectives, individual objectives, regular performance reviews, performance-related pay and training it would be in a progressive situation. A process by which evaluating performance systematically and providing feedback on which performance adjustments can be made define specific job criterias against which performance will be measured. This will create accuracy and justify the rewards given to individuals or groups, thereby discriminating between high and low performance. This can also define experiences that individuals for development. For CST this should improve job performance and prepare employees for future responsibilities.
Common stages of staff appraisal are line managers meeting with job holders to discuss what is expected. The agreed expectations may be expressed in terms of targets, performance standards or required job behaviours or attributes and skills (see appendix L). This meeting is recorded and the jo holder performs for the next six months or a year than this period is reviewed. That is the common process in the business world ad one CST should look at but try to develop more specifically. For CST self evaluation would be an important starting point. If CST adopt such a method your employees can establish meaningful goals and then evaluate performance in meeting these goals. CST employees will take more responsibility for their own work, have a greater understanding of their own work. Also on a company stand point it would be cost effective and avoids wasteful expense of having evaluators.
Another type of evaluation used is peer evaluation. This is where performance is assessed in groups. The approach is usually effective because people not pulling their weight usually get shown up. This combined approach means people don't feel they are being judged from above. The only problem with the approach is that if often results in low levels of criticism, employees will not always look at the company's prospective. Target setting is an essential part of the appraisal process. Determining personal attributes, skills and performance CST can gain a better understanding of employees needs. However there are certain criticisms of such approaches. Interpretation of mangers cannot be consistent throughout CST. Another problem CST could experience would be positions in the company where performance is hard to measure. For example admin staff don't have certain deadlines and levels of performance to measure against.
Within business there is a considerable amount of dissatisfaction about how individuals or groups are rewarded. Job evaluation is a process of assessing the value of one job against another without regard for ability or personality of the individual. Merit rating is a system closely linked to job evaluated pay. A typical problem with the system that CST should way up would be merit rating can be open to favouritism and can be deemed unfair.
Performance related pay is a method preferred by organisations for staff progression. Performance related pay scheme would be agreed on the key result areas of the job, clear standards of performance and regular objective reviews. CST mangers would be in a position to assess employees and divide them into categories of performance. With such a scheme their would be many influence s that would affect it. The financial state of the company, typical rates of pay and c9ompany policy will need to be considered if CST were to adopt such an scheme.
CST appraisals and other forms of evaluation should be closely linked to training and development. For CST to achieve its objectives is it essential to train and develop its people so they are best able to support the organisation in working towards objectives. The fundamental objective of appraisals and evaluation methods is that CST employees need to be able to communicate their own personal development needs to CST through these methods. If CST do not get this process right this will lead to its staff becoming unhappy within their work. More staff will leave do to dissatisfaction leaving CST without valuable assets.
Disciplinary and Grievance
There is no statutory duty on CST to have a grievance procedure but it is generally accepted to be good practice to do so. For CST the benefit of having a grievance procedure is recognised in many instances of guidance relating to the smooth operation of employee relations. The written particulars of terms and conditions that every CST employee is entitled to receive by virtue of ER Act 1996 must contain a statement relating to grievance procedures. CST will have to recognise a person to whom the employee can apply for the purpose of seeking redress of any grievance relating to their employment, and the manner in which any such application should be made.
If a CST employment contract specifically contains a grievance procedure, and CST do not comply with that procedure will be in breach of contract. There is a basic implied term in every contract of employment that both parties will not act in such a way as to breach mutual trust and confidence. This term, it has been argued, can impose a duty on an employer to take seriously any grievances put forward by an employee. For CST must recognise good industrial relations requires employers to provide their employees with a method of dealing with grievances in a proper and timeous fashion.
CST need to recognise that in order for grievance procedures to be effective, it is important that all workers are made aware of them and understand them and if necessary that supervisors, managers and worker representatives are trained in their use. Wherever possible every worker should be either given a copy of the procedures or provided with access to it.. For new employees this might best be done as part of any induction process. Special allowance should be made for individuals whose first language is not English or who have a visual impairment or some other disability. When grievances cannot be resolved informally CST must deal with them in a formal process (see appendix M).
CST must identify that there are some categories of case where the status and application of a grievance procedure will have special ramifications. In particular, this applies to whistle-blowing cases and cases where discriminatory harassment and bullying are being alleged. If CST produce a more detailed procedure to deal with any disclosures raised it is less likely to face claims. CST must associate themselves with Racial Equality as it states that 'it is unlawful to discriminate in the operation of grievance, disputes and disciplinary procedures, for example by victimising an individual through disciplinary measures because he or she has complained about racial discrimination, or given evidence about such a complaint. CST should not ignore or treat lightly grievances from members of particular racial groups on the assumption that they are over-sensitive about discrimination.' For CST It is recommended that records should be kept detailing the nature of the grievance raised, the employer's response, any action taken and the reasons for it. If CST do not recognise a grievance procedure CST is required to specify in the written statement of terms and conditions of employment, who the worker can apply to if she has a grievance.
But if CST adopt of good policy in dealing with Grievance, like procedures used within local government., there are many advantages. Colleagues in support of the allegations is more likely to come to light during internal proceedings than at the tribunal. The manner in which the employer investigates often provides a good indication of his approach to sexual harassment in the workplace. If the employer fails to investigate in good faith this will give grounds for constructive unfair dismissal. Once a grievance on grounds of sexual harassment is filed the worker has legal protection from victimisation. The very fact that an employee has been prepared to make an internal complaint often lends credibility to her claim, particularly where the complaint rests on her evidence alone. Conversely, an employee who files a grievance or resigns without giving the employer the opportunity to investigate may appear unreasonable or hasty, unless the harassment was exceptionally serious. Tribunals look for evidence of attempts to resolve the situation within the workplace. The worker avoids the risk of being penalised in the employment tribunal by not being awarded compensation or in costs for not making use of internal procedures.
In recent years most employers have introduced or agreed disciplinary procedures like Vauxhall Motors to ensure that no disciplinary action is unfair. This will be included in the employees' written statement of terms and conditions. This development followed a change in the law which introduced the concept of "unfair dismissal". In an industrial tribunal both the grounds for dismissal and the way in which the dismissal has been handled can be challenged. CST must identify that employees should be informed of the standards of conduct of work and the procedures which ensure that these rules are kept to. Disciplinary procedures should not be viewed as a means of imposing sanctions. They should be designed to emphasise and encourage improvement in individual conduct. Thus, having a disciplinary procedure and following it properly, is an important protection for CST. Getting involved in defending a claim for unfair dismissal can be a time consuming and expensive business. In practice there are sometimes problems when disciplinary procedures are not properly understood or do not mesh in with management committee decision-making structures. CST can use disciplinary procedures in a way to be designed to emphasis and encourage improvement in individual conduct.
Dismissals
CST must recognise this is the most sensitive area of employment law. This is where lawyers are called in most frequently. For CST it is essential to appreciate the difference between the types of Dismissal (see appendix N) CST need to know if the dismissal is automatically unfair then the employee has an automatic right to compensation. The employee is classed as automatically dismissed unfairly if the reason is based on sex or race or disability discrimination or because of pregnancy or related to pregnancy. There are other reasons that are automatically unfair, but these are by far the most important. This is a very dangerous minefield for CST and if the tribunal finds in the employee's favour there is an automatic right to compensation.
Dismissals that are not 'automatically unfair' are in most cases labelled 'Potentially Fair'. The onus is on the employer to show that the reason for dismissal was one of five Potentially Fair reasons, namely that the dismissal was due to Conduct. If CST can show the dismissal was for a 'Potentially Fair Reason' the tribunal will then examine whether dismissal was a reasonable step to take. It is not for the tribunal to decide what it would have done in those circumstances, merely to identify whether the decision to dismiss was a reasonable one. CST should be extremely careful in handling any disciplinary action. Even if there are good reasons for dismissal an employee may still win compensation if he can show that any procedures were unfair. In practical terms CST must go through various processes (see appendix O).
CST must recognise the potential remedies the tribunal may order;
? Re-instatement (into the same job)
? Re-engagement (into a similar job)
? Compensation
Compensation is by far the most common. There are two elements to the amount of compensation. CST would have to recognise the key considerations in this area.
There is another form of dismissal CST will need to associate themselves with that being Constructive Dismissal. It arises where an employee shows that the actions of the employer have made the position intolerable. Obviously this depends on the circumstances of any case but in essence the employee must show. CST must remember that its up to the employee to react quickly in this area. it can cover various areas but if CST follow set procedures and have legal awareness CST can avoid the unnecessary legal ramifications.
Redundancy
CST Compulsory must follow certain procedures and considerations and although there, CST will have certain obligations towards employees. Firstly, all dismissal procedures are subject to legal requirements, employment contracts and staff association and union agreements CST must recognise good employment practice is to give to its employees being effected by redundancy as much warning as possible, alternative employment is offered, where possible, fair and objective criteria will be used to determine who gets made redundant and communication between CST and employees, or their representatives, remains open.
CST needs to ensure that the criteria used for selection is carefully considered and defined, and then applied fairly and consistently to all employees within the company or department. The criteria also has to be agreed with the employees representatives, if there are any. In the case of a large number of redundancies, CST would have to make a clear statement identifying the pool of employees from which the redundancies will be made and has to consider if any of the jobs are interchangeable. Certain criteria will be used (see appendix P) In addition, CST may have to inform the Department of Trade and Industry, depending on the number of people being made redundant. Failure to do so is a criminal offence, which could result in prosecution.
If CST were to collectively inform the department or entire staff of its intentions or need to make redundancies and initially leaves the option open for staff to volunteer for redundancy. This could be far more costly to the employer as longer serving staff often take advantage of generous redundancy payments, but it often avoids a collapse in morale among remaining staff and prevents the company from being dragged into disruptive and expensive legal action.
CST has to carefully consider its needs and the value of employees wanting to take up the offer. The process often involves offering voluntary redundancy to all staff – so the CST would need to introduce certain checks to protect the ongoing business. CST must recognise voluntary redundancy is only a offer and there is no legal obligation for employees to accept Redundancy packages could cost CST a lot of money, but the effect of redundancy can ruin a company's image and the morale of remaining staff, so most companies are eager to appease those being laid off. Voluntary Redundancy packages are usually far more generous than the statutory redundancy package.
Conclusion
Many Companies consciously or unconsciously run their businesses with an indifferent approach to Employee morale believing that the Employer/Employee relationship is self sustaining and does not need to be worked on or cared for this is a grave oversight. Like any human relationship worth developing there has to be on both sides commitment, accommodation, compromise and a strong desire to satisfy the other's requirements if the relationship is to have a long success and mutually satisfying.
Many managers are uneasy and uncomfortable with this kind of language/sentiment and with good reason as they do not possess the human resource leadership skills to create and maintain a work environment where this kind of relationship is possible. They have probably never been trained or educated to attain the skills necessary to develop and maintain a work environment which is conducive to openness. A perceived easier option is to create, maintain an autocratic or bureaucratic type of relationship which is far less complicated and provides the ideal work environment where employees can be managed and controlled. However, this style of management has evolved from the military command & control model which is required to get people up out of the trenches and face the enemy it does not work if the objective is to maximise the potential of the Employees in an Organisation.
Companies seeking sustained competitive advantage in the 21st. Century, human resource leadership is going to be key. It is only in an environment where highly motivated employees at all levels within the organisation working and communicating with each other for equally beneficial rewards that the resources required will be accessed and maximised to achieve long term competitive advantage. The culture and core values of the organisation must support this style of work environment by hiring Employees that fit the concept and creating/sustaining the employment conditions to maximise Employee retention and development. This can be achieved somewhat when appointing a new Human Resource Manager.