Creating a Better Leadership and Communication Process for Project Implementation Essay Sample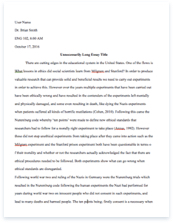 The whole doc is available only for registered users
OPEN DOC
Download Essay
A limited time offer!
Get a custom sample essay written according to your requirements urgent 3h delivery guaranteed
Order Now
Creating a Better Leadership and Communication Process for Project Implementation Essay Sample
Create a better leadership and communication process to facilitate future project implementation at Times Community News.
This paper will focus on creating a better way of selecting project leaders within Times Community News and its parent company, the Los Angeles Times. The premise of this paper
arose from being a team member on several different projects, each led by a different project manager.
A special project team includes work groups, cross-functional teams, task forces, problem-solving teams and committees. Many companies have working groups that call themselves teams, but their work is produced by a combination of individual contributors. Teams produce work that is based on collective effort. Katzenbach and Smith (1986) defined a team as, "A small number of people with complementary skills who are committed to a common purpose, performance goals and common approach for which they hold themselves mutually accountable."
By observing the various project managers and their styles, it became obvious that successful projects were lead by trained, focused project managers who held regular meetings and communicated with all team members. Projects that did not have a trained project manager had many problems implementing the project, leading to frustration, low morale and disillusionment by team members.
CULTURAL OVERVIEW
Times Community News is the community news division of the Los Angeles Times. It is a group of five community newspapers covering many widely different geographic and market areas. Offices are located in Glendale, Ontario and Costa Mesa. The General Manager of Times Community News is based in the Costa Mesa office, which is the office that is financially profitable. The Glendale and Costa Mesa offices have been owned by the same company for approximately ten years and have always been rivals. The General Manager has been attempting to unite these two offices into a team, and in this process has started to merge like departments at each office under the same management. The Ontario office was just recently added this year.
When the Los Angeles Times initially purchased the group of newspapers in 1993, it left the group alone. Then about three years ago, after re-naming the company Times Community News, it officially made Times Community News employees Los Angeles Times employees. This was the first step in the integration process. The Times started a multi-phase project to integrate Times Community News into all of the Los Angeles Times' systems: payroll, benefits, billing, accounts receivable, editorial and advertising systems. This project, which began in 1999, has just been completed in July of 2002.
According to Donald Clark (1997), an organization's base rests on management's philosophy, values, vision and goals. This drives the organizational culture, which is composed of the formal organization, informal organization and social environment. The organization's culture determines the type of leadership, communication and group dynamics in an organization. Employees of an organization perceive these values as the quality of work life, which affects their motivation. The outcome affects performance, employee satisfaction and personal growth and development. All these elements comprise the foundation of the organization.
Now, let's take a look at the elements that comprise the foundation of Times Community News.
How do people get ahead in the company? Prior to the Los Angeles Times purchase of the newspaper group, it seemed as if people got ahead in the company simply by being in the right place at the right time. This was also based on how a particular person performed in their job. For example, if someone in the Editorial Department was a good reporter and showed initiative and worked hard, when an editing position became available, they would be able to move up into that position, whether or not they had the formal training for that position. This held true for all departments of the paper.
The majority of the people in supervisory and management positions at Times Community News are in those positions because they know how their department functions and have a proven track record in meeting performance standards. Since being purchased by the Los Angeles Times, and more recently by the Tribune Company, there is more emphasis on educational qualifications in addition to meeting performance standards. Another way people can get ahead in the company is through the job postings. Employees are encouraged to check the job postings and apply for open positions within the Tribune Company that they meet the qualifications of. Times Community News Editorial Department is usually thought of as a training ground for entry-level editorial personnel who usually "move up" to the Times in a year or two.
How are critical decisions made? Most of the decisions made at Times Community News are made from the top down. Management usually decides what new project or changes need to be made and then expect management to carry out the plan. Top management usually does not get involved in how the project is carried out; they are just interested in knowing that the project or change has taken place. Individual managers usually collaborate with each other and involve their supervisors and employees in implementing a project or change.
What milestones and events are widely celebrated? Every year, the Editorial Department announces what awards have been handed out to various writers and photographers during the previous year. These include California Newspaper Publishers Awards for stories, editorials and photo essays submitted by Times Community News as well as Pulitzer Prizes won by Los Angeles Times Editorial Department.
In addition to the Editorial awards, there are various awards given out to the top Account Executives in the different sales departments. These are given out at a yearly Sales Award banquet and are highly prestigious awards.
What behavioral practices are truly valued and recognized? One of the main behavioral practices that are valued at Times Community News would be meeting daily deadlines. Along with that would be the ability to meet deadlines while accommodating advertising. There is also value in people who show the ability to streamline functions, which would save the company money by gaining efficiencies. Innovation is another valued behavior.
What is truly and politically socially acceptable? The culture seems to shift back and forth every few years, but the most acceptable form of dress for men in management is a dress shirt and slacks, with or without a tie. Upper lever management usually wears suits, although they are not required. Women usually need to dress more formally. General employees usually dress business casual and often wear jeans that are in good taste. Fridays are casual days at Times Community News, although women managers usually do not participate. On casual days, the men usually wear dress slacks with a polo shirt.
How does communication flow? Formal communication flows from the top down. Management bulletins are sent out via the company-wide e-mail system to all employees. Upper management usually initiates the communication process down to the manager level, with little interaction below the manager level. Managers communicate with their supervisors and hold regular staff meetings with their departments. Open communication is usually encouraged between managers and their staff.
What are the organizational values? The values that are most often seen in practice are professionalism, integrity and honesty. Tribune management enforces these values. An employee who crosses the line is disciplined immediately and will be terminated if management determines that it is necessary.
CURRENT STATE
Let me begin by giving an overview of the structure of the media conglomeration of which the Times Community News is a subsidiary. This will allow us to better understand how the current process of communication and project management leadership are achieved. By viewing the chart on the next page, we can see how this company fits into the Tribune network.
For the purposes of simplifying our model, not all of the subsidiaries of the Chicago Tribune are listed; only those that are relevant to our needs for this exercise are listed. This chart shows the hierarchical formation of the organization. Now lets add the communication flow to the chart.
1) Communication at this point consists mostly of directives from the Chicago Tribune down to the Los Angeles Times. Only the general manager at the Times has a dialog with the Tribune.
2) Communication from the Los Angeles Times to the Times Community News does have multi-directional communication. Supervisors and Managers at Times Community News communicate directly with the Los Angeles Times, working together on team projects.
3) At point # 3, communication shifts from a top down directive to bi-directional dialog among all members of the various subsidiaries.
Now that we know how communication flows within the organization, we can now state how Project Managers are chosen for various projects that are performed internally.
Currently, a decision will be made at the executive level of the Chicago Tribune whether or not to implement a new process. If the decision is made (which affects a lower level subsidiary) that a new process is required to reach corporate objectives, that decision is then passed down to the Los Angeles Times as a directive. The directive gives management at the Los Angeles Times the autonomy to choose who they want to head up the project. Standard procedure is to have the department head, of the department affected by the project, choose the project manager. These project managers are chosen only based on whether or not they are in the department-not if they have any experience, or training, in project management. The new project manager then picks the members of the team for work on the project and sets the schedule and agenda.
As alluded to in the premise, this process of choosing project managers causes problems on many projects. The selection process is like playing roulette; you may pick a winner and you may pick a looser. With the intense competition that all corporations have to deal with to survive in the current environment, a better process for choosing project managers seems a necessity. Lets take a look at the current process and see if we can isolate the problem, and its root causes.
PROBLEM IDENTIFICATION AND ANALYSIS
If communication between the Los Angeles Times and the Times Community News flows in all directions, why are some projects a failure? A number of possibilities come to mind. Perhaps the correct types of communication are not being addressed in order to augment successful projects, or communication has the appearance of being a dialog but in actuality it is only flowing in one direction. Maybe the selection process for project managers is flawed. There could be several reasons or combination of reasons. According to Ishikawa (1982), a good tool to isolate the root causes of problems can be accomplished using a fishbone diagram.
By viewing the diagram above we can see that there are several causes that lead to inadequate project implementation.
> Procedures
o No formal procedure for choosing project managers
o No project management department
o No procedure for project implementation
> Policies
o Lack of information for scope of work
o No formal policy for project management control
> Physical/Cultural Environment
o Individual achievement is more valued
> Leadership/Skill Level
o Lack of formal team recognition
o Focus on interest of own dept
o Procedure for PM choice
o No formal training in PM
By looking at the diagram and the list of causes, it appears that some of these causes have a common thread and can be combined. Project implementation requires a team, however the culture of the organization values individual achievement rather than team achievement. This explains why project managers have a single perspective to project management. If we can find a solution to this problem, we could eliminate several of the root causes.
Project management requires the knowledge of some very specific tools designed to make the process as efficient as possible, which gives the project the greatest chance of success. It looks as though there is no training given to those who are chosen to lead project teams. If we can implement a training program for this, we can eliminate several more causes.
Finally, project implementation requires many individuals who have to come together to understand what is necessary for a project to be implemented with the least amount of bugs that need to be worked out after implementation.
Lets summarize the problems, which require attention, in order to facilitate efficient project implementation so that we can focus on solutions. First, we must change the cultural aspect of the corporation that recognizes individual achievement only and also begins to recognize teamwork. Next, we need to make sure that those who are chosen to manage projects know how to do so. And finally, we need to overcome the lack of inadequate information concerning the scope of the project.
SOLUTIONS/IDEAL STATE
To begin with, the corporate culture must be changed so that teamwork is also recognized as opposed to only individual work. According to Stephen Perlman (1990), a quality of work-life redesign using the Organizational recognition for team accomplishments has a high rate of success. The reason this strategy should be used is that it is driven by the executive level rather than the management level. Since the corporate culture needs to be changed, it is critical that the change be driven from the top down. The reason is that corporate culture, in and of itself, has to be subscribed to at the executive level; otherwise the lower levels will not buy into it. Once this task is implemented, the following causes will be eliminated: 1) Individual achievement is more valued, 2) Lack of formal team recognition, and 3) Focus on interest of own department (Although the PM may still come from a single department, recognition for teams with cross departmental members will help alleviate this problem. The reason PM's focus on their own department's interest, while implementing projects, is because if their department does well and they are the manager of that department, they will get the recognition in the current culture.)
Now lets look at a solution to the problem of inadequately trained project managers. The solution here is two fold. First, a standard procedure to handle project implementation should be written. Once this procedure is completed, those individuals who are designated project managers should be trained in project management so that they have the tools necessary to implement a project successfully.
If the organization prefers to use department heads as the project managers, as opposed to a person who is a project manager only, then these individuals should be the ones trained. (This is probably a better solution than to have a project management department because these individuals have a better grasp of how the project will integrate with their department's needs.) After the procedure is written and training is completed, several causes will be eliminated. Those being: 1) No formal procedure for choosing project managers, 2) No project management department, 3) No procedure for project implementation, and 4) No formal training in project management.
Now we can address the final issue, lack of information for scope of work. The solution to this issue is simply to gather information from all departments affected by the project. By doing this the project manager will have a starting point for all activities involved, and all activities needed for complete project implementation. A good model to use to collect all of the information required is the Organizational Communication Model (Perlman, 1996). The process and communication would look like the diagram in Figure 1, and Table 1 respectively.
Communication Sender
OCM
Message
Project Manager
12:00
Sends specifics about project requesting feedback within 48 hours
Team Members
3:00
Send in responses with their concerns about their particular areas
Project Manager
6:00
Sends team members responses to their concerns and what action will be taken in what time frame
Project Manager
9:00
Delivers on promise and asks for feed back
Team Members
10:00
Respond to delivery of Project Manager
Project Manager
12:00
Sends new scope of work to team and asks for feedback
If the team members are happy that all of their concerns have been addressed as to the scope of work required to implement the project, the project manager can then begin the task of scheduling necessary activities and resources. Once this is completed, the OCM process should be started over again until all members and the project manager are satisfied with the implementation plan.
By using this model and collecting information prior to developing the project schedule, we would eliminate the "lack of information for scope of work" cause. Although "No formal policy for project management control" was listed as a possible root cause, by incorporating all of the above solutions, this cause would also be eliminated. (If thought necessary, a policy could be written stating that those chosen to manage projects must have certain training before being given that role).
We can see that by using the suggestions mentioned in this section, we can overcome all of the root causes of inadequate project implementation that were identified in the previous section.
IMPLEMENTATION PLAN
To be successful when working with project implementation we need to be able to come up with an implementation plan that everyone will support and that will also provide clear guidelines for everyone involved in the process. The following are six areas that have been identified as key points:
> Initiation
> Planning
> Analysis
> Design
> Implementation
> Evaluation
Initiation. Company executives approve a project and its implementation. A project manager is selected. Since there is no Project Management Department, a manager from one of the departments involved/affected by this project will be selected and prepared with the necessary training and with the appropriate project management tools. This phase will take some time mostly because of the training and preparation of the manager. Selection of all the other team members will also take place almost simultaneously. Upon completion, this information will be communicated to all team members.
Planning. The Project Manger will plan a 'meeting schedule' for the team to start meeting. Communication, participation and cooperation will be a requirement for all team members. These meetings will be scheduled every two weeks and weekly or as often as needed as the actual project implementation gets closer.
Analysis. All team members will have the opportunity to provide and collect all necessary information from their own areas, as well as other departments or individuals, that might be affected by the implementation of this project, for example: equipment, training, personnel, a realistic time frame, etc. Because of all the data that needs to be collected from different departments and/or individuals, a longer period of time will be allocated to this task.
Design. All team members will have the opportunity to participate in creating the implementation design. To ensure everyone's participation and support, we will use the Nominal Group Technique or NGT. According to Andre Delberg and Andrew Van De Ven (1968) this four-step process provides the opportunity for everyone in the team to become involved and it helps in obtaining a solution in a short period of time. In addition to that, participants get a feeling of ownership and therefore are more supportive. This is very important and allows for a smoother implementation process, which leads to a more desirable outcome.
Implementation. Once the team has created the design, it will create the implementation timelines. The team will create this schedule with input not only from team members but also from individuals from any area (department or unit) that might be affected or involved with the implementation of the new project. Time lines will be as realistic as possible but making every effort to deliver the project when promised without compromising the quality.
Evaluation. As part of the evaluation process, the team will measure the success of the project at different phases. We will use the Organizational Communication Model or OCM (Perlman, 1996.) as described and charted on the solutions/ideal state portion of this paper.
Follow-up. After receiving the first evaluations, the team will have two options: 1) continue to meet on as needed basis to assess progress from different areas or, 2) form a subgroup comprised of some of the team members that will continue to meet to assess progress or address any unfinished business.
As with all project implementations, time is of the essence. The following table is provided for a better idea visually of how the process would work for a project starting on August 2, 2002.
Task
Length of time
Start
Finish
Initiation
2 months
9/2/02
11/1/02
Planning
2 weeks
11/4/02
11/15/02
Analysis
2 months
11/15/02
1/15/03
Design
2 weeks
1/15/03
1/30/03
Implementation
2 weeks per site
(Total of 4 sites)
2/1/03
4/1/03
Evaluation
1 month after implementation
4/1/03
4/7/03
Follow up
On as needed basis for the following 2-4 months after implementation
In summary, in order for an implementation plan to be successful it needs to be thought out thoroughly, be well informed, organized, simple, and clear. Good communication-and the above outline and described steps-are the blue prints for a smooth implementation process.
REFERENCES
Clark, Donald R., (1997), Big Dog'sLeadershipPage [Online]. Available:
www.nwlink.com/~donclark/leader/leader.html.
Delberg, A. and Van de Ven, A. (1968) Nominal Group Technique or NGT
Ishikawa, K. (1982), Guide to Quality Control (Second Revised English Edition), Tokyo: Asian Productivity Organization.
Katzenbach, Jon R. and Smith, Douglas K. (1986), The Wisdom of Teams, Harvard Business Review Press.
Perlman, S. (1996), Measuring and Improving Organizational Communication Effectiveness, Performance Innovators
Perlman, S. (1996), QWL Improving the Quality of Work Life, Performance Innovators