Credit and Collection Case Study Essay Sample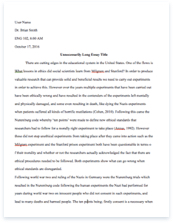 The whole doc is available only for registered users
OPEN DOC
Pages:
Word count: 998
Category: credit
Download Essay
A limited time offer!
Get a custom sample essay written according to your requirements urgent 3h delivery guaranteed
Order Now
Credit and Collection Case Study Essay Sample
Case 1. Gregorio, an unemployable college drop-out, pretended to be a public works contractor, and asked his former college seatmate, who owns a large hardware store, for a 90-day credit on Php200,000 worth of construction materials. Greg explained that he just won a new public works contract on a school building. The credit, of course, was never paid. Greg sold the materials for cash at 20% below cost.
ANSWER:
An investor can avoid such deceitful acts and losses by making sure that the one you are investing in is real and has proof of where the money will be spent such as copy of the contract in the case of Gregorio. The investor must conduct a Credit Investigation before he approves the credit. In order to investigate, an investor should consider the following credit information of the individual applicants should be secured and verified.
> Income must be evaluated relative to the demands placed upon it, information should be sought about the demands upon the income brought about by family needs and existing obligations. Investigation of individual's income is essential.
> Employment is probably the principal source of income, so it should be investigated along with income. In the case of Greg, the investigation should be especially extensive since the employment information also must necessarily be the source of information relative to income.
> The investigation also may seek to develop information about reputation of the credit applicant and to secure information adequate for evaluating the credit data reported by references.
> Payment record, residence, marital status, age, reserve assets, equity in purchase and collateral must also be considered in investigating individual.
After collecting necessary credit information and conducting a credit investigation, the next task is Credit Evaluation. The first task is to evaluate the different credit factors. The credit factors are character, capacity, capital and condition. In this scenario, the investor should focus on the character and capacity to pay of the creditor. The character of the creditor comprises the qualities of credit risk which make him want or intend to pay when his debt is due. It will helpful for the investor to look in the creditor's:
> Social Background
> Family Background
> Educational Attainment
> Applicant's vices or lack of it
> His habit and other personal traits
Case 2. Glorieta owns a mini-grocery store in a small town in Kumalarang, Zamboanga del Sur. She had been buying her goods from Ace Wholesalers for over 5 years. Her monthly purchases from Ace now averages Php200,000. Because of her excellent payment history, she was allowed to pay using checks postdated for 90 days. As the years went, Glorieta's financial needs began to outstrip her income, as a result of the college expenses of her children and her recently acquired addiction to nightly mahjong games. She started borrowing from 5/6 lenders. She had religiously funded all her checks to Ace, but in the past month, her checks to the school that her children attends, to the electric cooperative, and to the appliance company have all bounced, resulting in her account being closed for mishandling last week. Today, Glorieta obtained Php350,000 worth of groceries from Ace and requested that she be allowed to use a 120-day check, which was approved. Four months later, the check for Php350,000 bounced. It was returned to Ace marked: "account closed".
ANSWER:
Good business requires that collection of invoices be made promptly and without any damage resulting to the customer relationship. It is this collection management requirement to retain the customers' goodwill, which makes the collection problem a difficult one and which makes skill and tact essential in the handling of collections. Just how much pressure is to be brought to bear to obtain prompt collections and to what extent the relationship may be jeopardized in the effort are questions of policy. The collection problem should be analyzed and the collection policy defined in accordance with such objectives as the policies of the selling division involved with the problem, the importance of the customer, the effect of the combination of receivables and number of customers delinquent on the entire receivables portfolio.
As an investor of Glorieta, since her 120-day check was bounced and it was her second bounced check, I would insert collection effort from part of the entire collection system such as sending collection reminder and collection letter, and then telephone call, then the use of registered letters, and next is the use collection agencies, then next is the use of Attorneys, and my last resort would be suing the debtor. But, to maintain a good relationship to my customer I will try to reach her attention first personally to inform her that she has to settle her accounts as soon as possible seeing as her account was already closed and my collections to her is a huge amount which will push down my business seriously. And see to it that she is not neglecting or avoiding her responsibilities to pay. Being the credit manager as well, I have to be smart and wise investor and commit myself in the fulfillness of my responsibilities.
On the twelve types of problem customers, Glorieta is the credit stretcher who is usually "Temporarily over extended". As her investor, I have to keep collections going rapidly before trouble develops. I will keep ahead of large accounts, and do everything I can and make sure I get her among the first on my customers' list. A better way to avoid trouble with this kind of situation is to limit her credit at the beginning.
Evaluating Glorieta's accounts and current financial standing, she may be considered as she is on the edge of insolvency and only a lawyer or credit specialist trained in legal procedure can handle the situation satisfactorily to help me get me the amount she owes to me right away and at the same time assist the customer out of her difficulty.