Critical decision making Essay Sample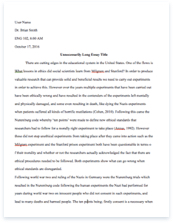 The whole doc is available only for registered users
OPEN DOC
Pages:
Word count: 544
Category: decision
Download Essay
A limited time offer!
Get a custom sample essay written according to your requirements urgent 3h delivery guaranteed
Order Now
Critical decision making Essay Sample
Critical decision making: It is process of making choices by identifying the decision, gathering information and assessing alternatives resolutions. There are examples of decision in daily life such as Some decision like to attend a university and graduate is a big decision that most people would agree had a positive effect on their life. The decisions to get married or have children most likely have a significant impact on your happiness or unhappiness. The decisions to take a new job, quit a job or start your own business are all examples of big decisions that have most likely had a big impact in your life.
The sum total of all these little decisions determine outcomes such as our:
health
reputation
knowledge
happiness
productivity
relationships
There are certain assumptions that form the basis of rational decision-making. For example, decision makers must have clear understanding of the situation and there should be available other options on the issue. They should pick an alternative that will increase their chance of achieving the goals. My major dilemma was choosing a course of study for my Master degree. With all the options available today it is very hard to settle on one thing easily. Also, because I came from a B. tech background. I was confused to stay at home country for further studies or to go foreign country.
The further step in decision making was to develop goal and criteria, which in my case was to do Masters in a course that would have a good scope in future. Time and money were also quite relevant to me as this course could be completed in a two years. During the decision making process, I considered other possible alternatives such as finding a similar course back home like MBA for a while before I pursued further studies. When I analyzed the alternatives I realized that the best option for me would be to commence a Masters program as soon as I finished my Bachelors in Electronics.
The first alternative which was to find a similar course back home as either the tuition or university fee expectation was too high. The second alternative was to find a job in a marketing after graduation. During the recent period of time, there were very limited seats for placements in India. Some companies were not hiring in general, I had seen many of my students struggle to find a job in marketing or finance operations. I found that people who already did a job were not satisfy with job because they were not happy with the hourly pay. On the other hand, my parents wanted me to start my Masters as soon as I finished my Bachelors.
Keeping all these things in mind I realized that coming to Canada was the best option as I could finish the course within two years. Then, I discussed the decision with my parents and they agreed with me, I applied for the program being offered at Lambton College. After few days, I received an offer letter from Lambton College granting me admission into their program. As I know, Canada is best country for career and I will definitely get scope with wireless networking. There was a weak point in my plan of action that I didn't have a back-up plan as I only applied to one college.