Critical Evaluation of my Design – MillionAir Essay Sample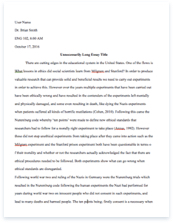 The whole doc is available only for registered users
OPEN DOC
Pages:
Word count: 1680
Category: customer
Get Full Essay
Get access to this section to get all help you need with your essay and educational issues.
Get Access
Critical Evaluation of my Design – MillionAir Essay Sample
In my design stages, I made many changes throughout, however, the customer's questionnaire that was filled out, helped enormously, as it guided me to create new, up-to-date changes that will benefit the staff and customers even more than it currently does. The changes I made were not only beneficial to my company, but they were also beneficial to the customers as through the questionnaire, they were able to voice their opinions regarding the current situation and how the company could benefit from further help. Having done so, they have helped us to establish a clear indication of where we were going wrong with each the Database, Logo and the Documentation that was provided with each. Changes that have been made with each are listed below. In the database, I changed the fact that the information appeared as a table, and I changed that, so that it would benefit staff further, I changed it so that it would appear in a form layout. The staff benefit from this because they do not have to then stare at an open screen full of written material, therefore reducing the risk of health affections. A screenshot of the change is shown below.
With the logo, neither customer verbal opinions, nor the questionnaire gave me an indication to change any aspect of it; therefore, I can understand that it is perfectly compatible and suited to the customer. Looking at the logo, we can understand that ideally, it lacks colour, but researching to financial depths, we can understand why black and white colour coordination is the most cost effective, and why it is the one with the most benefit overall. Depending on productivity and printing requests, the logo could prove to be the company's biggest money user, which responds money-wise in no way whatsoever. The economical status of the company depends and relies on the publicity that the company is getting, the main contributor is the logo, which, if it is good, will help the company, or if it is not, will not help the company. Therefore, I can determine that my logo was effective for my company, as they require high quantities of paper stock, and as shown below, the logo does not utilize as much ink as a colour copy of the logo would. This is a finalized image of the logo.
As you can see above, I have added a slogan, to the earlier un-finalized version, which gives it a more detailed final look, and it also entails what MillionAir do in a smart manner.
As for my user guide, changes were made to suit the company further, in terms of imagery. The documentation was given images and screenshots to suit the instructions being described. The instructions were simplified to suit all ages of users, and the overall appearance was made more compatible. The user guide, in the questionnaire, was also tested, and the users said that the new version was an 'easy to use, none confusing' method.
Manual system.
A system that requires handwork and does not consist of computerized input at all. To use a manually operated system, in the current set-up of MillionAir's customers, where they have at least 25 per month, and are expecting more thanks to their newly organized system, they would suffer because of their inability to cope with difficulties thrown at them. Had their system been a manual one, and their logo publicized their company further, their organization would be bad, and the company would be at a basic level of customers, and instead of progressing, would fall back drastically.
Computerized system.
A system which is made up of computer input, and that is it, it has no manual input at all. I have used a computer to make my logo, database and documentation, more useful, authentic and more professional. In addition, my computerized system has simplified life in the office so much more for the users.
Justification.
To create this system, I used the computer for a more professional, stylish, and an overall fresh looking database, where customers' details were not at any risk of being lost, or even being stolen by people who are interested in nothing more than their own personal fortune. I used a computer because of these reasons, and for the one reason, that MillionAir were interested in building up a customer portfolio, and I thought that they would never do this unless they became a more organized establishment. Therefore, in the end, after discussions with the company, we decided upon two things, one was that we would create a logo to boost promotional value, and the second was that we would organize the customers' details neatly in a computerized, professional database. Both the logo and database were created on the computer, and so was the documentation to go with it, I think that creating it on the computer will have fantastic long-term benefits for the company in terms of health and safety, and in terms of business success. For MillionAir to have all customer details sorted in a computerized way, means that eventually, all the papers will be rid of, meaning that the office will look more cleaner, and it will look more appealing for outsiders, as well as the staff, who will benefit from a clean, paper-free environment to work in.
Benefits and Drawbacks of my system for its users.
My newly improved system gives a new outlook to the users as they can now function better and can get work done in a further efficient method. For the users, alias the staff, they can have a system that is compatible to their own needs, they can now make a better job of their work life, and they can further improve the state of their productions.
The users can benefit further because they can see how they can now change their productivity level, in many areas than one. The company are lacking due to this new system because their new positions are going to be much more limited, movement is not a wider option for them anymore. There is no need for them to move anymore, they can sit at their desks and have access to everything they need from right there. With no filing cabinets, there are no needs to get up from their seats, and go looking for work, as the work will now 'come to them'. The seats will have to also be compatible to the workers needs, meaning that they will have to be comfortable, and they will have to have an adjustable height to suit the eyes of the users. This means more of a financial drawback for the company because of the fact that these chairs are not cheap, and to get one for every desk, will be a lot of money.
Benefits and Drawbacks of my system for the customers.
My system holds more benefits and fewer drawbacks for the customers of MillionAir in the sense that the customers are not actually using the system, but in the same way, the work being done will be faster and more efficient. Therefore, the customers can get their travel bookings out of the way quicker, they can have more queries, and the staff can answer them quicker. The system also has many drawbacks for the customers, for instance, the fact that the staff is not accustomed to using a system like this, as they have no computer knowledge at all, may result in the customers having to wait a lot, or it may result in them being unsatisfied with their booking. In addition, a member of staff that is untrained can unfortunately confuse themselves in the bookings, and book a person on the wrong flight or even more dreadfully, they could lose booking details, and they could end up in the wrong hands.
Changes in jobs due to the new system.
Due to the new system, the members of staff at MillionAir have to adjust, and restart their jobs. The current state of the jobs is a dire position where nobody is benefitting at all. Several jobs have changed, and several changes have been made overall. One of the overall changes is that the customer information is made available to all the staff, and all of them have access to the system at any one time. This is convenient for the staff because instead of looking for a certain sheet of paper, out of so many that look the same, is a nightmare, and a waste of time. As opposed to this, to have it all in one handy database sheet is fantastic. For the staff, it is one way to communicate changes that would have normally been difficult, easily. If information is being changed in the offices, the staff at the airport, or the staff who are at a distance, can have easier access, and once they refresh the page, they can easily check details, that have been changed, without any fuss. The owners of MillionAir have also benefitted because they will now visibly be able to see the change that one database is doing for them, or the logo, if it is used correctly, it could bring in lots of healthy business for them.
Training requirements due to the new system.
The members of staff at MillionAir are not accustomed to this sort of technology, that is why the management will have to pay extra money for them to receive the correct training in order for them to learn the basics on how to wok a system like theirs, without completely messing it up. The company employ several people, and to pay for each of them to learn these skills, works out expensive, plus for them to pay for several lessons, and not one, is even more expensive. However, if they went to employ an IT technician to teach them, it may work out a bit cheaper, but not a lot, they would still lose a lot of money in this way.