Critical response Essay Sample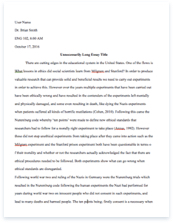 The whole doc is available only for registered users
OPEN DOC
Download Essay
A limited time offer!
Get a custom sample essay written according to your requirements urgent 3h delivery guaranteed
Order Now
Critical response Essay Sample
The critical essay just mentions Michael Plante's screened identity but leaves it hanging and unclear for it does not go deep enough to allow the reader to understand  more about screened identity. The writer does well to mention that Michael Plante's article was a well scrutinized research based on scientific methods. The writer on the second paragraph again talks about details of how to screen an identity based on cDNA's, and once more does not list or describe those details. Instead of discussing the modern scientific technologies used in Michael Plante's article the writer immediately after the introduction paragraph this comes later in paragraph three therefore taking away coherence in the flow of facts.
The writer fails to support the contention made that, "there is no legal basis yet authenticating the scientific views of Michael Plante's screened identity". Instead the writer should have dwelt on evidence of the lack of legal basis. As long as it is not yet proven true in the world of science, then, these will remain as hypothetical viewpoints.
Somehow, there some linkages that can be considered in the viewpoints of Michael Plante's screened identity with regards to chromosomal characteristics such claimed particular on sex chromosome 23. It has been noted also in some medical books that chromosome 23 signifies for the character of a certain individual. Momentarily, there's no yet medical claimed with regards to this development. But most of the medical practitioner believed that sex chromosome 23 plays a vital role for individual's character.
This section is well tackled by the writer and the criticism on multiple repetitions, is sufficient. By further stating that " he used this kind of ploy in order to achieve what he wanted to picture out or what he wanted to inculcate to the mind of the clientele".
The writer shows a deep grasp of the thesis developed in the article. With different devices and procedures for multiple repetitions, he was able to implant the ideas, thoughts conveyed along with it. A great Recall and comprehension was of great effect due to overwhelming exposure. But extra caution should be well observed because doing this kind of ploy has some disadvantage effect towards the mind of the clientele. Such a way, it will lose the interest of the concern clientele maybe due to over exposure of the said ploy or schemes of multiple repetitions.
This preceding analysis is an indicator that the writer had read through the article once and again something recommended before one can critique an article.  However, multiple repetitions can still of great effects if applied in complex or diversified schemes. The writer in the preceding section uses juxtaposition to enable readers to grasp the deeper meanings in an easy to understand manner.
The same thoughts and content but in a different persuading procedure so that it will not lose its identity at same time originality of the concepts remain. If using multiple repetitions has produced great effect to a certain individual then I believed it should be continued. But if it produces in other way around, then it should be reduced to the least it can be. This is a great proposition which clearly provokes thoughtfulness.
Missed kisses for me it talks about missed chances either in personal matters or whatsoever it takes. A kiss symbolizes for respect, affection, greeting or amorousness (New to answer.com). Michael Plante maybe just too depth in describing his inner thoughts with regards to his personal matter.
In life, there are lots of kisses which we are bound too. A kiss for a bigger chances or kiss for such failure. Maybe kisses of submissiveness or to be proud off. Or, it could be goodbye. More over, missed which can be contain as failure, has different facets in life depending on what it has to take. Failure of chances as persuaded by Michael Plante brought us to another dimension or level of discouragement which we don't want to occur.
However, if we are not clever and alert enough to manage our lives, then we are prone to missed kisses at all times. Chances which may pass only once and no more second time around. In the last section, the writer concludes by stating philosophically his thoughts on the article.