Critical Thinking and Decision Making Essay Sample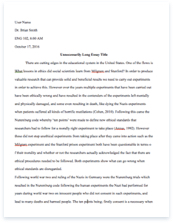 The whole doc is available only for registered users
OPEN DOC
Get Full Essay
Get access to this section to get all help you need with your essay and educational issues.
Get Access
Critical Thinking and Decision Making Essay Sample
This paper explores how critical thinking contributes to my decision to returning to school and pursue a graduate degree. The decision-making factors regarding the school selection, program of study and purpose of pursuing this degree are discuss. Our entire lives consist of decision-making some are minute and unimportant where as others seem huge and detrimental. Rational decisions maximize the quality of life. It is with these thoughts in mind the research was conducted. The areas discussed are reason for pursuing a graduate program degree, the objectives, length of time required, credentials, funding, and program to be implemented.
Our entire lives consist of decisions making some are minute and unimportant while others seems huge and detrimental. To think effectively is very crucial in our society. It is a skill that can be learned through practice. Acquiring the skill of making good decisions is through critical thinking. Rational decisions maximize the quality of our lives. There is nothing more practical than proper processing of our thoughts. Regardless of the situation we are aspiring for, the outcome will be greater if properly processed and implemented. On the other hand, if not properly executed can result in disaster. With these thoughts in mind the research was conducted. The areas discussed are: reason for pursuing a graduate program degree, the objectives, length of time required, credentials, funding, and program to be implemented.
After working for seven years in a psychiatric facility, and researching for two years, the decision was made to pursue a course of study leading to a master's degree in psychology. This will not only add another career to my resume, but also grant me a more comfortable career in my life. This will benefit not only the office, but also the community. The thought erupted with the office referring patients out daily to community base program to monitor their compliance, keep them focus, in school, and away from the legal system. I recalled in January of this year referring approximately 28 patients in a month. The mothers were hesitant in registering the children in this program. I soon persuaded them tin conforming. These three families wanted the company to provide the care. As the need continues to arise, I decided to explore program. I soon discovered that the basic requirements are already in place.
The home-based program will concentrate on the family as well as the individual. The aim will be prevention and wellness. The program will assist with attention of daily living skills, preventing substance abuse, and how to manage anger and stress. The program will permit twelve one -hour session with sessions lasting up to 30. The treatment will be organized in phases, each of which has specific goals, assessment guidelines, and intervention techniques. Clinicians need this to help them to remain focused on treatment goals amidst considerable family and individual disruption (Alexander, Pugh, Parson, & Sexton, 2000) indicates that, in general, families who participated in the program showed significant improvements in positive communication, family interactions, parent involvement, reduced maternal depression, adolescent anxiety, and re-arrest rates. There will be frequent visits to the homes, schools and physician's office to maintain focus and to assess medication modification if necessary.
Both family- based and evidence-based programs are geared at adults and children. The evidence base program will provide intensive care to these individuals. In general, the program will aim at enhancing positive skills, teach, and support appropriate behaviors and coping skills, and reduce problematic behaviors such as delinquency and substance abuse. It will be family oriented. Specifically designed to make positive changes in the social systems and contribute to the serious multiple problem behaviors of those who are at risk. The program will provide intensive assistance seven days per week 24 hours per day.
It will offer intensive family therapy and referral, works with the parents and children on issues related to family, school, peers, and the community. It will aim at providing a firm structure and supervision, enforce, and reinforce positive behaviors. Funding will be through the state of Georgia through the Medicaid program. The state requires accurate, detail reports daily to meet the state's guidelines. In order for the company to ensure appropriate information and documentation, the director needs to be knowledgeable of the program and Medicaid guidelines. For these reasons I decided to pursue MS in psychology, leading to a licensed psychiatric counselor.
I looked on the impact this decision will have on all involved. I am aware of the need to be courageous determine and persistent. Limitations are accessed, possible pitfalls, time to be allotted and all the sacrifices and adjustments required. I re-evaluate my work style knowing that I like a structured environment with specific guidelines. I enjoy social interactions, individually as well as a team. The need of others often motivates me. I thrive well under pressure. I like careers that tend to give back. The beneficiary of my hard work is not only to generate profit for my business but also an individual, child or simple someone getting the help needed to lead a normal life. It is always important to know that my hard work will blossom outstanding result and make a difference in the community, and ultimately the world.
I believe this is a good decision. However, I will continue to remain flexible knowing that I can change. In today's workplace, choosing a career does not necessary mean one has to stick with a line of work for one's life. According to Elder, L. and Paul, R, "One of the Hallmarks of a critical thinker is the disposition to change one's mind when given good reason to change" (Elder, L. and Paul, R. (2004). We just know we have made a smart decision, and plan to re-evaluate later based on long-term objective. I have to trust myself enough to be realistic, honest and be aware of all possible outcomes.
Not only did I look at the long- term goal and short -term goals, but the school to pursue this degree program. The financial aspect and time require were all taken into consideration. As Elder, L. and Paul, R. stated in Implications and Consequences. All reasoning begins somewhere and them proceeds somewhere else. No reasoning is static. I looked at many schools, and decided to select this university as a result of the flexibility, the course description, length of study, made this university the perfect fit. I looked for questions both on and below the surface. With proper questioning technique to understand and effectively lead me to the selection this institution. I researched the support team available at the university both on-line and on campus. I looked at the resources available and the retention level. The more basic, essential, and deep my questions were the more information I acquired to assist with my determination and the making of my decision. Applying critical thinking allows me to set this goal and arrange it such a way that it will not impede any other area of life.
A combination of nursing and counseling together will make an outstanding mix. This decision will not change my present career, but enhance it. My ultimate goal in two years is to conduct counseling sessions at the facility or privately. With counseling on my resume and the in-cooperation of both wellness experience and the counseling experience as in some cases physical and mental illnesses are interrelated. In our society are people who create the issue to work together, how to live together and how to live with our self. Psychology provides the answer to these problems and the awareness of these problems increases the likelihood of treatment (Mega Essay Choosing a career in psychology).
The doctors have given me their full support, there is a Licensed Psychiatric Counselor on staff, the building is appropriate, and the administrative staff is in place. The program will be completed in two years. The request for the program has been drafted for presentation to the Medicaid program director. I am open to change. I am willing to make the necessary adjustments, stay focus and allow the program to progress.
In summarizing, after utilizing the techniques of critical thinking research and applying the knowledge that has to do with thought processing, passion, and dream and how they all come together. I have in-cooperated life experiences, resources available, along with critical thinking. I am convinced this program will work. I have concluded that the extent to which we develop as good thinkers is control and the quality time devoted. It also depends on the academic practice involved and the depth of our commitment. The goal is to become more of a critical thinker more realistic and balanced in all endeavors. I am devoted to this program and to this course of study. I understand hard work will blossom success, not only for me, but the company and the society in general. As our world gets more intricate, to cope with the changes we need to establish control, and an ability to deal with the adversity, of turning our dreams into reality.
References
Borduin, C.M. (2005). Long-term follow-up to a randomized clinical trial of multisystemic therapy with serious and violent juvenile offenders. Journal of Consulting and Clinical Psychology, 73(3), 445–453.
Elder, L. and Paul, R. (2004). Adapted from The Thinker's Guide to the Art of
Strategic Thinking: 25 Weeks to Better Thinking and Better Living: Apollo Group Inc.
William Hare. It appears in the Journal of Thought 36,1,2001:7-16, first published in the Proceedings of the Twentieth World Congress of Philosophy (The Paideia Project On-line ), 1999.}
Http /www. Criticalthinking.org/pages/using-intellectual-standards-to-assess-
student-reasoning/602 579 502 and 507
Http://www.mstservices.com/index.php). Schaeffer, C.M., an
Mega pg 1l n 4 [Write out numbers under 10] Choosing a career in psychology.
http:/carep.org