Critically discuss the ways that Marxists would understand inequality Essay Sample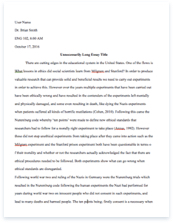 The whole doc is available only for registered users
OPEN DOC
Download Essay
Get Full Essay
Get access to this section to get all the help you need with your essay and educational goals.
Get Access
Critically discuss the ways that Marxists would understand inequality Essay Sample
Marxism takes a structural perspective on inequality; that is, it claims that the individual is passive and lacks control; it is merely the structures of society that shape the individuals. It is also a conflict theory; it claims that society is based on struggle and oppression rather than peace and harmony. This essay aims to provide a brief outline of Marxism with an in-depth outline of the Marxist view of inequality.
It will then go on to assess this view, both by giving examples from contemporary society and by contrasting it with other theories on inequality, namely, the Weberian and Functionalist perspectives. Marxists claim that there are two classes; the ruling class (bourgeoisie) and the passive workers (proletariat). The bourgeoisie own the means of predication; they own the land and machinery used to create products (or commodities), however, they lack the labour and man power to make use of this so they are dependent on the proletariat.
In order to buy food and survive the workers are dependent on the wage that is set by the bourgeoisie; the bourgeoisie set the wage low whilst selling the product at a high prices and keep the surplus as profit, allowing the bourgeoisie a better lifestyle then the proletariat. Marxists see this inequality as exploitation, as they claim that the workers work is worth more then they are paid, but as the bourgeoisie keep wages low the proletariat are forced to work for little.
In short, Marxists see inequality as exploitation; they believe the bourgeoisie are allowed more opportunities then the proletariat – we do not live in a meritocracy. Karl Marx predicted that once the proletariat become aware of this exploitation they will rise up in a socialist revolution and redistribute wealth equally. However, new right theorists disagree with this view; they claim that the western world does contain equality; the new right claim that class inequality is necessary in any successful economy.
If class inequalities did not exist then there would be no incentive to work and benefit thieves would increase. Theorists such as Murray (1989) claim that an overgenerous welfare state results in a culture of dependency; children grow up lacking morals and discipline so they turn to crime and drugs. The new right claim that although inequality of class doesn't exist this is unimportant, as if equality of opportunity exists then this will enable all the deserving hard workers to rise to the top of the social scale whilst the people detrimental to the economy will inevitably fall to the bottom of the social scale.
However, Marxists criticise this view and claim that western society is not truly meritocratic for example, children of semi-routine and routine workers were almost three times more likely then children of managerial and professional occupations to have a mental disorder in 1999 (14% and 5% respectively) (Office for National Statistics). The Marxist view has also been criticised as being overly economically deterministic; Marxists simplify everything to an economical level, ignoring other social factors. Weberians claim that economic factors are not the only forms of power.
Weber adds status (the respect that a person receives from someone) and party power (the ability of a group to achieve their goals despite opposition) to create a three tier theory of social stratification. All these three factors work together to determine a person's position in society and it is possible for an individual to have power can exist as long as at least one of these factors is present, for example, Martin Luther King can be said to have had party power, whilst he lacked status, as the country was racist and he lacked class power.
However, King was nevertheless an influential figure and had power to change legislation; as he was a leader (and possessed party power) he was able to call events such as the Montgomery bus boycott. This shows that economical power is not the only form of power and conflicts with the Marxist view. One could claim that class has declined in importance and the other factors have increased in importance due to the left wing policies recently introduced by the government (for example, a higher school leaving age) causing further questioning towards the Marxist theory of economic determinism.
Unlike Marx, Weber claimed that there were 4 distinct classes and upwards mobility was possible; these classes were, the working class, the petty bourgeoisie (propertyless managers), propertyless intelligentsia and specialists (for example, technicians) and classes privileged through property & education.
This concept also fits into the common sense view of class; in contemporary societies we do not view class as a mere separation between the extremely rich and poor, but we view acknowledge the existence of a middle class who are made up of intermediate supervisors and managers. These people occupy what is known to Marxism as a "contradictory class location"; they are exploited by bosses to make a profit, and yet, it is in their interests to exploit their workers.
The above two theories are based on conflict, they see society as a constant struggle, which, according to Marxists, will only end when there is a socialist revolution and there is equality between the bourgeoisie and proletariat. There are however, alternative theories that claim that rather then society being a constant struggle, that society is based on consensus, every part of society works together like an organic body; if one part of the body was to malfunction, for example, the kidney then it would put the whole of the body at risk.
Theorists such as Durkheim claim that society is not merely the sum of it's part, but that society exists as a distinct substance, society is more then the people that it makes up, it is a thing in it's own right. Functionalists believe that inequality plays an important part in society; they believe that inequality creates an incentive to work and rewards the people that benefit the economy, thus, the society the most.
Functionalists see inequality as the driving force that ensure that people don't become reliant on the welfare state; poorer people will attempt to work their way up to be able to live a more luxurious life whilst the rich will maintain their position by either working or investing their capital to create more factories, fields or buy machinery. This will serve the purpose of creating jobs and the profit will provide the incentive to continue investing money.
This ideology is very similar to that of the new right, however, the key difference is that the new right argue the welfare state creates dependency on the state whilst functionalists largely argue that it is necessary but needs to be kept low to ensure that people are not better off unemployed then they would be working. This provides a large criticism for Marxism as it implies that if, as Marx suggested, a socialist utopia is achieved and everything is shared equally then it will provide insufficient incentive to work and will result in inequality.
Functionalists claim that the rewards from working include income, status, prestige, or power. They claim that they are essential and as equality of opportunity is present this inequality will benefit society. However, a Marxist claims that equality of opportunity is not present; lower class children are less likely to attain 5 or more A*-C grades at GCSE then those in the higher classes. In 2002 77% of children of professionals attained 5A*-C grades whilst only 32% of children of those in routine occupations achieved this (ONS).
This relationship continues through the educational life and even on to university level demonstrating that due to their income the lower classes do not possess equality of opportunity within education which will affect future job prospects. This statistic adds question to the functionalist claim that the deserving will rise to the top, as even if a working class child is intelligent they will not get the same educational opportunities in terms of tutoring as a higher class child might resulting in reinforced class positions due to educational barriers.
In conclusion, the Marxist theory can seem very outdated as it does not include all the classes that seem present in contemporary society and is very economically deterministic, often ignoring other factors that may give an individual status. However, the Functionalist theory can also be regarded as inaccurate as it is claimed that equality of opportunity exists in all cases whereas there are clearly some times when the higher classes will have a better chance than the lower classes, such as in education.
Weber's adaptation of Marxism seems the most accurate as it incorporates other ways in which individuals may gain status whilst accepting that there are more than two classes. Weber also doesn't fall into an idealistic trap in which Marx does by predicting that a socialist state is inevitable. Weber accepts capitalism and accepts that in some cases individuals may work themselves up the social scale.