Cross-Cultural Perspectives Essay Sample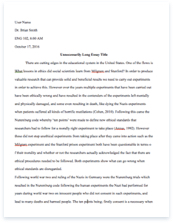 The whole doc is available only for registered users
OPEN DOC
Download Essay
Get Full Essay
Get access to this section to get all the help you need with your essay and educational goals.
Get Access
Cross-Cultural Perspectives Essay Sample
As I conducted research for this paper, I looked at many different companies and had to decide if I wanted to focus on one the most ethical companies according to Forbes magazine, or one of the twelve least ethical companies according to the Huffington Post. In the end I decided to focus on one the most ethical companies, and specifically Starbucks, since it was one of the few that had made it on Ethispher's The World's Most Ethical (WME) Companies list for all six years it has been in existence.
One of Starbucks' core values is a strong belief that conducting business ethically and striving to do the right thing are vital to the success of the company. (Starbucks 2013). Starbucks is a company that has locations all over the world, but one thing that is consistent within the company is the companies Standards of Business Conduct booklet. Which is a resource distributed to all partners to help them make appropriate decisions at work. The standards are a brief statement of some of the company's expectations of how we are all to conduct Starbucks business, consistent with Starbucks' Mission and core values. (Starbucks 2013). This booklet is available on their web page as a public document and is available in all the languages where there are Starbucks stores.
I find it refreshing that a company actually makes available to the public a thirty-two page document that outlines their mission and vision and is clear on their expectations. Many companies are afraid to do so since it would require them to constantly monitor their operations to make certain that the company was holding their employees to this type of conduct.
But what I also found different about Starbucks to other corporations is that they also make it clear to the public that in their business model the company is committed to conducting their business in a way that is not only good for their employees, but the planet and the people they serve.
Starbucks proves their commitment to this by producing an annual report that measures their goals and how the company has or has not met those goals for each fiscal year. Starbucks set three ethical goals in 2008 which include ethical sourcing, environmental stewardship and community involvement. Part of Starbucks philosophy includes minimizing their own environmental footprint to lessen the impact the company makes on climate change. Part of this includes working with their farmers to help them run a more efficient and environmentally friendly operation.
The benefits of this are two-fold. First, the company is teaching farmers how to run their business in order to be profitable, which also helps the farmer to continue in the farming business. The farmer become more productive, increases the quality of their crops and provide social service to their workers. Starbucks plans to allocate loans of $20 million annually by 2015 to farmers. Last year they loaned $15.9 million dollars to farmers. (Starbuck 2013)
Starbucks has a goal that 100% of their coffee will be ethically sourced by the year 2015. As of their 2012 report, the company is 93% there which is up from 86% in 2011. Another goal is to improve farmers' access to carbon markets, helping them generate additional income while protecting the environment. In response to this, Starbucks focused on providing agricultural best practices which will help farmers better respond and/or adapt to regional climate changes, and have expanded the program to Brazil. (Starbucks 2013).
Starbucks also intends to decrease their energy and water consumption by 25% by 2015. Water consumption has been reduced by 17.7% since 2008. Even though they are only at 6.5% in energy reduction since 2008, I think it is socially responsible of this company to highlight that this is an area that they still need to work on. Many companies would not mention that they are not currently on track to meet their goal.
Starbucks has placed a big emphasis on recycling and are reaching their targets in the United States, UK, Canada and Germany. They have not made great strides in the other nations that currently consume Starbucks coffee. They acknowledge that this is an area they need to work on and are trying to increase the availability of recycled goods in the other countries. This is a good example of a company trying to put their business practices into countries that do not place as strong an emphasis on recycling as the United States does.
These things take time to teach countries that may not be as advanced as the United States the importance of recycling and shrinking their global foot print. In my opinion, it is difficult for corporations to operate globally to begin with. Different laws and cultures make even routine things more difficult as a company tried to expand into global markets. I personally believe that it is a credit to a company like Starbucks that they are able to succeed, but more importantly succeeding with ethical and social responsibility. They are bringing their values to the countries they are moving into. And I was surprised to read how socially responsible those values are.
I am one of the millions that stop in and purchase a cup of coffee from Starbucks. However, until now I never took the time to read about their values and mission. It makes the $4 a cup for the coffee a little easier to swallow knowing that I am helping a company that is not just in the business for profit without care to anything else, but makes a profit by also being socially responsible.
References
Forbes (2013)
http://www.forbes.com/sites/jacquelynsmith/2013/03/06/the-worlds-most-ethical-companies-in-2013/
Ethispher The World's Most Ethical (WME) Companies (2013)
http://m1.ethisphere.com/wme2013/index.html
Starbucks (2013)
http://www.starbucks.com/about-us/company-information/business-ethics-and-compliance
http://www.starbucks.com/responsibility/learn-more/starbucks-shared-planet