Cross-Cultural Perspectives Essay Sample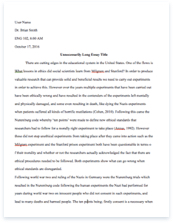 The whole doc is available only for registered users
OPEN DOC
Download Essay
A limited time offer!
Get a custom sample essay written according to your requirements urgent 3h delivery guaranteed
Order Now
Cross-Cultural Perspectives Essay Sample
When an organization goes global, there are new social and ethical issues that arise. A company like Wal-Mart is no different. Wal-Mart is considered a retail giant and one of the largest companies in the world. It has grown as a staple in America as well as on an international platform, touching base in countries such as Japan and China. Wal-Mart is the largest retailer and the largest company in the history of the world in the way it conducts business operations. Wal-Mart management has implemented ways to overcome the challenges the present the ethical and social responsibilities with regard to globalization. The author will breakdown how the organization deals with ethical perspectives within this global icon. Wal-Mart is known around the world as a company that offers discounted merchandise to its customers to help them save money.
The organization was built on values and moral and its' own unique corporate culture. One of the key elements to all of the rules of Wal-Mart is respect for everyone, customers, suppliers, and associates. Wal-Mart was founded by Sam Walton in 1962 and he would encourage the associates of the company to follow the 10 foot rule, which is whenever an associate comes within 10 feet of a customer they would smile, greet them, and ask if they can help the customer. One of the ethical and social responsible issues that Wal-Mart deals with because it is a global organization is that the organization has found that its' formula does not fit every culture. Wal-Mart failed to become the successful store in Germany that it is in America. Germany is not the only country that the organization has problems in.
They also have problems in South Korea and Japan because even the low prices and large selection of merchandise they are having a hard time competing with the chain markets in these countries and the shopper habits. The sales clerks in German Wal-Mart's are no longer required to smile at customers because it is often interpreted as flirting. German customers were irritated by the store merchandising, premium products are put at eye level in Wal-Mart stores while discount products are on the top or bottom shelves and the stalls were placed in a way that had the customer spending more time in the store. The grocery business is a struggle for Wal-Mart in other counties because either they cannot beat the prices of other discount markets or the type of food does not meet the countries culture. For example, in the German cultural, they purchase meat from a butcher and Wal-Mart sells packaged meat, they do not do well in this department.
Some other examples are the mistake of trying to sell golf clubs in Brazil, which is a country that is not familiar with golf, or trying to sell ice skates in Mexico. This global organization has significant responsibilities to consider in business perspective in order to succeed in different communities. Opening a company in another country is like immigrating to a different country. For an individual, immigrating to a new country is about learning new laws, cultures, and values. Global organizations are responsible to learn, value the new laws, and respect new cultures to survive in different countries. Considering values of the new community must be the main goal of a global organization. It is essential that global organizations are able to create a culture that considers everyone's rights and respect different cultural values.
For a huge global company with such a great success in business it is surprising to learn that Wal-Mart is recently faces with different ethical challenges while working in different countries. According to Foroohar "a New York Times investigation revealed that Wal-Mart's Mexico subsidiary paid $24 million in bribes to local officials to sidestep regulations and obtain construction permits for new stores" (www.time.com). According to the article, the CEO and different members of the company knew about the situation and did not talk about it. Just because a company knows how to be successful in making the sales goals does not mean it can be successful in different communities with different cultures. The company should have a great understanding and respect of the new community in order to continue to work there.
Ethical perspectives change in different cultures and communities. Each community has different rules and values. These ethical issues not only will make problems for organizations financially, but also take away the trust from the company. Customers, investors, and stockholders only continue to do business with a company that they can trust, and feel safe to invest their money in. Sometimes organizations may make some changes in their cultures to be able to work in different countries. Global organizations should be able to create a strong culture and ethics that protect different cultures and fit their values. Wal-Mart has created and filled several key positions to further support it global compliance, ethics, investigations and legal functions.
The company has also hires in-market anti-corruption directors in nearly all of its markets, including Mexico, Argentina, Chile, Africa, and India (www.walmart.com). Wal-Mart now has a global compliance action step in place to strengthen its stores abroad. They have taken a number of actions with respect to its process, procedures and people. They also have FCPA compliance action steps for an improved organizational structure including communication and training to third party due diligence. They have also made compliance efforts in Mexico that has conducted compliance procedures training for the majority of Wal-Mart de Mexico y Centroamerica's Home Office associates.
References:
http://content.time.com/time/magazine/article/0,9171,2113176-2,00.html http://www.kwintessential.co.uk/resources/walmart-germany-cultural-problems.html http://news.walmart.com/walmart-global-compliance-action-steps