CSR-Commercial Ethics Essay Sample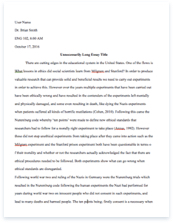 The whole doc is available only for registered users
OPEN DOC
Pages:
Word count: 2032
Category: ethics
Get Full Essay
Get access to this section to get all help you need with your essay and educational issues.
Get Access
CSR-Commercial Ethics Essay Sample
Introduction
In contemporary business, business have to pay more attentions to the expressed of needs and wants of many interest groups. It is no longer for society to accept a company conduct only economic activities, fulfill it selfinterest of profit and bush off the consequence of social wellbeing and relationship with stakeholder. The term of "Stakeholder" not only consist of anyone is interest in the outcome of company but also outside the company, including supplier and consumer (Verkerk 2001). However, relationships of supplier and consumer are often been neglected in corporate identity, business ethics and corporate social responsibility (CSR). The scope of business ethics is board, which included consumer behavior and business behavior, while CSR is the guideline of moral practices that leads a company to make positive contribution.
These concepts have seen intensified interest in issue of business ethics and CSR, which is driven by the outbreak of scandals such as Parmalat and Enron. This case has reflects increased corporate responsibility for human rights, labor standards, working condition and ethics consumerism (Fukukawa 2004). A company identity is crucial to its reputations as it reflects how the company behaves, communicates and symbols, the way present itself to the world. Furthermore, Multinational Corporations (MNCs) have been criticized exploited of resources, ignored oppressive working condition and basic human rights when seeking new markets in developing countries. This is important for MNCs to pay attention to these criticisms because it reflects a growing gap between social expectation and corporate performance. The objective of this essay is to report on a case study of "Primark" which the views of the code of practice for supplier and perceive its ethical behavior.
Company background and issue
Primark, the multinational Irish clothing brand founded in 1969 and now operates more than 124 stores in UK, where it is the 5th largest clothes retailer and 2nd In the value clothing retail market. Primark competitive advantage is operates in highly flexible supply chain, develop a strategic combination of UK, European and Offshore suppliers that can quickly react to meet the dynamic challenges. Hence, it was able to take the industry by storm. The company's success is based on provision of high stock turnover, cuttingedge style and only produces clothes in the most popular size. However, the company was questioned by the public and was named as the least ethical place to buy clothes in Britain by Ethical Consumer magazine in 2005, and criticized for "chasing poverty around the world". Primark has been accused exploiting developing countries for cheaper labor, squeezed their suppliers to limit, and forcing them to cut down price. In these countries, workers are paid less than 5 pence per hour, which highlights how cheap clothing can begin to look relatively expensive. This case has intensified clothing chains on criteria such as oppressive working condition and human rights.
However, to defend itself and transparent ethical trading, Primark joined the Ethical Trading Initiative (ETI) in 2006, an organization bringing businesses, Nongovernmental organizations (NGOs) and trade unions together to develop good practices and work on the labor rights issues in their supply chains. As a member of ETI, Primark's code of conduct is similar as the "base code" for the ETI, to promote and improve the supply chain working condition. Later on in 2008, Primark has outbreak of scandal of using child labor to finish goods in India. Immediately Primark sacked three of its clothing suppliers in India after the investigation. Under the terms of its code of practice for suppliers, Primark prohibits the use of child labor in its supply chain. Primark emphasized that it will terminate relations with suppliers who breach the code of ethics and unwilling to make the necessary change to their employment practices. From this point, we can determine that Primark is ethical and responsible to both its shareholders and stakeholders.
Business Ethics
Ethics and values play a central role in shaping a company's identity and reputation, building it brands, and earning the trust if customers, suppliers and other business partners. Business ethics is far beyond then just avoid breaking laws and avoid actions that bring negative impacts to the company. Business has responsibility to society. Business Ethics refers to the moral principles of concerning acceptable and unacceptable behaviors in business activities. It included to all aspects of business activities from individual to entire organization (Shaw 2009). James advocated that a morally company must ensure their product safety, environment friendly, misleading advertising and human working condition (Fieser 1996)
As MNCs, Primark is very clear where it stands on business ethics. There are two dimensions of Primark's ethical behavior. First there are ethical standards supporting the subsistence and adherence to a code of ethics, legal and moral principles as well as confidentially of supplier information. This shows Primark not only concerned with what is legal, but also with what is morally right. Primark is committed to provide ethical products to its customer, make sure goods are manufactured under good working condition and the employees are treated well. "As an international brand with a global supply chain we have a responsibility to act ethically "(Primark 2005) . In addition, Primark's business model is based on large sales quantity and lower retail margins with minimal advertising, yet not at the expense of suppliers.
The second dimension involves truthful relationship that enable Primark to be firm but fair in negotiation with suppliers and rapid resolution of any issues. Primark work closely with third party suppliers and concern to source ethically. Moreover, Primark shares an important business value with its suppliers, respecting human rights and setting an appreciate guidelines of conditions of employment in its suppliers' factories. According to Gronroos, a company work more closely with supplier will able to create a more responsive supply chain and developing a sustainable competitive advantage. (Gronroos 1994) Furthermore, to ensure sourcing ethically, Primark has employed an Ethical Trade Director to make sure Primark goods are source ethically and monitor business activities, ensure Primark is operating on the right path. Lastly, as a member of ETI, Primark is committed to improve the working condition across the global that make or grow consumer goods.
Ethical Practice
A company needs to be constantly aware to the challenges of operating ethically. It needs to develop appreciate ethical practices and values that maintained and adopted throughout the business and to operate in partnership with many business sectors, hence to assured ethical practices are carry out and protect of human rights. To implement ethical practice throughout the business, Primark has set a code of conduct and is part of its legal term and condition. E.g. working condition is safe and hygienic, child labor shall not be used and Environment requirement Primark shares its commitment with supplier.
Furthermore, increase awareness of ethical consumerism is important in helping to support ethical business practice. When sourcing for suppliers, Primark will examine their working condition and seek for improvement before approved. Also Primark provides training for suppliers and buyers so that they will be aware of ethical issue. In addition, Primark has conducted independent audits and followup visits to ensure that the supplier is maintaining ethical practice. An auditor is someone that examines factories working condition and identifies issue of noncompliance against the code of conduct. If suppliers have breached the code of conduct, Primark will requests improvement or terminated relations if the supplier is unwilling to make a change.
Corporate Social Responsibility (CSR)
There is a growing sense that looking after the people and community, also the environment are all relevant to long term business survival. Without appropriate actions in response to these demands, stakeholders may react negatively to business. Taking suitable action, thus, often leads to a positive contribution to business image.
Consequently, Primark is always seeking opportunities for its employees because of the many interrelated business benefits are related to employee engagement, such as loyalty, improved recruitment, and higher productive. In addition, rise in stakeholders consciousness are exerting pressure on corporations to behave ethically and responsibly. They are not only concerned for the financial return but also for the practices that make sure business continuity. Hence, Primark is committed to operate as a socially responsible corporation and making positive contribution to the society.
Corporation Social Responsibility (CSR) is defined as the commitment for business to act ethically in economic activities and improve quality of life, environment and society. Bowen stressed that social responsibility included social obligation, business morality and public responsibility (Barrow 2009). When company operates in a responsible manner, will eventually build good brand perception and company reputation based on distinctive ethical values. Through the reputation development of delivering ethical products and services, Primark has attracted socially, environmentally conscious customers. This approach, sometime called "green marketing", has been used by companies as a marketing strategy. Good business practice includes being sustainable over a long term. A sustainable business has the responsible to its shareholders and stakeholder, making profit to its shareholder, concerning employee's opportunities whilst operate ethically and meet the needs of customer.
Conclusion
In conclude, Primark is a socially responsible corporation that meet the interest of shareholder whilst pay attention to stakeholder concern. With ethical practices, Primark is able to provide customers with valueformoney fashion item. Subsequently, effective supply chain enables Primark to source ethically and maintains good relationship with suppliers.
The Key success of Primark's business practices are to make sure that is provides budget and ethical products to its consumers, whilst maintaining ethical manufacturing standards. This involves setting up code of conduct, qualify suppliers before approved, paying independent audits of all factories and work with suppliers to address issues in a sustainable approach. Moreover, cooperate with the Ethical Trading Initiative and independent auditors allow Primark to maintain its standards. Auditors are able to assist suppliers to meet the exacting standards set up by the ETI and enables suppliers to become approved. Furthermore, as consumer are increasingly demand that companies produce goods in an ethical manner, concern on worker wages and working condition. By transparent its Ethical Trading process allows Primark to demonstrate its commitment to ethical manufacturing and more sustainable.
Reflection
Principle of responsible of commerce is definitely one of the most intriguing courses I have ever learned. The complexity of ethical and moral dilemmas makes class discussion the most constructive and interest of this course. There are no right and wrong answer, but how well you argue. It is always a learning experience to hear how my classmate deciphers the situations. From the course I have learned that there is no company can be sustainable in long term without a solid set of moral and ethics principles. A sustainable company has to take care of both shareholders and stakeholders interests and making positive contribution to the society. Every ethical decision carry with a cost, but the benefit of this decision eventually outweigh this cost. With all the laws and regulations, businesses have to understand the genuine benefits from being socially responsible. These benefits may not be immediate of financial dimension, but over time it does translate into financial gain. Being socially responsible promotes a good reputation, strong brand equity, satisfy employees and a supportive community, and therefore a more sustainable business. Last but not least, being ethical does not means legally right but also morally right.
Bibliography
* Primark . 2005. Primark Ethical Trading. [ONLINE] Available at: http://www.primarkethicaltrading.co.uk/howwework.htm. [Accessed 01 November 11]. * Barrow, C 2009, The 30day MBA, Kogan Page Limited, United States.
* Fieser, J 1996, 'Do Businesses Have Moral Obligations Beyond What the Law Requires?', Journal of Business Ethics , vol 15, no. 4, pp. 457468.
* Fukukawa, KAJM 2004, 'A Japanese Model of Corporate Social Responsibility?', The Journal of Corporate, no. 16, pp. 4559.
* Gronroos 1994, 'From Marketing Mix to Relationship : Towards a Paradigm Shift in', Asia–Australia Journal, vol 1, no. 2, pp. 929.
* Shaw, WH 2009, 'Marxism, Business Ethics, and Corporate Social Responsibility', Journal of Business Ethics, vol 84, pp. 565576.
* Verkerk, MAJAHJDLN 2001, 'From Responsible Management to responsible', Business and Society Review, vol 4, no. 106, pp. 353378.