Cultural Assessment Essay Sample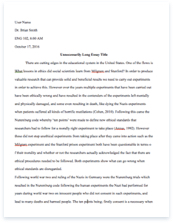 The whole doc is available only for registered users
OPEN DOC
Download Essay
A limited time offer!
Get a custom sample essay written according to your requirements urgent 3h delivery guaranteed
Order Now
Cultural Assessment Essay Sample
In the country of the United States of America there are many cultures mixed together which leads to everyone's appreciation of different ethno cultural groups. As a result, many health care professionals are concerned with providing culturally sensitive patient education. However, it is a daunting task for nurses and other health care providers to become familiar with the cultural dynamics of all the various cultural groups in the United States. Rather than taking on the virtually impossible task of learning about multiple cultures, it is more practical and helpful for nurses to use a generic approach in doing a cultural assessment.
I have decided to watch the movie, "Home for the Holidays". This movie is about the main character, Claudia Larson, losing her job then ending up making out with her soon to be former boss and lastly finding out that her daughter plans to spend Thanksgiving with her boyfriend. Then ultimately ends up spending the holidays with her family. Claudia Larson is a single mother, with two parents, and has one child.
Family competence and family style are the two main dimensions of the Beaver Systems Model. The competence ranges from optimal, adequate, midrange, severely borderline dysfunctional. I feel the movie. Home for the Holidays, depicted more of a borderline family. The family exhibited limited improvement in relation to functioning over the former level. The family in the movie had lack of authority, disorder of dictatorship, and a system governed by black and white perceptions. For example, when the daughter wanted to spend Thanksgiving with her boyfriend, Claudia did not do much of anything to teach her child. The family gathering also included Claudia's resentful, conservative sister, Joanne, with her banker brother in law Walter and their two children. At times in the movie I feel like the family had a severely disturbed system and almost represented the most dysfunctional level of family. Within the family there seemed to be a lot of tension. Meanwhile, Joanne is straining to keep the festivities ordered and traditional. It is also dysfunctional because Tommy is gay and shows up at the house with another man.
There was so much conversation and so much going on during this movie. Every character had a story and some kind of dysfunctional aspect. After a hectic, argument-filled Thanksgiving, finally all the tension breaks and things are said which can't be taken back, the family seems the most divided. The Claudia decides to just spend quality time with each individual member in the family and finally aboard her plane back home. In conclusion, what I gathered from this assignment was that data obtained from a cultural assessment will help the patient and nurse to formulate a mutually acceptable, culturally responsive treatment plan. The basic premise of the cultural assessment is that patients have a right to their cultural beliefs, values, and practices, and that these factors should be understood, respected, and considered when giving culturally competent care. The first step in cultural assessment is to learn about the meaning of the illness of the patient in terms of the patient's unique culture.
References
Beavers, Robert, (2012). The Beavers Systems Model of Family. Retrieved from http://www.ingentaconnect.com/content/bpl/joft/2000/00000022/00000002/art00002 PubMed, (2007). NCBI. Family Models. Retrieved from
http://www.ncbi.nlm.nih.gov/pubmed/6840264
U.S Department of Health & Human Services Cultural Issues in Family Assessment. Retrieved
https://www.childwelfare.gov/systemwide/assessment/family_assess/cultural.cfm