Cultural Diversity and how it Affects Teams Essay Sample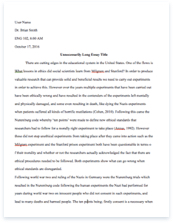 The whole doc is available only for registered users
OPEN DOC
Download Essay
A limited time offer!
Get a custom sample essay written according to your requirements urgent 3h delivery guaranteed
Order Now
Cultural Diversity and how it Affects Teams Essay Sample
Building a high performance team with diversity can be a challenge. Diversity in teams can bring interpersonal conflict to a team. Cultural diversity can also improve the end result of a team's mission. I will examine multiple aspects of groups and teams, and the issues and benefits of a heterogeous team.
A group is a two or more people working with each other consistently to attain common goals. Individuals in the group are dependant on each other to advance toward the common goal within a certain allotted period. A group working in a potato chip factory might have a time period of a day to achieve the goal of 10 tons of potato chips. While a group working to merge to large banks might have six months or a year to finalize the merger of the banks.
An effective group achieves high levels of performance. Quality, quantity, and timeliness, are the key measuring factors in a group performance. Synergy in a group is an essential element to providing the performance required. When a group becomes more productive then the individual members would be alone a group is truly effective.
Issues can arise within a group setting. Individual members can become social loafers, this is when individuals in a group do not work as hard as when they are acting independently. The individual relies on the effort of the team to improve their overall performance realizing that that their individual contribution is not as noticeable in a group situation. Disruptive behaviors are issues that can occur on all teams avoiding and controlling the following behaviors is essential to being an effective team leader; being overly aggressive towards other members, withdrawing and refusing to cooperate with others, horsing around when there is work to be done, using the group as a forum for self-confession, talking too much about irrelevant matters, and trying to compete for attention and recognition (Organizational Behavior).
There are two types of diversity groups, homogeneous, and heterogeneous. Homogeneous groups are groups based on a similar age, gender, race, experience, ethnicity, and culture. These groups are easily found in certain countries without racial diversity, or with a caste system, Japan a closed society and have very little racial diversity in the business community. A group in Japan will likely be male, in a certain social position, and of Japanese decent. This limits potential ideas, viewpoints, and stifles creativity; reducing the effectiveness of brainstorming sessions. A homogeneous group though will more likely communicate within the group much more affectively.
Heterogeneous groups are groups that are diverse in background experiences, lifestyles, cultures, race, sex, and religion. These are diverse groups. Heterogeneous groups are excellent at seeing a broader picture during brainstorming. These groups can build off the differences in the individuals to produce a better final product and improved problem solving compared to homogeneous group. Heterogeneous groups often have a move difficult time in the beginning of a group. Differences between individual members can affect communication and hinder some brainstorming. In India, a group formed between management and line workers would increase difficulty-communicating ideas. Management's personal tendency would be to ignore the lower class worker, while the line workers could feel intimidated by the superior caste position.
References:
University of Phoenix. (Ed.). (2004). Management: The New Competitive Landscape [University of Phoenix Custom Edition e-text]. New York: The McGraw Hill – Hill Companies. Retrived January 6, 2006, from University of Phoenix, Resource, MGT/331-Organizational Behavior Web site: https://ecampus.phoenix.edu/secure/resource/resource.asp