Customer Research Essay Sample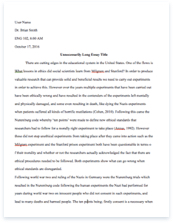 Pages: 4
Word count: 1,007
Rewriting Possibility: 99%

(excellent)

Category: customer
Get Full Essay
Get access to this section to get all help you need with your essay and educational issues.
Get Access
Introduction of TOPIC
This page will able me to find out the needs and wants of the customer. If I want my caf to be a success I must find out the customer's preferences. This could be done in various ways such as questionnaires, talking to people face to face, asking groups of people their likes and dislikes and by interviewing either by tape or video recording.
After doing this page I have been able to view my customers preferable colour scheme, shop outlook, theme, style, and promotional incentive preferences. This will lead me to having a successful caf, as I know what will attract the customer.
The results from the questionnaire are shown in assorted graphs. They show what the customer liked and disliked.
N.B questionnaire was not the only choice of researching the customers' inclinations. I have also interviewed people and recorded the information via a Dictaphone and camcorder. These can be found in the back plastic wallet
The results clearly show that more of the target market liked the metallic colours. This is was very clear but it was not what I wanted. I like the more subtle colours such as blues and creams but as the customer prefers metallic colours I will use them to give me a better chance of being successful. However I will not completely disregard my preferences. I will mix and match the both to create a subtle but lively colour scheme.
On my second question, what type of door the clients would like. I found most of the target market preferred double doors, which is good as people with special needs can also access the caf. I will also have a ramp to help the special needs clients to help them come in.
On my third query most of the market favoured for no design on the window, which is also good as the window will not look cluttered and people can see inside the building.
On my fourth enquiry to the target customer's most liked the square paper bag. This is a
n advantage, as I would have chosen this to as it is spacious and quite a reasonable size so that it
will not look too big and not be too small that it cannot carry any food.
On my fifth and sixth question what material would you like your food/drink to be contained in for a take-out/drink? Most of the people I asked said recyclable material, which is very, environmental and health wise, good. So the products I will design will not affect anything or anyone and does not go against people's views about biodegradable and degradable materials and the environment.
The public also opted to have the caf minimal and modern. This will mean the caf will very up dated and chic. The style also appeals to a younger age band so it will meet my criterion as I wished the caf would appeal to the younger generation.
Most of the customer's I researched voted for the name simplicity, which matches the style, and theme but my choice would have been genesis but the clients voted this the best so I will go along with that choice.
Most people liked typeface number 3 and for it to be shiny. This also goes along with the style and theme so none of the colours are out of place.
Finally most of the people I asked liked the display to have only a few things which I would not have agreed on if the style and theme were different I would have preferred a range but not many items on display but as it is a minimal theme the favoured display show matches with the theme. They also opted to have a price range of 1.50-5.00
Customer profile.
I have done this page so that I know who my perfect customer would be. This will also tell me which, customer's I will need to attract to the caf. The customer profile will be done for both males and females, as the caf will be unisex as most cafes are. The customer profile will be put together by the information received from the questionnaire.
This page has helped me to find out who my perfect customer would be. I can now research upon ways of attracting customer's after finding out their likes, dislikes and preferences.
Existing products shop fronts
As I will be designing a caf exterior I need to research upon existing caf's and their exteriors. I will do this by taking photographs, doing sketches, research off the Internet and by videotaping.
After completing my research upon existing shop fronts I can clearly see how different colours create a different tone and atmosphere. I can see the assorted designs of the shop fronts. I have also pinpointed the good and bad points of the cafes external building. I can now adapt the good points and create an exterior of my own.
Existing products promotional goods
This page looks at the promotional items, which help advertise the caf. This research will be done in many ways by collecting from magazines, newspapers, the Internet, printers, asking cafes, writing letters and talking to businesses.
Following on from finishing the research I have done I have a vast knowledge of how the items are laid out designed the colours used in various ways. So I can now design my own promotional items.