Customer Services Essay Sample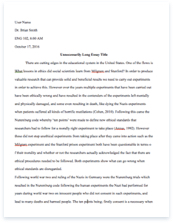 The whole doc is available only for registered users
OPEN DOC
Pages:
Word count: 3800
Category: customer
Get Full Essay
Get access to this section to get all help you need with your essay and educational issues.
Get Access
Customer Services Essay Sample
• The first thing you need to do is save a copy of this document, either onto your computer or a disk • Then work through your Assessment, remembering to save your work regularly • When you've finished, print out a copy to keep for reference • Then, go to www.vision2learn.com and send your completed Assessment to your tutor via your My Study area – make sure it is clearly marked with your name, the course title and the Unit and Assessment number.
Please note that this Assessment document has 12 pages and is made up of 5 Sections.
Name: Pat Williamson
Section 1 – Understand the factors that affect an organisation and the customer service role
1. Complete the table below with a description of the products and services for at least two commercial organisations, public organisations and third sector organisations.
Please ensure you provide a description for each organisation, rather than a list.
Organisation type Name of organisation Description of products and services Commercial MITIE Cleaning MITIE provide a cleaning service, waste disposal services, Ladies organisation hygiene service included in the service is Rick Assessment, COSSH, Accident reporting Commercial
Asda Provide services to the general public ie delivery service they organisation provide access to frozen food tined goods and Electrical items. They also have IT security and cleaning. Public Hendal Lane Primary school Provide teaching to children aged between 4 and 11. They also organisation provide after school clubs breakfast club and Parental guidance if required. Public Pinderfields Hospital Provides care for sick people the elderly and children for all organisation ages. The hospital has cleaning IT risk assessment Children's welfare and outpatient care
1. Continued.
Organisation type Name of organisation Description of products and services Third sector RSPCA Provides care for rescued animals that have been miss treated or organisation abandoned and rely on finical aid form the public
Third sector Oxfam Provide a service to care for people in poverty ill or driven from organisation their homes by war or drought.
2. Complete the table below by describing the differences in customer service between commercial, public and third sector organisations. You should outline how customer service is carried out in these types of organisation and highlight the differences in customer service across these organisations.
Organisation type Description of customer service and the differences between organisations Commercial A commercial organisation is there to sell goods and services ie cleaning, warehousing, estate agents ect to organisation make money for the company. The sales person would go out and sell the services in the business world. With good customer care you can ensure that you retain customers and that they will pass on that you have a good company and this could mean that the business grows and a continued profit is made ensuring that people keep their jobs and that the business continues to flourish and grow.
Public Public organisations are business that are run to give a service to the general public ie library lend books, organisation schools teach children, hospitals look after ill people. When working out what services they are going to use they need to take into account the budgets set by government also taking into account Who will benefit and if this service is going to give value for money. Third sector The third sector is non-profit making and relies on voluntary contrition's. These are mostly Charity Based organisation like A Hospice where all contributions are put back into the patient care.
3. In relation to your current organisation (or one that you are familiar with), outline the role that customer service plays in this organisation and its industry as a whole.
I work as a cleaning manager on site where I am the front line contact point for the client. So any issues that arise can be dealt with quickly and efficiently. We also have the general public on site at all times of day and evening. I need to be able to effectively deal with the client and general public on all levels and in doing this my client lets us use them as a reference for other work that we may be quoting for.
4. Who are the major competitors to your current organisation (or one that you are familiar with)?
There are a number of competitors in the cleaning industry ie Rentokil, Compass cleaning, Can do the same job as MITIE and so we need to make sure we do an excellent job ensuring we keep the contract.
5. Identify at least two factors that could affect the reputation of your current organisation (or one that you are familiar with).
A bad service is where we are getting complaints all the time from the client or the client may ask for a job to be completed and it doesn't get completed on time or may not even get done at all. It could also make the difference between loss of business and loss of a client also a bad reputation that could be passed on to other clients that may have used the service in the future
If the staff are not motivated and do a sloppy job it could mean customers send out negative feedback about the company and we could lose customers and even put of new clients for using our business.
Section 2 – Understand employee rights, responsibilities and organisational procedures
1. Use the table below to give details of employer and employee rights and responsibilities under employment law and the importance of having these (consider the importance to the organisation, employees and customers, where relevant). You should include at least two employer rights / responsibilities and at least two employee rights / responsibilities in your answer.
Rights and responsibilities Why are they important? 1. Employer A person needs to know what duty's and responsibility's that they are  accountable for at work also the hours they work and their rate of pay. Employment contract 2. Employer Every employer is responsible of their staffs H&S under the H&S at work act 1974 so they need to ensure that every one is trained and knows the duties that they are responsible for. Health and Safety 1. Employee Every member of staff is responsible for their own and everyone else's H&S. Health and Safety 2. Employee All staff must follow the COSS reg if they don't someone could get hurt ie if they mix chemicals together they could give off toxic gases. COSH
2. Give details of employer and employee rights and responsibilities under the Health and Safety at Work Act. You should include at least two employer rights / responsibilities and at least two employee rights / responsibilities in your answer.
Everybody is responsible for H&S their own and other peoples. H&S act 1974
All accidents must be reported and a record kept. If it is a serious accident or illness it has to be reported under RIDOR reg of 1995 and under the first aid reg of 1981. All employees must make sure that manual handling is kept to a minimum to reduce the risk of an injury under the act of 1992. All employees on site have a right to an employment contract stating the date their employment started, their duties and responsibilities, hours of work, sick leave and many others
3. In relation to your current organisation (or one that you are familiar with), describe the organisation's procedures for health and safety and any relevant documentation that is used.
If possible, provide relevant health and safety policies / documents from the organisation to support your answer. These documents should be annotated to highlight the relevant sections.
All employees have an induction which they have to sign for on the day they star to say they have had training. . They also have training in COSH and colour coding.
They then receive a booklet that gives general advice in accidents, slips trips and falls, manual handling plus many others. We also use tool box talks to give out information.
On the first day of work the new staff member would be shown around the site shown the emergency fire exits, where the first aid is located and told who the first aider on site is. They would then be asked to fill in the starter form which states their rate of pay holidays sick pay and others. We would then start them at work giving them training in COSHH, colour coding toilet cleaning and office cleaning. Their training would be on-going and they would have to sign an induction form to say we had gone through all the different things.
4. Outline how the Disability Discrimination Act relates to employment.
Under the Equallity Act 2010 no employer can treat any one differently from any one else. So if someone comes for an interview age 65and someone at 25 you need to ensure that they are both have the ability and experience to do the job. Or it could be that you get 2 people for interview one is black one is white they must both be treated the same and taken on their ability and experience to complete the job. If someone is disabled in some way you may need extra recourses to make the job more suitable for them to be able to complete it on time.
5. In addition to the information provided in the questions above, identify the other key legislation that specifically relates to your chosen organisation and its industry as a whole.
The disability act now comes under the equality and diversity act 2010. This also brings into the work force how people can adapt to change.
Under the quality Act 2010 no employer can treat anyone with a disability any different to anyone else. If someone comes for an interview say aged 65 and one is 25 we need to ensure that we look at their ability and experience and not turn them away due to age. So we need to ensure that we don't discriminate against age race religion or any other factors and we need to treat everyone the same
6. Describe the procedures followed by your chosen organisation in relation to equality and diversity. Your answer should include details of any monitoring that takes places and documentation used.
Equality and diversity is monitored by the HR team they do this by monitoring the induction and training and the hand book given to every employee in the company. I have attached a copy of the company induction paper.
The information is collected on the starter form ie: gender, sexual orientation, faith. Trade union, ethnic origin which is then sent to the HR department. There is a document in the site manual that everyone has access to state the company's approach to Equality. Diversity is monitored because it breaks down barriers between people of other genders, race, and colour. Equality can be described as breaking down barriers, eliminating discrimination and ensuring equal opportunity and access for all groups both in employment, and to goods and services. Equilty tranning is done in houes at tranning secions and run half or full days to managers and supervisors and then passed down to other staff on site by the managers and supervisers.If it is found that any staff are been discriminated against they could be on disiplinary procdures that could lead to dismissal.
Section 3 – Understand career pathways within customer service
1. Describe at least two different types of career pathways that may be available within a customer service role.
!/ I could start off as a trainee office worker doing part time answering phone and filing. threw training either threw work or on own initiative work my way up to a full time office worker working on computers and answering the phone and then on to supervisor and have responsibility for some staff and then I could build on the skills I have learned to progress to manager or area manager. 2/ I could start on a call centre desk and learn the customer service skill required and by been punctual and reliable and getting the job done I could go on threw in house training or external training to been a team leader in the office I could work my way up to supervisor then manager.
2. Identify a range of sources where a person can find information and advice on the customer service industry, occupations and career progression.
I could go to my Line manager and ask her what the company procedure is for gaining promotion with in the company or I could use the company web site that has a section on training and find out what training is available to me within the company. The company hand book will also give me information on where to look for advice and guidance. I could look up things on the internet and see what options are open to me. I could also look at returning to College or University or use the public library.
3. In your current organisation (or one that you are familiar with), what methods of learning are available to help with career progression?
MITIE has a training program run in house by MITIE staff. We can ask our line manage about training or look on the company internet site and it gives us all the details of all the courses been run The trainers will come out to site or we can go to one of the offices for training. We also have tool box talks that are sent to us regularly.
4. In your current organisation (or one that you are familiar with), what is the procedure for accessing formal learning programmes? What is the procedure if an application for access to learning is refused?
If possible, provide relevant organisational procedures to support your answer. These documents should be annotated to highlight the relevant sections.
I would first speak to my line manager to see if they are running any course and request that I be put forward if there are any vacancies on the course. If my application was refused I would apple within 14 days stating the date we discussed things and explain why I wanted to appeal against the decision.
5. Explain how new customer service situations can help with self-development and career progression.
With every new situation I deal with it would give me a better understanding of what the customer needs are and also as not all customer are all the same it would mean that I would be learning different things in different situations. It also gives us a better understanding of what our job entails with all the different situations that can arise.
Section 4 – Understand how employees are supported within the customer service role
1. Identify a range of sources where a person can find information and advice on employment rights and responsibilities. You should identify at least three sources of information in your answer.
We could go to a public library and look up the relevant information that you want to know. We could ring or go to legal people, contact education ie courses run at college. We could ask our line manager or HR department. We could ask somebody in the union or even somebody in the industry.
2. Complete the table below with details of the representative bodies related to your chosen organisation / industry. You should also include details of the main roles and responsibilities of these bodies and their relevance to the organisation / industry.
Representative body Roles and responsibilities Relevance They provide training to the cleaning industry BICs Training and qualifications and you can gain qualification's and also become a trainer They have technical help desk The British Institute of Cleaning Science and a HR and employment law help line. They also offer basic training in cooler coding toilet cleaning office cleaning ect, and also Healthy and Safety training if required TUC Advice mediation representation They can give help and information on redundancy, pay, holidays Redundancy maternity Trade union Congress leave. Flexible working for parents. Understanding grievances and disciplinarians and they lobby the Government to implement policies that will benefit people at work Training They provide training to NVQ level and Marketing marketing to cover the sales of chemicals and representation representation for its members in a dispute. The Cleaning and support services Association They also offer a free and impartial conciliation and arbitration service. provide advice on UK and European legislation, labour relations and other appropriate subjects
3. For a customer service role in your current organisation (or one that you are familiar with), use the table below to provide details of the support that is available in relation to the following issues: • Equality
• Health and safety
• Career progression
Issue Sources of support Equality There is a lot of diversity in the work place. When there are a lot of people doing the same job Equally well they should all receive the same rewards. There is also a legal duty to do so. For information on Equality we could look in the handbook, go to the HR department or look at legislation. Health and safety Health and safety is covered by lots of different types of legislation. The type of legislation you are covered by could depend on the sector of industry that you work in. We could look in, The organisation's handbook Line managers Health and safety policy We need to remember that different organisations will have different health and safety procedures. For example, larger organisations with thousands of members of staff, such as councils and universities, will have specific health and safety advisors who are trained to cover the necessary health and safety requirements.
We need to remember that all workplaces need to provide access to health and safety statements. Career progression Staff who gain experience and learn their job well and produce the required results are more likely to be offered promotion. They will be offered training to help them achieve this. This can have a positive impact on our achieving the job we are after. Again, like equality, it is important to know what sources to turn to regarding career progression. You could ask your line manager for advice on how to possibly achieve a promotion or you could discuss with them or human resources why someone else was given a promotion and you weren't. This way you could use the feedback given to improve and gain promotion at another opportunity. The organisation handbook will detail company policy regarding progression.
Section 5 – Know the organisation's policies and procedures
Please answer all of the questions in this Section in relation to your current organisation (or one that you are familiar with).
1. Use the table below to describe the main principles, policies and procedures of your chosen organisation. You should also include details of documentation used to support these principles, policies and procedures.
Description Supporting documentation Principles Employee Induction Record that covers their hours of work MFM(f)201 smoking, footwear, PPE,H&S policy reporting procedures fire evacuation first aid colour coding good housekeeping ect Policies Employer supported volunteering policy This policy aims to put staff forward to help the community and it helps with client and supplier relationships it inspires people to help and it encourages recruitment and in retaining This is a MITIE policy no staff. MG040/02 Procedures Method statement on how to clean Showers starts with putting onMC9MS)38/01 PPE removes items not required. Get all equipment together warning signs empty bins prepare solution using red cloths remove any debris wipe and rinse Return all equipment when finished
2. How are the organisation's principles communicated to employees?
We can access the company website or we are told threw our line manager by doing tool box talks We are sent out letters and emails.
My line manager sometimes comes and gives talks to us. And there are in-house training sections that we can access.
3. Outline the policies and codes of practice that are adopted by the organisation. How are employees made aware of these policies and codes of practice?
Company's have an operating Procedure that explains how to do a job or task. This could be in the form of a risk assesment that tells you haw to do the task what is required to do the job and what risks are involved in doing the job
4. Explain how employees are involved with and consulted on changes to the principles, procedures and policies within the organisation.
The staff could be asked their option on something by sending out a question are or by email. They could also be asked in small groups to voice their opinion. It could be that the company has a union member or a staff council that can pass the information out to the relevant party's
5. Use the table below to identify issues of public concern relating to the industry and organisation, and describe how these issues are addressed / dealt with.
Issues of public concern How they are addressed / dealt with There would be letters sent out to the people involved explaining what The Rail Line that is going to be built from London to Leeds proposed to be built and which way the line would go. They would hold public meeting and listen to the views of the people involved. When all the information has been collected they could then look at the effect it is going to have on the people involved and on the environment. Before the property was built there would be a public meeting where A Chemical factory that is to be built near a housing Estate. people could ask questions to find out what the factory was going to make. If it was going to give of toxic fumes and would they be disposing of dirty water into the nearby stream or river. Would there be any risk to people, animals or wild life. We would need to find out who had the disk, was he allowed to take the A disk is found on a train that has got personal information on for a disk away from work. This could lead to him been disciplined and maybe lot of members of staff losing his job.
Once you have completed all 5 Sections of this Assessment, go to www.vision2learn.com and send your work to your tutor for marking.