Customers vs. Businesses Essay Sample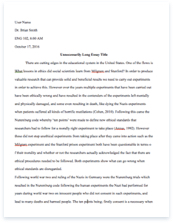 Pages: 4
Word count: 1,034
Rewriting Possibility: 99%

(excellent)

Category: customer
Get Full Essay
Get access to this section to get all help you need with your essay and educational issues.
Get Access
Introduction of TOPIC
Customers today still believe the old adage that the customer is always right. The debate between customers and business owners on who is really right can even be traced back to where this business principle came from. The phrase was first used by the Chicago department store Marshall Field's (now Macy's) but is more commonly attributed to Harry Gordon Selfridge who founded London's Selfridges department store. The idea of the principle was to treat customers as if they were right even if they weren't. This has become the basis for many customer service programs across the world. The adage was a method used to teach employees to go out of their way to make the customer happy. It did not literally mean the customer is always right. As a restaurant manager I have been coached to follow this basic business principle. However, I have found that the customer is not always right, but they are still always the customer.
A business's success can be directly related to their monetary gain and dissatisfied customers will take their money elsewhere. Today businesses have so many competitors and can easily lose customers if they go away unhappy. That one unhappy customer through word of mouth advertising may go tell 10 of their friends about the negative situation, which is the worst kind of advertising a business needs. Each day as a manager we strive to turn those negative situations into positive one's by making the customer think they are right. The following interaction took place this summer while I was standing at a guests table with a replacement steak in my hand. This is a prime example how we make the customers experience the best possible, even if they are not right.
"I didn't want the steak anymore, just dessert!" said Linda. "Linda take the steak home and eat it later or better yet give it to the homeless man we saw on the side of the road," said friend 1 of 6. "I really don't want it, take it back to the kitchen, didn't you hear me correctly I only want dessert now…"
Linda had sent back the first steak I brought to the table which was cooked as rare as she had
ordered. The first was not rare enough. She asked for a new one to be cooked even rarer. The kitchen
rushed to cook a new steak for her and it was done in a few minutes. I brought the really rare steak to the table, where she informed me she no longer wanted her dinner. I had to take a deep breath, listen to the argument between the fellow diners and say "Ok, no problem. I will bring you a dessert menu". This customer wasted 2 NY Strip Steaks and $60 in food comps. The customer was treated as if it was ok she ordered another steak and then cancelled her order. As a business it was worth the few wasted food items and some lost profits for the customer to go away satisfied with her experience. There is even a website www.notalwaysright.com dedicated to stories such as mine, that may begin to change the consumers mind set on making outrageous demands on businesses.
Businesses have begun to move away from using the customer is always right adage recently which was used to convince customers that they will get good service at this company and to convince employees to give customers good service. This change in customer service teaching has brought to light many different ways you can show customers you really care about them, without allowing them to abuse the situation or employees.
I have found some keys ways to deal with unsatisfied customers. The most effective has been to listen to the customer. By allowing the customer to vent their feelings it shows that you care and may even give the business insight on how to run their business more effectively. According to Harold L. Sirkin of Bloomberg BusinessWeek, "You can find all sorts of ways to gauge customers' needs, desires, and preferences: by analyzing sales and service data, conducting surveys and focus groups, or evaluating the results of loyalty programs." Sirkin's point is if businesses listen closely to what their customers are saying they can quickly remedy any problems and possibly prevent any more in the future. It also can give empowerment to the front-line employees to make decisions if you allow them some flexibility in their thinking and problem-solving.
A business's bread and butter is their repeat customer. Ensuring the return of good quality customers is the key to success. Letting customers know we appreciate their business can be an effective tool for generating repeat business. I believe that following up with your customers can be one of the best customer service programs. This could be providing comments cards that allow the customer to give feedback. It is also a simple way to allow the customer to be right in their own mind. As I said before, it can also give you really useful ways to improve your business. If a business uses a customer's suggestion, it is a great way to let them know that we appreciate their feedback. Generating this goodwill can only help push a business forward in the future.
While customers are still thinking that they are always right, businesses know that they will still always be the customer. They might not be right all the time but without good quality customers we would no longer be in business. All companies should be looking for ways to ensure that the customer goes away happy and becomes a frequent return customer. Changing the way of thinking for both employees and consumers will make for a better business world.
Works Cited
Sirkin, Harold L. "How Not to Vex Your Best Customers." Bloomberg Businessweek: Management. Bloomberg. 31 Oct. 2011. Web. 7 Oct. 2012.