DBQ Government Essay Essay Sample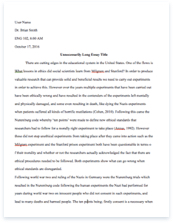 The whole doc is available only for registered users
OPEN DOC
Download Essay
A limited time offer!
Get a custom sample essay written according to your requirements urgent 3h delivery guaranteed
Order Now
DBQ Government Essay Essay Sample
22 August 2013
For a completely new colony to work on the moon, there needs to be a balanced mix of different citizens to make this democracy be fully functional. The types of citizens that this lunar colony would need are personally responsible citizens, participatory citizens, and social justice oriented citizens. If I had a total of 1,000 citizens to choose from to put in my new colony I would divide the types of citizens that I would bring. This division of the people I would bring would work as such ; 500 personally responsible citizens, 300 participatory citizens, and 200 social justice oriented citizens. With this mix of citizens I believe the new lunar colony will produce the best possible results for NASA The majority of citizens that I chose to bring to the new lunar colony are personally responsible citizens. I chose this group to be the majority because for a NASA project to work, a good percentage of the workers need to be responsible and do their job properly. I felt that 500 personally responsible citizens was necessary because half of the population needs to be responsible for their own part. If there was a lower amount of personally responsible citizens I feel the project wouldn't work. The project wouldn't work as planned because the basic necessary tasks wouldn't be completed. For the remaining 500 citizens I chose to bring 300 of the participatory citizens and 200 of the social justice oriented citizens.
I made the decision to bring more participatory citizens than social justice oriented citizens because the participatory citizens are the organizers and they could help execute an extraordinary amount of plans for the lunar colony. Also, the participatory citizens are more likely to participate in a lot of the activities within the colony. While the participatory citizens are slightly more important than the justice oriented citizens, the justice oriented citizens hold an important purpose. The social justice oriented citizens are the main problem solvers in the community. Without the social justice oriented citizens, the colony would face too many problems without productive solutions. If the United States' lunar colony is expected to work, there needs to be a solid
balance of different types of citizens. The majority of the citizens and arguably the most important are the personally responsible citizens. With the participatory citizens you get the necessary plan organizers and people to participate in the different activities in the colony. Last, the justice oriented citizens are necessary for the colony to run because they are the quick thinkers and problem solvers.