Death Penalty Essay Sample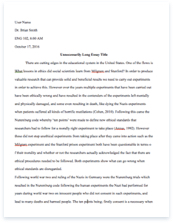 The whole doc is available only for registered users
OPEN DOC
Pages:
Word count: 1480
Category: crime
Get Full Essay
Get access to this section to get all help you need with your essay and educational issues.
Get Access
Death Penalty Essay Sample
Death Penalty is the execution of a person by the state as punishment for a crime. Crimes that can result in the death penalty are known as capital crimes or capital offenses. Also known as capital punishment, it has been used in societies throughout history as a way to punish crime and suppress political dissent. In many countries that still retain the use of death penalty, drug trafficking, sexual crimes such as rape, adultery, sodomy and religious crimes such as apostasy are also capital offenses. In some places, death penalty is reserved as punishment for premeditated murder, espionage, treason, or as part of military justice. DEATH PENALTY AROUND THE WORLD
In the past, capital punishment has been practiced in almost every society. Currently, only 58 nations actively practice it, with 97 countries having abolished it. Countries that Retain the Death Penalty 58 as of 2011, as per Amnesty International, represent about one-third of all countries worldwide and include: Afghanistan, Antigua and Barbuda, Bahamas, Bahrain, Bangladesh, Barbados, Belarus, Belize, Botswana, Chad, China, Comoros, Democratic Republic of Congo, Cuba, Dominica, Egypt, Equatorial Guinea, Ethiopia, Guatemala, Guinea, Guyana, India, Indonesia, Iran, Iraq, Jamaica, Japan, Jordan, Kuwait, Lebanon, Lesotho, Libya, Malaysia, Mongolia, Nigeria, North Korea, Oman, Pakistan, Palestinian Authority, Qatar, Saint Kitts and Nevis, Saint Lucia, Saint Vincent and the Grenadines, Saudi Arabia, Sierra Leone, Singapore, Somalia, Sudan, Syria, Taiwan, Thailand, Trinidad And Tobago, Uganda, United Arab Emirates, United States Of America, Viet Nam, Yemen, Zimbabwe. The United States is the only westernized democracy, and one of the few democracies worldwide, to not have abolished the death penalty.
As of 2011 per Amnesty International, 141 countries (representing two-thirds of all countries worldwide) have abolished the death penalty on moral grounds, including: Albania, Andorra, Angola, Argentina, Armenia, Australia, Austria, Azerbaijan, Belgium, Bhutan, Bosnia-Herzegovina, Bulgaria, Burundi, Cambodia, Canada, Cape Verde, Colombia, Cook Islands, Costa Rica, Cote D'Ivoire, Croatia, Cyprus, Czech Republic, Denmark, Djibouti, Dominican Republic, Ecuador, Estonia, Finland, France, Georgia, Germany, Greece, Guinea-Bissau, Haiti, Holy See, Honduras, Hungary, Iceland, Ireland, Italy, Kiribati, Liechtenstein, Lithuania, Luxembourg, Macedonia, Malta, Marshall Islands, Mauritius, Mexico, Micronesia, Moldova, Monaco, Montenegro, Mozambique, Namibia, Nepal, Netherlands, New Zealand, Nicaragua, Niue, Norway, Palau, Panama, Paraguay, Philippines, Poland, Portugal, Romania, Rwanda, Samoa, San Marino, Sao Tome And Principe, Senegal, Serbia (including Kosovo), Seychelles, Slovakia, Slovenia, Solomon Islands, South Africa, Spain, Sweden, Switzerland, Timor-Leste, Togo, Turkey, Turkmenistan, Tuvalu, Ukraine, United Kingdom, Uruguay, Uzbekistan, Vanuatu, Venezuela.
INDIAN CONTEXT
Historical background
At independence in 1947, India retained the 1861 Penal Code which provided for the death penalty for murder. During the drafting of the Indian Constitution between 1947 and 1949, several members of the Constituent Assembly expressed the ideal of abolishing the death penalty, but no such provision was incorporated in the Constitution. Private members' bills to abolish the death penalty were introduced in both houses of parliament over the next two decades, but none of them was adopted. It has been estimated that 3000 to 4000 executions occurred between 1950 & 1980. Information on the numbers of persons sentenced to death & executed from 1980 to the mid-1990s is harder to measure: it's estimated that 2 or 3 persons were hanged per year.
Ahead of demitting office, PresidentPratibha Patil has scored a new record. She has commuted the death sentence of as many as 35 convicts to life — among them are those convicted of mass murder, kidnapping, rape and killing of children. On June 2, Patil gave her pardon to four more — Bandu Baburao Tidke from Karnataka, Buntu from Uttar Pradesh and Lalchand alias Laliya Dhoom and Shiv Lal from Rajasthan. As a swami of Sadashiva Appana Math, Bagalkot, Tidke abducted a 16-year-old schoolgirl, raped and murdered her. UP's Bantu, on death row since July 2008, was convicted of raping and killing a five-year-old girl. CAPITAL OFFENSES
There are two broad categories of legislation providing for the death penalty in India: the Indian Penal Code, within which nine offences are punishable by death; and special or local legislation. At least 14 other 'special' or 'local' laws provide for the death penalty; three of these are successive anti-terror laws. These two categories of legislation include murder; instigating a child's suicide; treason; terrorism and second conviction for drug trafficking. In India the death penalty is carried out by hanging. An attempt to challenge this method of execution failed in the Supreme Court, which stated in its 1983 judgement that hanging did not involve torture, barbarity, humiliation or degradation. CURRENT STAND ON DEATH PENALTY IN INDIA
Although India is one of a number of countries around the world which still practises capital punishment, it is rarely used. A 1983 ruling by the country's Supreme Court stated that the death penalty should be imposed only in "the rarest of rare cases". Only particularly gruesome or politically sensitive cases have attracted the penalty. Ajmal Kasab, the lone surviving gunman from the 2008 Mumbai terror attacks, climbed the scaffold on Nov. 21 last year. It was the first execution since 2004 in India, where more than 300 prisoners sit on death row as they await the day of their death by hanging. In recent years, special courts have also extended the penalty to cases of terrorism under anti-terror legislation. And some people are pushing for it to be used against rapists.
Now, in the wake of the gang rape and murder of a woman in Delhi last month that sparked widespread protests, the debate is raging in India: Should rapists be added to those 300? Many Indians, as well as right-wing political parties, including the opposition Bharatiya Janata Party (BJP), are now calling for the death penalty for rapists. In the wake of the killing of the young woman last December, who died after being raped by a group of men on a bus, the government appointed a three-person panel to look into the possibility of enhancing the penalties for rape and introducing quicker trials for sexual crimes — currently, the maximum sentence for rape is life in prison, under the Indian Penal Code enacted in 1860 and largely unchanged since. However, many rapes are not prosecuted in India. UN MORATORIUM ON THE DEATH PENALTY
At Italy's instigation, the UN moratorium on the death penalty resolution was presented by the EU in partnership with eight co-author member States to the General Assembly of the United Nations, calling for general suspension (not abolition) of capital punishment throughout the world. It was twice affirmed: first, on 15 November 2007 by the Third Committee, and then subsequently reaffirmed on 18 December by the United Nations General Assembly resolution 62/149. It calls on States that maintain the death penalty to establish a moratorium on the use of the death penalty with a view to abolition, and in the meantime, to restrict the number of offences which it punishes and to respect the rights of those on death row.
It also calls on States that have abolished the death penalty not to reintroduce it. Like all General Assembly resolutions, it is not binding on any state. On 18 December 2007, the United Nations General Assembly voted 104 to 54 in favour of resolution A/RES/62/149, which proclaims a global moratorium on the death penalty. In December 2007, India voted against a United Nations General Assembly resolution calling for a moratorium on the death penalty. In November 2012 India again upheld its stance on capital punishment by voting against the UN General Assembly draft resolution seeking to ban death penalty. ANALYSIS OF DEATH PENALTY: SOME DIFFERENT ASPECTS
FROM THE VICTIMS' FAMILIES' PERSPECTIVE
FROM THE VICTIMS' FAMILIES' PERSPECTIVE
CONCLUSION
Abolition of death penalty:- Supporters claim
* capital punishment is barbaric, cruel and blatantly inhuman, no matter how heinous the crime is. * death penalties as a flagrant violation of a person's fundamental rights. * Capital punishment doesn't give a criminal the opportunity to be remorseful of his deeds or improve his behaviour. * No concrete evidence that capital punishments have been able to deter potential criminals from committing felonies. Yet the practise of capital punishment has continued…
* Death penalty is the most extreme form of punishment, generally reserved for the most heinous of crimes. * .It dissuades criminals-in-the-making by instilling fear in their minds and serves as an effective crime deterrent. * Most of the capitally punished criminals are violent and prone to be unpredictable. In a volatile situation, they may endanger the safety of other prisoners. * Imprisonment keeps the possibility of a hardened criminal coming out on parole and becoming a threat to civil society, a possibility which is put to rest by execution. Submitted by:
Divya Batra, Sri Guru Gobind Singh College of Commerce, DU
Shivani Juneja, Sri Guru Gobind Singh College of Commerce, DU Shuchi Gupta, Sri Guru Gobind Singh College of Commerce, DU
BIBLIOGRAPHY
http://en.wikipedia.org/wiki/Capital_punishment
http://www.worldcoalition.org/
http://en.wikipedia.org/wiki/UN_moratorium_on_the_death_penalty Debatepedia, DPIC, The telegraph, Google.