Deconstruction assignment Essay Sample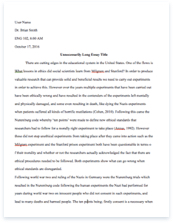 The whole doc is available only for registered users
OPEN DOC
Get Full Essay
Get access to this section to get all help you need with your essay and educational issues.
Get Access
Deconstruction assignment Essay Sample
In the article 'Cyber Security Risk Management In The SCADA Critical Infrastructure' the author mainly aims at providing addition information that can help the engineering manager to make informed decision on how to develop and control cyber security. The author of the article begins by highlighting the risk associated with the cyber threat. In order to present the strategies that can be employed to manage the cyber security the author of the article utilizes the exploratory case study approach. The research question was to indentify which is the most appropriate documentation to use when performing risk and management. In addition the author also sorts to indentify the top three most important concerns when it comes to cyber security.
Data presented in this article was collected from the 47 organization and government members, 8 operating companies, 9 government agencies as well as 4 academic research entities. After conducting the research the author was able to establish that the supervisory control and data acquisition system poses real threat in an organization. In relation to this the author notes that most of the cyber attack risks are because of several contributing factors such as evolutionary change. The author of this article suggest that the engineer manager must proactively manage these new vulnerability in order to reduce any possible threat. Moreover from the result of the study the author of the article notes that there is need for the engineer to ensure that they implement proper input validation as well as the authentication process. In the conclusion of the article the author notes that utilizing the risk based assessment is one of the method that can provide the various organization with the highest return on investment.
Critique
The title of the article of the good since it is able to provide the reader with some insight regarding what was going to be presented in the study. In this case the author is able to inform the reader that the article was going to talk about issue related to cyber security management. The introduction provided in the article is important since it helps to give the reader some background information with regard to the study. Moreover the interviewing method used by the author is important since it allows him to acquire the required information. The author also provides a comprehensive data analysis that allows the readers to be able to understand the various risk associated with the cyber security. The results presented in the article are also in line with the data that is collected. Data collected from this article can therefore be used in the implementation of the cyber security system. Finally
I also agree with the recommendation provided in this article that there need for the management of various organizations to ensure that they implement strategy to help incidences of cyber insecurity.
Reference
Henrie, Morgan. "Cyber Security Risk Management in the SCADA Critical Infrastructure Environment." Engineering Management Journal 25, no. 2 (June 2013): 38-45