Define Human Resource (HR) Audit Essay Sample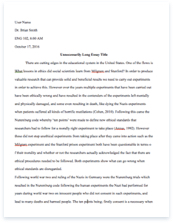 The whole doc is available only for registered users
OPEN DOC
Pages:
Word count: 670
Category: audit
Download Essay
A limited time offer!
Get a custom sample essay written according to your requirements urgent 3h delivery guaranteed
Order Now
Define Human Resource (HR) Audit Essay Sample
Q.1 Define Human Resource (HR) Audit. What is the need for HR Audit? What are the various approaches to HR Audit? Answer : As the term audit has evolved, It is becoming increasingly specific, until the term functional audit has emerged. The objective of a functional audit is to diagnose, analyze, control, and advise within the boundaries of each functional area of the company. The HR audit is also a functional audit which emphasize on the well being of HR functions in the organization. Thus, as a first approach, one could say that HR auditing consists of diagnosing, analyzing, evaluating, and assessing future lines of action within the framework of HRM A Human Resources Audit is a comprehensive method (or means) to review current human resources policies, procedures, documentation and systems to identify needs for improvement and enhancement of the HR function as well as to ensure compliance with ever-changing rules and regulations.
An Audit involves systematically reviewing all aspects of human resources, usually in a checklist fashion. Need for HR audit- 1. Behavioral Indicators: Behavioral indicators describe the behaviors, thought patterns, abilities and traits that contribute to superior performance.2. 2. Evaluative Competency Levels: Exceptional competencies of high performers are set as standards for evaluating competency levels of employee. Explanation of HR audit approach by Walker- 1 Approach to Human Resource Audit by Walker Walker [1998] differentiates between two approaches relative to HR auditing i.e. those centered in the functions internal aspect, and those centered on the external aspect. Internal perspective: From an internal perspective, as in any staff function, there is a trend of valuing its actions as a result of the activities undertaken and its costs.
The way of judging departments capability would be on its ability to supply certain services to the organization at the lowest possible cost.. External perspective: From an external perspective, if it is understood that the ultimate appraisal of the effectiveness of HR is based on their impact on the company's results, then the measurements. Should include results obtained outside the function. There are five common approaches for the purpose of evaluation of HR in any organization: Comparative approach: In this approach, another division or company that has better practices or results is chosen as the model.
The audit team audits and compares the audited firms results with the best practices of the model organization. This approach is commonly used to compare the results of specific activities or programs. The approach is often used with turnover, absence, salary data and staffing levels. It helps detect areas where improvement is needed. It also makes sense to compare where a procedure is being used for the first time. Outside authority: In this approach, standards set by a consultant or taken from published research findings serve as the benchmark for the audit team. The consultant or research findings may help diagnose the cause of problems Statistical This approach reviews past practices, to determine if actions taken followed legal requirements and company policies and procedures. The audit team here often examines a sample of employment, compensation, discipline and employee appraisal forms.
Management by Objectives (MBO):
In this management by objectives approach, managers and specialists set objectives in their area of responsibility. Then they create specific goals against which this performance can be measured. The audit team researches actual performance and compares it with the previously set objectives. They can then evaluate the trends in this area. Common approach to HR audit- Common approaches to HR Audit include comparative approach, outside authority, compliance approach and statistical approach.
HR Audit measures the extent to which values and cultures of the organization are practiced and followed. HR audit can measure competencies in terms of business knowledge, strategic thinking, functional excellence, leadership and change management, execution skills and personal credibility. There is a management competency framework and a generic competency framework. HR Audit vastly improves competency. In the selection process, there are 3 kinds of audit: process audit, effectiveness audit and capability audit.