Definition of Cost-Push Inflation Essay Sample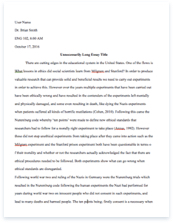 The whole doc is available only for registered users
OPEN DOC
Download Essay
A limited time offer!
Get a custom sample essay written according to your requirements urgent 3h delivery guaranteed
Order Now
Definition of Cost-Push Inflation Essay Sample
The text "Economics" (2nd Edition) by Parkin and Bade gives the following explanation for cost-push inflation: "Inflation can result from a decrease in aggregate supply. The two main sources of decrease in aggregate supply are: •An increase in wage rates
•An increase in the prices of raw materials
These sources of a decrease in aggregate supply operate by increasing costs, and the resulting inflation is called cost-push inflation. Other things remaining the same, the higher the cost of production, the smaller is the amount produced. At a given price level, rising wage rates or rising prices of raw materials such as oil lead firms to decrease the quantity of labor employed and to cut production." (pg. 865)
Investopedia explains 'Cost-Push Inflation'
Cost-push inflation develops because the higher costs of production decrease aggregate supply (the amount of total production) in the economy. Because there are fewer goods being produced (supply weakens) and demand for these goods remains consistent, the prices of finished goods increase (inflation). InvestorWords.com
In general, there are three factors that could contribute to cost-push inflation: rising wages, increases in corporate taxes, and imported inflation (when imported raw or partly-finished goods become more expensive, often as a result of currency depreciation). Definition of 'Structural Change'
An economic condition that occurs when an industry or market changes how it functions or operates.
Aggregate supply – aggregate demand model illustration of aggregate supply (AS) shifting to AS' and causing price level to increase while output shrinks.