Dell Computers Corporation Essay Sample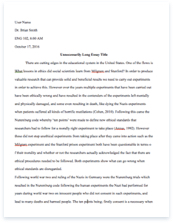 The whole doc is available only for registered users
OPEN DOC
Pages:
Word count: 2039
Category: Dell
Download Essay
A limited time offer!
Get a custom sample essay written according to your requirements urgent 3h delivery guaranteed
Order Now
Dell Computers Corporation Essay Sample
Internal Factors Analysis Summary (IFAS)
Internal Factors
Weight
Rating
Weighted Score
Comments
Strengths

Wide product offerings

Strong financial standing

Zing

0.30

0.10

0.05

5

4

4

1.5

.4

0.2

DELL sells everything from PCs to Laptops to peripherals and it is the market leader in many of these products.

Dell's bottomline is secure after Michael Dell's turnaround from two years ago. Right now, Dell can afford to expand through acquisition, like it has with Zing.

Dell acquired Zing, a portable music technology solution which has the potential to wrest sales away from Apple's Ipod and Itunes.

Weaknesses

Poor customer service

Lack of commercial retail channels

Low margins in PC sector

Highly competitive market

0.15

0.15

0.15

0.10

5

3

2

2

0.75

0.45

0.30

0.20

DELL's customer service is notorious, but the company is taking actions to remedy this.

Without a physical store, DELL would find it hard to attract new, unsophisticated buyers.

Each year, Dell's products will have to be cheaper but offer more to the consumer.

Total
1.00
3.8
If Dell is to stay competitive in the new era among consumers, then it should start to rethink its Direct from Dell mantra. Computers have evolved from technical specialized machines to simple commodity products. Dell would have a hard time getting new users if these users cannot see, touch and use these products on their own in a physical store. Now that computers have become a commodity product, Dell should start considering selling it like one.
External Factors Analysis Summary (IFAS)
External Factors
Weight
Rating
Weighted Score
Comments
Opportunities

Emerging Markets in Developing Nations

Microsoft

Growth in Laptop sales

0.30

0.10

0.20

5

3

5

1.5

0.30

1.00

The next billion PC users will be in China, India and other rapidly growing economies.

To compete with Yahoo and Google, Microsoft is developing massive data centers. This is driving up Dell's server sales.

Laptops are driving companies back to sellers like Dell and away from off-brand products.

Threats

Inroads made by Apple into PC market

Microsoft Vista

Slowdown in US Economy

0.10

0.20

0.10

2

2

1

0.20

0.40

0.10

Apple's Macs are gaining a rising share of the consumer and business personal computer market.

Microsoft's problematic Vista continues to cast a haunting aura over Dell products.

The economic downturn will put a cap on consumer spending on electronics, but Dell's strong international presence protects it somewhat.

Total
1.00
3.5
The greatest opportunity for Dell has been the next billion PCs which would be found in India, China and other first time computer buyers. This is due to the slowdown in the US PC market due to the saturation as well as the economic downturn. Getting a secure foothold in China and India has the potential to secure the company's future for a foreseeable amount of time.
Strategic Factors Analysis Summary
Weight
Rating
Weighted Score
Duration
Comments
Short
Intermediate
Long
S1 Wide Product Offerings

W1 Poor Customer Service

W2 Lack of Retail Channels

W3 Falling margins in PC sector

O1 Emerging Markets

O2 Laptop Sales

W1 Microsoft Vista

0.2

0.1

0.15

0.05

0.25

0.2

0.05

5

5

3

2

5

5

2

1.0

0.5

0.45

0.1

1.25

1.0

0.1

X

X

X

X

X

X

X

Dell is an established market leader and its leadership is foreseeable.

Dell has made major investments to remedy its CSR problems

It appears Dell isn't interested in leaving its direct selling model.

Inevitable.

Dell has made great strides in this area

We can expect the trend of laptops over desktops to continue for some time due to the falling prices of computers and increasing mobility demands of consumers and businesses.

Microsoft will eventually fix Vista. Dell has also started offering Linux based computers.

Total
1.0
4.4
TOWS Matrix
Strengths

Wide Product Offerings

Strong Financial Standing

Zing

Weaknesses

Poor Customer Service

Lack of retail channels

Low Margins

Competitive Market

Opportunities

Emerging Markets

Microsoft

Growth in Laptops

SO Strategies

–       Establish immediate presence in new markets. Dell has the capital available to develop new markets.

–       After PCs, what will the next 1 billion computer users in India and China buy? Dell can explore other consumer digital devices in these clean slate markets.

–       Offer Zing software as standard in all Dell computing products to ensure its adoption

WO Strategies

–       Consumers in new markets don't know Dell's customer issues, but the brand is known. Dell can experiment on new retail strategies in these new markets.

–       Develop high-end, premium, high margin laptops. Laptops, unlike desktops can be seen as a more personal item and thus spending can be higher.

Threats

Apple

Microsoft

PC Slowdown

ST Strategies

–       Dell can use its excess cash to develop cheaper hardware like the UMPC offerings of Asus and HP.

–       Dell can push Zing on markets where Apple is not the de facto music vendor.

WT Strategies

–       Be proactive in addressing customer frustrations, taking the lead in fixing problems on Dell Computers, whether those problems are due to Dell or Microsoft.

 

Five Forces Analysis
Competitive Rivalry – This is a strong force in the computer market. Apart from competition between PC makers, Apple is also encroaching on the PC market itself.
Power of Suppliers – The only major supplier is Intel as all the other suppliers for Dell products are undifferentiated companies. However, due to the competitive nature of the PC industry, the power of suppliers are low as Intel and other suppliers will strive to keep their costs down to become competitive with the rest of the industry. One exception is Microsoft whose operating system fortunes will have an effect on the salability of Dell computers.
Power of Customers – For Dell, these would be the large corporations who purchase Dell computers, servers and systems in bulk. They have a large say in Dell's strategy. The loss of a major customer has the potential to create ripples and severely impair Dell's standing within the industry. Dell's consumer customers on the other hand are quite numerous and independent. We can safely say that the power wielded by the consumer sector pales in comparison to the power held by Dell's commercial clientele.
Threat of Substitute technologies   – For Dell, these substitute technologies would be smartphones and other devices whose computing power are now encroaching in areas usually dominated by the desktop computer. This is a particularly strong force in the laptop market due to the mobility and built in communications features of these devices.
Threat of new entrants – Due to its size and age, Dell is relatively secure in its position from new entrants. Moreover, any new competing technologies (such as Zing) can simply be bought by Dell to add strategic value to their product portfolio.
Value Chain
Assembly in Dell Factories
With all the parts completed, Dell then manufactures the computers in their off shore facilities. These microprocessors, RAM sticks, hard disks, etc will become desktops, laptops, UMPCs, servers, and other Dell products.
As a company which builds computers, Dell's value proposition comes in Phase Two – the assembly of complete computers from discrete components.  Dell's value chain is actually shorter than its competitors like HP and Gateway. These companies have an intermediate stage between assembly and end users – the retail and distributor chains which then sell the products to the consumer. Dell found early success in marketing directly to consumers. These consumers knew what they wanted, and they will expend the effort to get it their way. However, one must ask if this is sustainable in today's computer market where the average Joe and Jane now "shops" for a computer instead of "spec-ing" a computer then having Dell build it.
Based on these analyses, the following form my five IT recommendations for Dell computers. These IT suggestions would help Dell in implementing their strategies.
Use IT in supply chain management – Dell's business model centers around its value chain. Therefore, IT efforts should go into making this value chain as efficient and reliable as possible. Wal-Mart has made great strides in using supply chain management to improve the visibility of its operations. Dell, as a manufacturing company with manufacturing and assembly operations in multiple sites all over the world can surely benefit its efficiency through the implementation of IT solutions which improve visibility in their supply chain.  IT can also play a part should Dell decide to finally open a retail store. A customer at a brick and mortar Dell store can touch and use the computer, before he or she can commit an order. Once the order has been committed at the store, the specifications of the computer which the customer wanted can then be directly communicated to Dell's factories for assembly and eventual shipping to the customer's residence.
Online Customer Service – Dell has already started to this end, implementing an IT solution which allows customers to troubleshoot and fix their computer problems online. This can be improved upon. One possible improvement would be to implement software on the computers the mselves to diagnose any problems and communicate with Dell should any faults arise.
Cooperative Customer Service – When a Dell computer fails, the problem could be with any number of components. It could be due to Dell's own hardware, or the installed operating system (whether it be from Microsoft or some other developer), or the software its users have installed on the machine. TO this end, Dell can further improve its customer service by using IT to coordinate service with other important software vendors. Dell can work with strategic partners to implement a comprehensive service system. This system would keep all partners in the light about all potential issues and troubleshooting protocols in all their products. With this, Dell can avoid having to point fingers when a system crashes. With a comprehensive database of faults and issues, Dell's customers would feel a more integrated and seamless solution when buying a Dell product. Moreover, this will avoid the situation where Dell would have to point fingers when a problem arises – a situation which no customer wants to experience.
Command and Communications with offshore operations – Dell's expansion into developing markets is a critical move to grow the company beyond the US computing market. To do this, Dell would have to create local operations in these markets. IT will play a major part in supporting these new operations. IT can provide communications and coordination with headquarters. IT can also allow more efficient operations of these new markets, allowing local offices to connect directly with Dell's manufacturing and support facilities instead of having to connect through Dell's headquarters in Austin.
Development of Turnkey Solutions – Dell is currently trying to break into the "next 1 billion PC users". Along with the consumers of China, and India, another burgeoning market would be the business users in these countries. Dell can start to leverage their might by not only selling computing hardware to these firms but entire IT systems. For example, instead of selling hardware to automate accounting and finance over an entire organization, Dell can possibly sell hardware, software, and the development of personnel to maintain these systems to interested companies. A complete solution like that will ease Dell's entry into these new business markets. This may be done in house, or by purchasing smaller IT providers. In line with Dell's mantra of innovation, it is also possible for Dell to create their own novel IT solutions which it can sell to these companies. Doing so would also diversify the company's product offerings, diluting its concentration in the high volume low margin computer markets. This may be done in house, or by purchasing smaller IT providers. In line with Dell's mantra of innovation, it is also possible for Dell to create their own novel IT solutions which it can sell to these companies. Doing so would also diversify the company's product offerings, diluting its concentration in the high volume low margin computer markets
References
Dell . (2008). Fiscal 2007 in Review. In Dell Inc.. Retrieved August 23, 2008, from http://www.dell.com/content/topics/global.aspx/about_dell/investors/financials/07_yir?c=us&l=en&s=corp.
Burrows, P. (August 14, 2008). Dell vs. Apple: Why it may be personal. In Business Week. Retrieved August 23, 2008 from http://www.businessweek.com/magazine/content/08_34/b4097022701166.htm
Einhorn, B. & Lakshman, N. (September 14, 2007). Selling Computers to India. In Business Week. Retrieved August 23, 2008 from http://www.businessweek.com/globalbiz/content/sep2007/gb20070914_201048.htm
Kay, R. (June 19, 2008) Servers Become Dell's Comeback Weapon. In Business Week. Retrieved August 23, 2008 from http://www.businessweek.com/technology/content/jun2008/tc20080618_206274.htm
Ricadela, A. (July 28, 2008).  Michael Dell:' A Big Second Half'. In Business Week. Retrieved August 23, 2008 from http://www.businessweek.com/technology/content/jul2008/tc20080727_394373.htm
 Thompson, A., & Strickland A (2003). Strategic Management 13th edition. New York, NY: McGraw Hill.