Describe legislation and regulations Essay Sample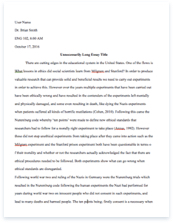 Pages: 5
Word count: 1,211
Rewriting Possibility: 99%

(excellent)

Category: abuse healthcare
Get Full Essay
Get access to this section to get all help you need with your essay and educational issues.
Get Access
Introduction of TOPIC
Describe legislation and regulations, working strategies and procedures used in health and social care to reduce the risk of two types of abuse. Describe: Give a clear description that includes all the relevant features- 'paint a picture' with words. Sexual abuse
The Human Rights Act 1998 is one of the most fundamental pieces of legislation for the prevention of sexual abuse in health and social care. The Human Rights Act 1998 specifies that human beings must: "be free from torture and inhuman or degrading treatment", "have the right to liberty and security" and "not be punished without law". All these parts of the Act are relevant to the prevention of sexual abuse, with in health and social care. This key legislation, could be central to staff training within care providers for vulnerable adults, and could be made public to service users, so that both staff and vulnerable service users are aware of how to avoid sexual abuse. In addition, any act of sexual abuse, would be considered illegal, under the Human Rights Act 1998. The Public Interest Disclosure Act 1998 is important in the reduction of risk of sexual abuse in health and social care settings.
This is because, the Act makes employees feel safe and secure reporting incidents, including incidents of sexual abuse to the their managers. Therefore, if any employee were to become aware of sexual abuse that has or is occurring within their health or social care working environment, they could report this, and the manager could Act on the information, and implement action against the employee or service user carrying out the sexual abuse. Under the Act, if the management failed to act on information regarding sexual abuse, the employee could take the information to an external agency, such as the Care Quality Commission, who could implement action to prevent the risk of sexual abuse continuing. For example, they could order the care provider to dismiss any staff that have been sexually abusing a service user. Multi-agency working can be really important for recognising and acting on incidents of sexual abuse.
Following sexual abuse, a vulnerable service user could present to one healthcare service, such as A and E, and then the next time they are sexually abused, the individual could present to a different healthcare service, such as their GP. Without multi-agency working, these injuries could be seen as completely 'innocent'. However, through multi-agency working, a pattern and link can be made between the various injuries and attendances to healthcare services. For example, if the GP and A and E communicate, then they will see that the individual is actually frequently presenting with similar problems, which could raise a 'red flag' for sexual abuse. By working in partnership with adults
using services, families and informal carers, service providers can build up a relationship with the
vulnerable service user and their family and informal carers. This enables the care provider to really get to know the service user, and by doing so, they can get to know the signs that the service user is upset or worried.
For example, they may learn, that when the vulnerable service user is particularly quiet, this could indicate they are upset and worried. This can help the people caring for the vulnerable service user to recognise when the service user is upset, try and find out why they are upset, and thus potentially uncover any incidents of sexual abuse. Following any disclosure of sexual abuse, the health and care workers could work alongside the family, to provide support for the individual that has been sexually abuse. Policies provide literature, which outlines how employees with in health and social care environments must work, in order to prevent sexual abuse. The policy should outline what steps will be taken, in the event of any abuse, including sexual abuse occurring. This helps both the employee (as it prevents them from doing anything which could lead to sexual abuse allegations)and the vulnerable service user, because steps are already in place for if the service user is subjected to sexual abuse, committed by either staff or other service users.
Self-harm
According to the Human Rights Act 1998, everyone has a 'right to life'. Therefore, this act is relevant to the prevention of self-harm in health and social care, because if health and social care staff become aware of any vulnerable service user that is self-harming, they must act upon this, to prevent the service user risking their own life. Self-harm can lead to death (for example cutting of the wrist could lead to excessive bleeding, and thus death). Therefore, in the case of self-harm, the health and social care staff could arrange a psychiatric assessment, or other appropriate help, such as medication or sectioning, to ensure the vulnerable service user's right to life is maintained. The Mental Capacity Act 2005 is designed to protect people who are not able to make their own decisions. This includes their ability to make informed decisions. The Act outlines, in which circumstances decisions should be made on the behalf of the service user, and how the person who will make the decisions on their behalf, must go about doing so.
Some mental illness' can lead the vulnerable adult to lack capacity and to self-harm. For example, someone with both severe learning difficulties and depression may lack capacity, and also be prone to self-harm. The Mental capacity Act 2005 acts as a way of protecting these individuals. The person making decisions on their behalf could decide that they should receive psychiatric support, in order to help prevent further self-harm, which helps to protect the vulnerable adult service user. Working in partnership with vulnerable adults enables healthcare providers, and health and social care staff to build up both a rapport and a trusting relationship with the vulnerable adult service user. This enables the health and social care staff to realise the signs that the vulnerable adult is upset. Also, by building trust with the service user, the vulnerable adult is more likely to confide in health and social care staff if they are self-harming.
This allows the staff to put systems in place to help protect the vulnerable adult. For example, they could arrange for the vulnerable adult to talk about the things that are upsetting them with a psychiatrist, with a view to reducing the self-harm. Good quality staff training is essential in helping to protect vulnerable adults who self-harm. This is because, the training can equip staff with the knowledge needed to recognise signs of self-harm. The training can teach staff how to go about sensitively dealing with someone who is self-harming, and how to best help them. For example, the training could teach staff how to clean wounds or lesions caused by self-harm, in order to prevent any risk of infection. Training can teach staff who to refer the vulnerable service user to, if they are worried the self-harm is posing a serious risk to the vulnerable adult, for example if they are worried the vulnerable adult will try and take their own life.