Describe the human characteristics that make Australia unique Essay Sample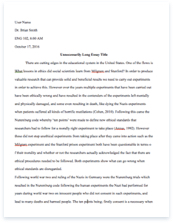 The whole doc is available only for registered users
OPEN DOC
Download Essay
A limited time offer!
Get a custom sample essay written according to your requirements urgent 3h delivery guaranteed
Order Now
Describe the human characteristics that make Australia unique Essay Sample
The changing demographic characteristics of Australia have influenced the nature and identity of Australian society. The aspects of changing demographic characteristics affecting Australia's nature and identity include multiculturalism; the 'ageing population'; decreasing fertility rates; the changing indigenous population and the changing population density of Australia.
Australia has one of the lowest population densities in the world, with population spread occurring around particular areas of the Australian coastline. Australia is one of the world's driest inhabited continents, with a larger proportion of desert than any other continent. Australia is a developed country with busy cities and highly productive farms and mines. Australians obtain a large percentage of income from the exports of wool and bauxite.
Indigenous people alone occupied Australia until 1788, they inhabited Australia for at least 50,000 years before the first white settlers arrived causing the Indigenous people in the population to decline. Indigenous people have developed footprints of cultural heritage which forms a unique Australian heritage.
Since 1945, immigration from Southern-European nations, such as Greece and Italy, and more recently from Asian nations has turned Australia into one of the most multicultural countries in the world.
The Indigenous population has been rapidly increasing since the 1967 Referendum to include indigenous people in the Australian census. Since the census, Indigenous Australians have been included as part of Australia. This shows Australia's increasing acceptance and understanding of Indigenous Aborigines, and the growing need to rectify the problems associated with the mistreatment of Indigenous Aborigines in the past. From 1911 to 1971, the population figure of Indigenous people lingered around 80,000 people. However, there was an exponential increase in Indigenous people, where in 2001, there are about 450,000 people.
Migration has played a substantial role in the growth of the Australian population. The net overseas migration was 139,000 in June 2002-2003; this number is 0.7% of the Australian population. This substantial increase in migration has led to a largely multicultural Australian society. Increased migration has led to a more welcoming country, with many Australians learning more about different cultures around the world.
The increased gender equality has led to more women obtaining managerial positions in the workplace. There are more women seeking a career goal in life, hence, choosing not to start a family. This has resulted in a declining fertility rate. The government is now looking into 'family friendly workplaces' to encourage women to have both a career and start a family, to sustain the fertility rate which is important to the well being of the country.
Compared to other nations, Australia's population is relatively mobile. Between 1996 – 2001, 6.8 million people moved from their place of residence. 86% moved within the same state or territory; 11% moved interstate; and 3% moved out of the country. A large proportion of people moved from rural to suburban areas, whilst others moved from suburban cities to rural areas. These people were attracted by the cheaper land and cleaner air in rural areas. There have been a sustained number of people moving from inland to coastal areas, the main reason being that people opt for a 'sea change'.
Over the past two decades, people have moved from the South to North of Australia, particularly towards the East-Coast to Queensland and Western Australia. All states and territories have undergone a loss of people to Queensland, especially people from the 25-34 year old age group. 65% of the people who migrate to Queensland were from New South Wales. The substantial proportion of Australians who move from their place of residence shows that Australians are very mobile, and can easily adapt to different environments. The movement of Australians to other states, especially Queensland, reveals Australia's characteristics, highlighting their love for the sun, beach and surf lifestyle.
The changing demographic characteristics have influenced the nature and characteristics of Australian society. The changing demographic characteristics of Australia's population have led to a more diverse, accepting and multicultural society where people are mobile and experience a high standard of living.