Describe the Recruitment Documentation Used in a Selected Organisation Essay Sample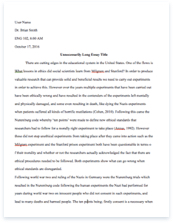 The whole doc is available only for registered users
OPEN DOC
Download Essay
A limited time offer!
Get a custom sample essay written according to your requirements urgent 3h delivery guaranteed
Order Now
Describe the Recruitment Documentation Used in a Selected Organisation Essay Sample
This report is going to describe an effective business needs to guarantee it has adequate resources to encounter for example by planning and co-ordinating staffs, equipment, working capital, facilities and administration. These essential aspects are important and need to be regular monitored to guarantee things are functional, so that troubleshooting and problem solving is carried out accordingly. The human resources department is responsible for staffing to meet changing business demands this will ensure that it will involve liaison with other departments such as production, marketing and finance. This will need to be decided whether an increase in staffing such as being provided in house or through outsourcing.
The main function is the recruitment of knowledgeable, skilled staffs using relevant documentation such as application forms, job descriptions, person specification and contrast of employment. Staff work is part of a team that the human resources department will be involved in the monitoring of a team performance and the coordination of the team resources to meet targets. This will be involved in motivating staffs In order to improve retention being a team and motivating staffs is essential because it will help improve the retention due to teamwork and motivation, this can be done by hiring motivators, teamwork actives every year and this will be done through encouraging creativity and initiative and through provision of appropriate incentives. Additionally they will help in establishment of professional culture. This might include developing levels of formality and encouraging the separation of professional from private activities.
Recruitment documents used in business
Before a job can be advertised internally or externally, there are two things that must contain for example:
* Job title
* Position within organisation structure
* Most frequency occurring duties involved in order of importance
* Working condition- location, salary, holiday entitlement, length of working week, perks.
* Other information- professional studies, exams, test.
A job description is important in advertising a vacancy to employees this is because it give a clear visual of what the job roles is for example these aspects will be used in a job description, "you are always helpful and friendly to customers" which gives a visual of what behaviour you must have to get the job, "someone who is able to work well in a team" this shows that the employee need to be able to work well in a team, "someone who is committed" which gives an indication that the employees needs to be willing to do things with guarantee. Doing so will allow the employee to meet the job description. Job description should have some degree of flexibility built into it and wording and should be updated regularly so that employees has a clear indication if the job is still available to apply for and has to be straightforward. This will also help to minimise disputes. For example this will allow giving an employee that the job description will be the work that the employee will be working at a day to day basis.
Person specification
A person specification outlines a job in term of the human characteristic required in order to carry out the job effectively. The person specification is derived from the job description. For example:
* Physical characteristics- age, health, height, appearance,
* Attainments- qualification and training
* Experience/knowledge – positions held, experience gained
Mechanical, verbal, work alone, self-motivated, group work, pressure situations
* Domestic circumstances- mobility, time away from home
These essential should be distinguished if these aspects are on the vacancy so that it gives a more specific person for the job, the vacancy details in "Tesco plc" in west Yorkshire, Tesco plc. have advertised a vacancy for a part time, shift pattern 03, customer assistant. The vacancy doesn't describe any of specific personal specification such as physical characteristics for example age, health, height, appearance, attainments such as qualification and training. Having experience /knowledge for instance what experience has the employees gained and what position have they held. This vacancy only specifies what kind of employees they want to employ without any specific personal.
Job advertisement
The job description and the person specification are then used to prepare the job advertisement for example this will then form a vacancy to allow employees to apply if they have met the job description and personal specification. An example is the vacancy from Tesco plc. Tesco plc created clear specific job description and personal specification
Application form
These are used by the applicant, sometimes alongside a letter of application and/or CV to formally apply for the job advertised.
The application form may be hand written or done online it gives the employer information about the applicant and is used for initial screening prior to interview and/or testing. It allows the employers to see if the employee is suitable for the job in term of the job description and person specification for example using phrases such as "helpful and friendly to customers and colleagues",
Short-listing, tests and interviews
Applicants will be shortlisted based upon the information provided within their applications. Those on the short-list will be interviewed and/or tested, to further gauge their suitability for the job in question.
Contract of employment / written statement of particulars
The successful applicant should be provided with a contract/written statement of particulars within 4 weeks of commencing work.
This is likely to contain the following:
* the names of the employer and the employee;
* the date when the employment (and the period of continuous employment) began;
* remuneration and the intervals at which it is to be paid;
* hours of work, holiday entitlement and entitlement to sick leave, including any entitlement to sick pay;
* pensions and pension schemes;
* the entitlement of employer and employee to notice of termination;
* job title or a brief job description;
* Where it is not permanent, the period for which the employment is expected to continue or, if it is for a fixed term, the date when it is to end.
* either the place of work or, if the employee is required or allowed to work in more than one location, an indication of this and of the employer's address
As well as the above which will be expressly stated in the statement, there are other rights and obligations which are not expressly written down, but are implied, i.e., they are so obvious that they don't need saying. Some of the common ones are:
An employee must :
An employer must :
be ready and willing to work
provide work
use reasonable care and skill
pay staff according to the terms in the contract
obey reasonable orders
allow staff to join a trade union
act in good faith at all times
make available procedures for grievance
comply with the terms of their contract
offer training and professional development
comply with health and safety regulations (Health and Safety at Work Act 1974)
provide a safe and healthy working environment (Health and Safety at Work Act 1974)
act in a non-discriminatory way towards others (Sex Discrimination Act 1975, Race Relations Act 1976, Rehabilitation of Offenders Act 1974, Disability Discrimination Act 1995)
not be unfair, uncaring or discriminatory (Sex Discrimination Act 1975, Race Relations Act 1976, Rehabilitation of Offenders Act 1974, Equal Pay Act 1970, Disability Discrimination Act 1995)
In conclusion this report has looked describing the recruitment documentation used in a selected organisation. Tesco plc. would need to have job description to start of recruitment documentation for example by including Job title, Position within organisation structure, Most frequency occurring duties involved in order of importance ,working condition- location, salary, holiday entitlement, length of working week, perks and other information- professional studies, exams, test. Tesco plc needs to have specific aspects to cover to create a recruitment document for example Person specification needs to be specific and clear by writing attainments, experience/knowledge, domestic circumstances, etc. tis shows that there are aspects that need to be met before setting an recruitment documentation.