Design Brief Essay Sample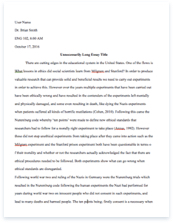 The whole doc is available only for registered users
OPEN DOC
Pages:
Word count: 561
Category: design
Get Full Essay
Get access to this section to get all help you need with your essay and educational issues.
Get Access
Design Brief Essay Sample
My objective is to design and make low cost jewellery. To complement my jewellery I will also design and make a display stand based on Geometric Shapes.
Time Constraints: The main constraint for me is the limited time frame in which I have to complete this project. The deadline is Thursday 28th February 2008. This will determine the outcome of my finished product I will have to ensure good quality throughout. Not only this but to meet the requirements of my given task I will have to organise my time wisely for a successful result.
Target Market: As I have chosen geometric shapes I have a wide choice of target markets. The first quite obvious is gender, whether the jewellery would be more appealing or suitable for male/female clients. There could be a certain age group for which the product is aimed at such as young people' 25 and below or the older generation in which elegant styles should be considered. Culture is another option where target market is concerned for instants modern day society. However if I choose modern day society I will have to take into account what's in fashion, the latest trend or what will be the latest trend once I have advertise my jewellery to the market.
Design Constraints: The first and foremost restriction I will have to abide by for my product to be considered is low cost materials. I can therefore not use materials such as platinum, gold, diamonds and etc. The materials should not be hazardous in any shape or form or infectious so I can not use lead as a chosen material. Also when I come to the making stage of the project there will be limited amount of processes for my materials as some machines are not accessible. I could consider such materials as MDF which is fairly low cost and thermoplastics but not thermosetting plastics.
Design Considerations: I will have to consider health and safety whilst carrying out all procedures. Protective clothing/equipment must be worn. The end product must be e able to be dismantled without any harm. Tools and equipment should be stored so that sharp edges and cutting blades are protected. The British Standard should be in use. in addition I must decide which materials go well together or complement each other. Ergonomics & Anthropometrics is also important as the jewellery must not be too heavy, measurements of weight, height and length of the human body should be accurate to ensure better fitting for the client/target market. CAD/CAM should be used to guarantee accuracy also a 3D view of how the product would look like. Also what should be thought about is Quality control & Quantity Assurance. Inspection of sample components as they are made should take place, upper and lower limits prepared so the jewellery is well made and also test procedures will help.
Design Features: Products should co-ordinate with each other i.e. a throughout theme. Ideally the product should stand out from the rest, be original. For this researching the chosen theme is vital. The environment is a big issue that needs to be well thought-out. The materials should be bio-degradable. the design needs to be premeditated for batch production so the finishes and decorations should be accordingly e.g. enamelling, opaque, soldering, colouring metal, press forming, shiny, matt, glazed, texture.